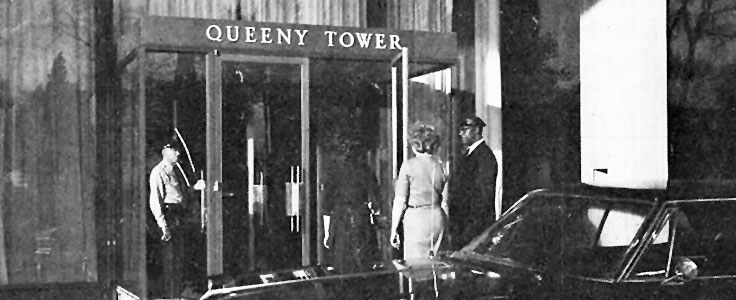 Queeny Tower

By reason of the generous bequest of the late Robert A. Barnes St. Louis will, in a couple of years, have one of the finest hospitals in America. The aged millionaire had no children and no near relatives, and in his will donated the bulk of his vast fortune toward the erection and maintenance of an institution to be known as the Barnes Hospital. The exact site of this hospital has not yet been determined, and probably will not be for some time, but the location will be a central one, and the building will no doubt be an ornament to the city. The institution has been most liberally endowed by Mr. Barnes, whose bequests to it all told amount to about $1,000,000.

St. Louis Post-Dispatch, Apr 17, 1892
Barnes Hospital opened on December 7, 1914. "Located on Kingshighway at Euclid avenue, near where Kingshighway turns west at Forest Park," the hospital building was four stories in height, with four wings projecting toward the south. On the west was the private room pavilion, offering suites with baths for more affluent patients.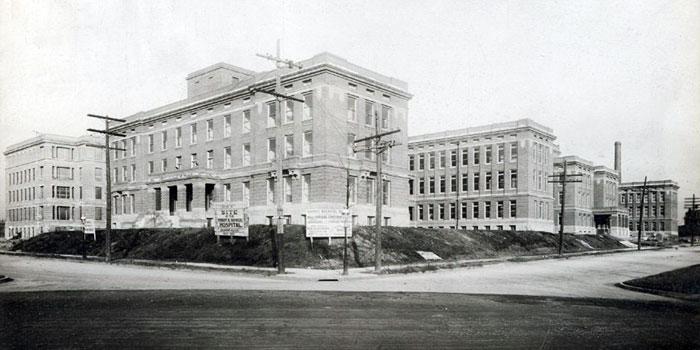 Barnes Hospital with Private Room Pavilion in foreground, 1914
Barnes Hospital thrived and, partnering with the Washington University Medical School, developed a national reputation. But by 1960, the hospital was operating at a deficit and its infrastructure was aging. The hospital's mission to care for indigent patients was at odds with the rapid rise of private health insurance. And while the School of Medicine had constructed multiple new buildings in the complex for its clinical operations, Barnes had not made a major addition since 1931.
* * * * *
In 1960, Edgar Monsanto Queeny retired as the chairman of Monsanto, the company his father had founded. In 1961 he became chairman of the board of trustees of Barnes Hospital. A shrewd businessman, Queeny was troubled by the operating deficit at Barnes and the state of its facilities.
While Barnes has an unsurpassed staff and superb tools, it has a somber, aging plant. Its original buildings were constructed in 1912; while most adequate a half-century ago, they are obsolete by present standards. They must be rebuilt so that the environment provided for our patients is comparable to that of more recently constructed hospitals.

St. Louis Post-Dispatch, Mar 18, 1962
Queeny announced an extensive expansion and modernization project, which included an 18-story tower to replace the 3-story private pavilion on Kingshighway. The new building's upper floors would provide upscale "hotel rooms" for self-care patients, as well as for the family of patients from out of town.
I had this idea before I came to the board. So many people come from out of town to go to Barnes.

Often they come for laboratory tests that take days. They have to stay around the hospital and yet they're perfectly able to take care of themselves; being in a hospital room is expensive and inconvenient.

Others need hospital care but need to have their family nearby. Others need special diets and rest and medicine but no other care. All of them need comfortable, homelike surroundings.

These are the people the tower was built for.

St. Louis Post-Dispatch, Dec 5, 1965
Queeny put $4,500,000 of his own money into the $9,000,000 tower and steered it into realization. And when the new building was completed in 1965, it was aptly named Queeny Tower.

| | |
| --- | --- |
| | |
| Edgar Queeny, 1950s | Queeny Tower, 1965 |
Many saw Queeny Tower as a symbol of a new approach in health care – treating the patient as a whole person, not merely a bundle of medical needs. Others simply saw it as a way for sick rich people to avoid sick poor people.
Either way, with its original artwork, wood paneling and plush carpeting, Queeny Tower was as swanky as a hospital could get, offering its affluent patients services such as manicures and pedicures, hair styling and room service. There was a swimming pool on the 18th floor, nestled under a bronze-and-glass solarium roof. One floor below was the tower's full-service restaurant.
In a March 15, 1966 article, St. Louis Post-Dispatch columnist Jack Rice provided a colorful description of the upscale Queeny Tower, including its 17th floor lounge.
The Queeny Tower lobby is an institutional amazement at first sight, and it might take several visits for the surprise to wear thin. I've been there only once, on a recent woebegone afternoon of wind and rain, but in good weather or foul a man expects certain dismal things of a hospital lobby, and Queeny Tower doesn't have any of them.

I walked to the right, into the chairs-and-couches section of the lobby, admiring the high window treatment. The tinted glass mellowed the light of the gray day, playing up the colors in the furnishings and the carpet. Motel lobbies in Las Vegas try for a similar effect, and on as large a scale, but the motels do not quite know how to bring it off so, with a quiet hand.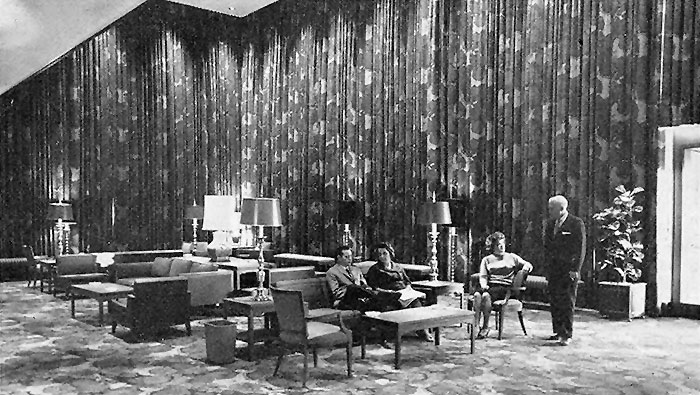 Queeny Tower Lobby, 1965
Turning around, I faced a reception desk. There was no hospital starch in the man behind the desk, who asked, "May I help you?" The tone of his voice and his mine-host smile were in the highest tradition of the Hotel Greeters Association of America, and should be. He is a Mayfair-Lennox Hotel man. Seven floors of the Queeny Tower's 18 stories are for patients who don't need nursing but presumably are in no mood to make their own beds and empty ash trays, either. The Mayfair-Lennox system does the housekeeping for them. So I tried the hotel man as a helper:

"Yes-uh-what floor is the bar on?"

That was not an easy question to ask in the carefree manner of a man who has been around and knows hospitals. Queeny Tower, after all, is a working hospital, a part of the Barnes complex. Three of its floors are for people who do need complete hospital care. Doctors' offices are on other floors. When a visitor knows that, it makes him bashful about asking where the bar is in all that hospital. He might feel a little sillier, but not much, if he walked into a hotel and asked directions to surgery.

"The restaurant and lounge are on the seventeenth floor," the man said. "The elevators are at the end of this corridor, beyond the pharmacy."

An elderly woman was waiting at the elevators. The elevator door opened. She punched a button for her floor, but I looked at the panel uncertainly. There was a button for "Dining Room" and one for "Pool," but no button numbered 17.

"Where do you want to go?" the woman asked.

"The bar. I mean, the lounge. The seventeenth floor."

She punched the "Dining Room" button and said: "That's where it is. Turn right when you get off.

Coming off the elevator, I found tall windows with a view to the east that should have been dominated by the Gateway Arch, but wasn't. The view of the arch that day had been preempted by thunderheads. A coffee shop was around the bend, but there is a time for coffee, and 5 p.m. isn't it. I turned away from the hidden arch and the coffee shop, and headed east.

There was a coatroom, and beyond it a doorway leading into the lounge. Seated at a table by a window was a young woman in a pink suit. She wore high heels, and her knees were crossed at the Sophia Loren angle. The late afternoon light put her in soft focus, a therapeutic sight for graying girl-watchers introducing themselves to a hospital.

The rest or the decor was Mayfair-Lennox Bavarian, which runs to stag horns, comfortable chairs and bowls of peanuts that encourage a Bavarian thirst. I ordered a drink and took a seat beside a window. Rain falling on Forest Park had driven skaters off the ice at the Steinberg rink, but over Clayton and the far reaches of the county there was a halo of clear sky, a sort of promised-land beckoning to wanderers on the Express Highway.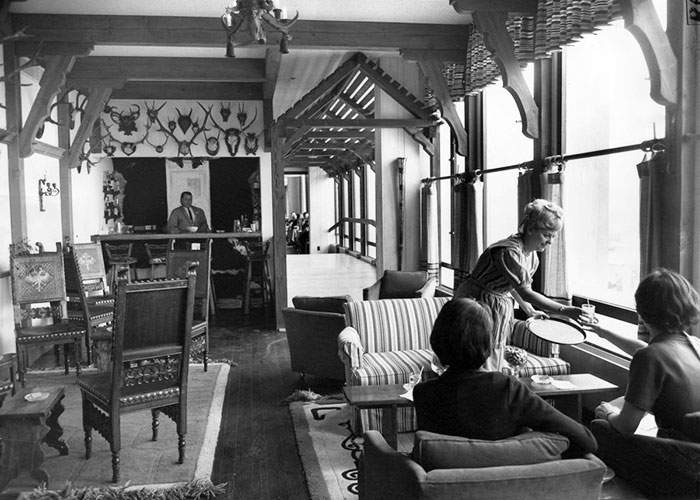 Queeny Tower Lounge
St. Louis Post-Dispatch, Mar 15, 1966
The restaurant housed on the 17th floor of the tower was modeled after a Swiss chalet, complete with multicolored wood and a roughhewn look. In addition to the lounge, there was a main dining room, a coffee shop and a private dining area. German-inspired cuisine was featured on the menu.
The cheerful Bavarian themed coffee shop looked east over the rooftops of the city. In 1973 a breakfast egg cost a dollar and coffee forty cents.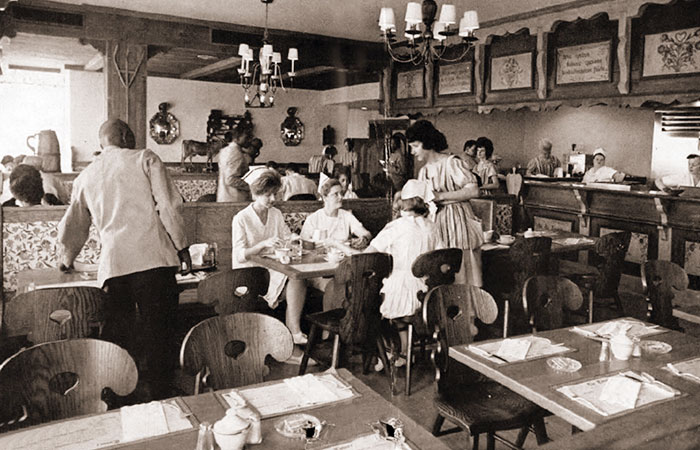 Queeny Tower Coffee Shop, 1966
The main dining room was on the west side of the building. Its floor-to-ceiling windows offered stunning views across Kingshighway into Forest Park and down on Steinberg Rink. In the winter months, especially when forecasts called for snow or icy roads, people would come up and have dinner and a drink, and keep their eye on the highway traffic below.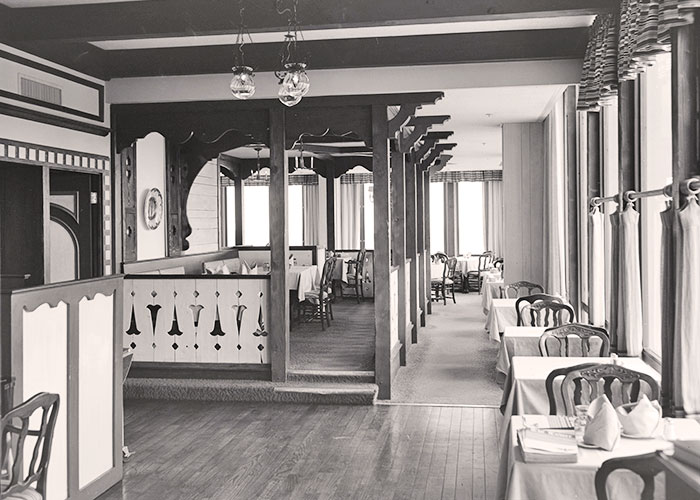 Queeny Tower Dining Room, 1967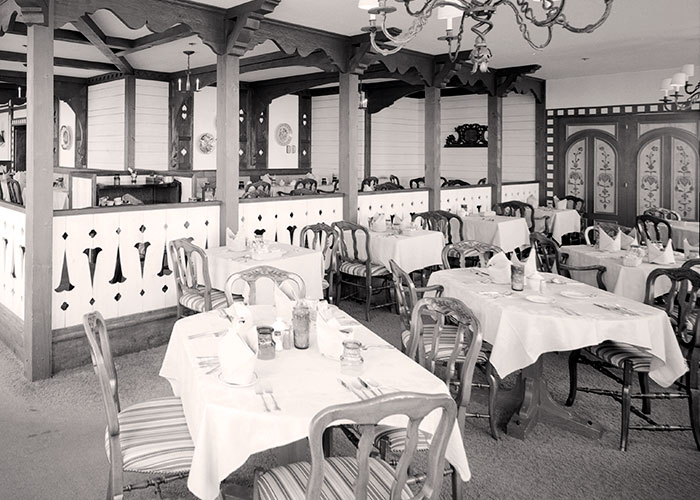 Queeny Tower Dining Room, 1967
Starting in 1980, the Queeny Tower dining space was renovated and modernized, with a more contemporary decor. A second entrance was added from the newly constructed West Pavilion, via a skywalk.
On a typical Sunday morning, classical music playing and the smell of bacon frying filled the crowded dining room, as a long line of people waited to be seated.
In the evening, the dimly lit dining room attracted large crowds of patients, employees and guests. With hardwood floors, white tablecloths, music playing in the background and candlelit chandeliers, the restaurant was a popular dining choice.
The dinner menu included steaks, a shrimp platter and a chef salad with Mayfair dressing. The carrot cake was legendary. But Queeny Tower's signature dish was served at lunch.
The Prosperity, which was brought over from the Mayfair Hotel where it was originated, was an open-faced sandwich made with white bread, turkey breast, honey ham and bits of crispy bacon, covered with a special cheese sauce and topped with crumbled parmesan cheese. It was broiled and served on a steaming not plate. It stayed on the menu until the chef who made the cheese sauce left, and the sandwich left with him.

| | |
| --- | --- |
| | |
| Prosperity Sandwich | Carrot Cake |
In 1984, the Tower menus were "revised after extensive marketing research to better meet the needs of Barnes patients, visitors and medical and professional staff."
The new dinner menu included filet mignon, lobster, shrimp tempura, baked fillet of sole, seafood fettuccine, fettuccine alfredo and breast of chicken. It also included "light" meals such as eggs benedict, a croissant sandwich platter and a chef salad.
The revised lunch menu included old favorites like the Prosperity and new items such as croissant sandwich platters, quiche Lorraine and a bacon cheeseburger. Light entrees such as eggs benedict or spinach salad were also available during lunch.
A new breakfast menu specialized in eggs benedict and fresh omelets, and offered such standard fare as fruit or plain pancakes, French toast and side orders of any style egg, hash brown potatoes, bacon, ham or sausage, plus hot and cold cereals and a variety of fruit juices.
In 1997, the Queeny Tower "hotel" closed and business in the restaurant began to decline, until eventually only lunch was served.

The Queen Tower restaurant closed its dining room doors on November 14, 2016. The restaurant remained open at lunch for carry-out orders for employees and also for catered events. But the days of walking in, sitting down, filling up and taking in the scenery were gone.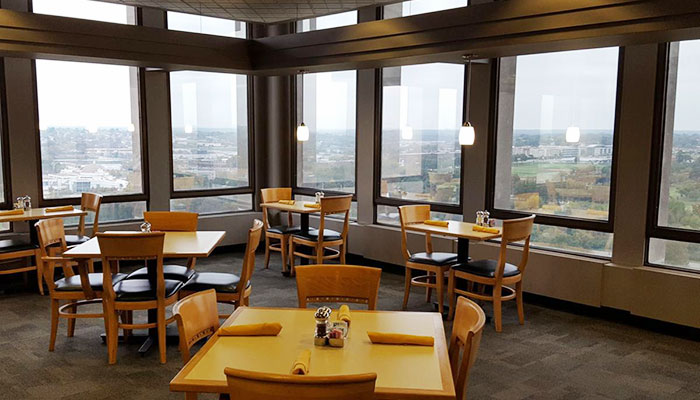 Queeny Tower Dining Room, 2016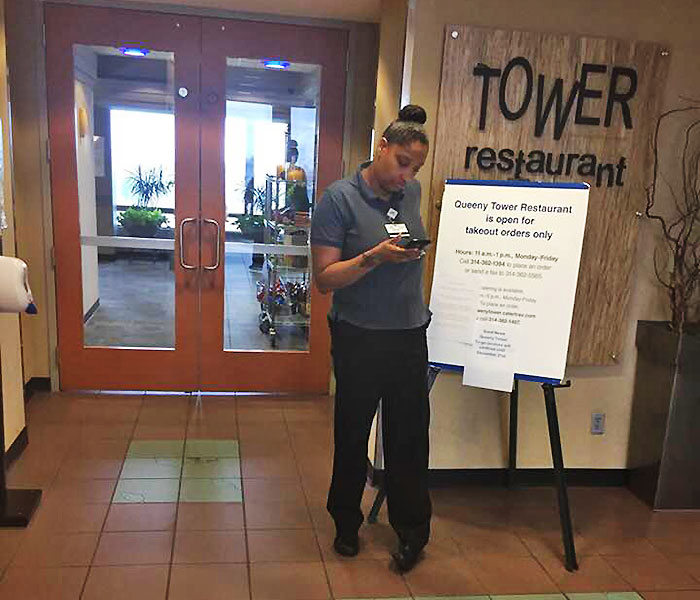 Queeny Tower Dining Room Entrance, 2016
Edgar Queeny died in 1968. His tower survived until 2020, at which time it was slated for demolition.
Officials explained that Queeny Tower was "unable to be retrofitted for modern technology and didn't meet seismic standards required." They said a planned new tower would "enable the expansion of the heart and vascular; neurology and neurosurgery; transplant; trauma and critical care; and general medicine programs" of the hospital.
There was no mention of hotel rooms or a restaurant.

| | |
| --- | --- |
| | |
| Queeny Tower, March 2020 | Edgar Queeny, 1897-1968 |
---
Copyright © 2020 LostTables.com
Lost TablesTM is a trademark of LostTables.com. All rights reserved.