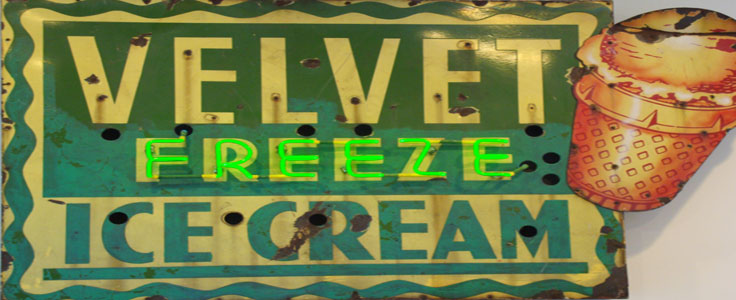 Velvet Freeze
At the turn of the twentieth century, a staple on the street and at fairs was the penny waffle. The waffle man would bake the crisp delicacies on his waffle iron, sprinkle them with powdered sugar and sell them for one cent.
Legend has it that at the 1904 St. Louis World's Fair, a man purchased a waffle from a waffle man who happened to be next to an ice cream wagon. On impulse, the man rolled the fresh waffle into a cone, purchasing a scoop of ice cream and placed it inside his twisted waffle. The waffle man and the ice cream man saw the possibilities. Soon they were working together, selling ice cream cones.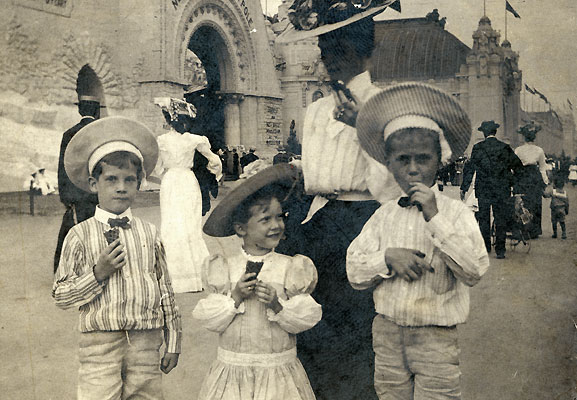 1904 St. Louis World's Fair
The ice cream cone soon spread throughout the country. For quite some time, St. Louis supplied most of the the cones, with dozens of cone manufactures throughout the city. One of the largest was the Cake Cone Company, later called the Crispo Cake Cone Company, which as early as 1923 was located at 715 Victor. Crispo was owned by Oscar Grosberg who, along with his brother Alexander, had immigrated to the United States from Russia in 1892.
* * * * *
In 1905, the following ad appeared in the St. Louis Post-Dispatch.


St. Louis Post-Dispatch, June 5, 1905
By 1926, the Union Ice Cream Company was located at 4268 North Market Street. Its president was Jacob Martin, who had immigrated to St. Louis from Russia in 1907.
In 1930, Martin sold the Union Ice Cream Company to the Beatrice Creamery Company of Chicago. But Martin remained in the business. By 1932, he owned Dairy Novelty Ice Cream at 3228-30 Gravois. By 1934, Martin had changed the name of his company to The Original Double Dip Ice Cream Company, and all eleven locations sold a brand of ice cream known as Velvet Freeze.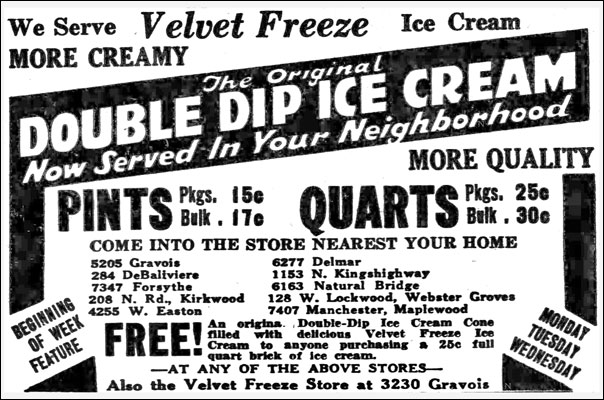 St. Louis Post-Dispatch, June 10, 1934
In 1934, Oscar Grosberg still owned and operated the Crispo Cake Cone Company. In November of that year, the company moved to a building at 3015-17 Salina Street.
But by the end of 1935, Oscar Grosberg and his brother Alexander had joined forces with Jacob Martin. Oscar became president, Alexander vice-president and secretary, and Martin vice-president and treasurer of their newly formed corporation - Velvet Freeze, Inc.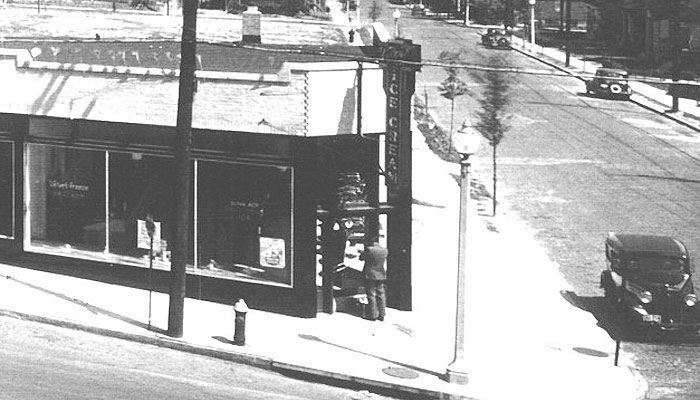 Velvet Freeze, Clayton & Tamm, 1930s
By 1936, Velvet Freeze had 50 stores in the Greater St. Louis area. In 1941, they modernized their original store and plant at 3230 Gravois and constructed a two-story warehouse, with the iconic Velvet Freeze sign attached to a projecting tower. In 1942, an 18-foot fiberglass double-dip ice cream cone was created to stand in front of the building. The Affton School District acquired the cone in 1992 to stand in front of the Mesnier Elementary School at 6930 Weber Road.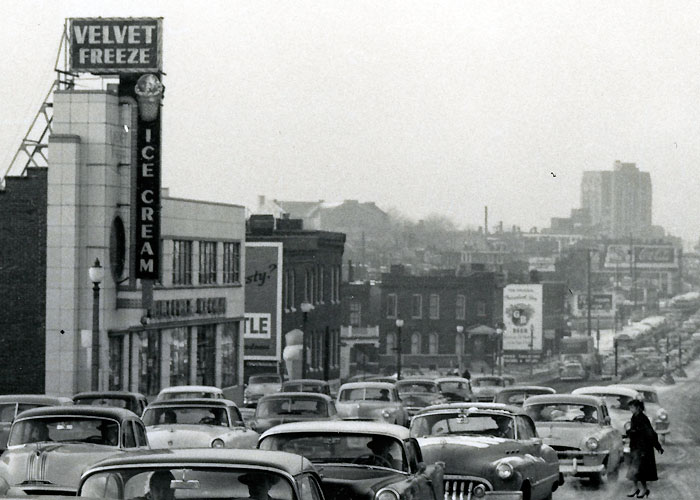 Velvet Freeze Plant, 3230 Gravois, mid to late 1940s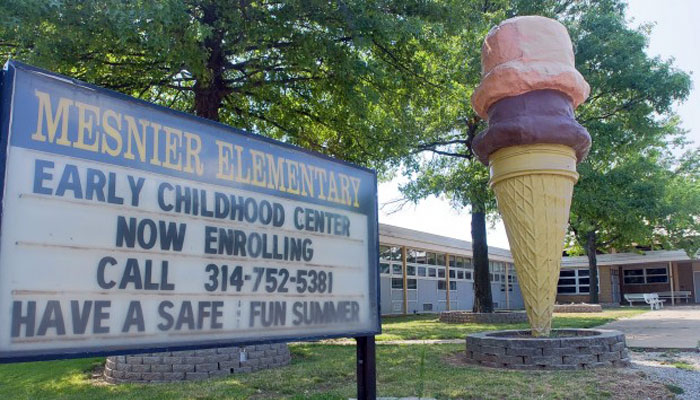 Mesnier Elementary School, 6930 Weber Road
Throughout the 1940s, Velvet Freeze expanded outside of the St. Louis area, with operations in Kansas City, Milwaukee and throughout Illinois. In 1947, a 35,471 square foot building at 31st Street and Gillham Road in Kansas City was converted to a plant to support the retail stores. Velvet Freeze occupied this building until 1985.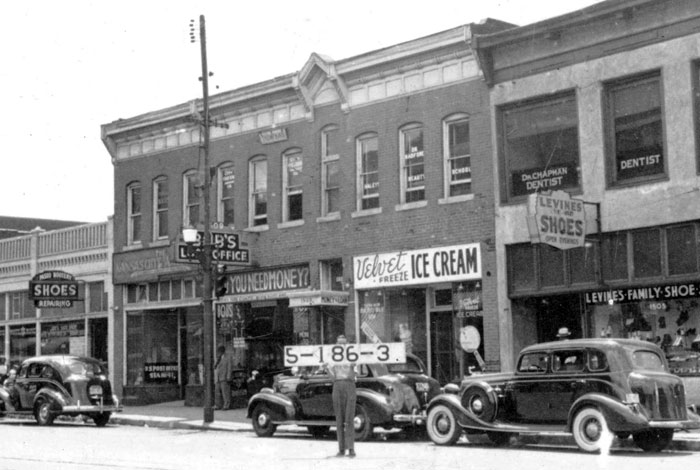 Velvet Freeze, 1507 18th Street, Kansas City, 1940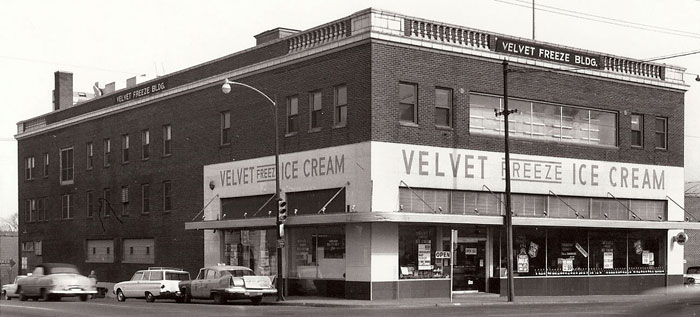 Velvet Freeze Building, 31st Street and Gillham Road, Kansas City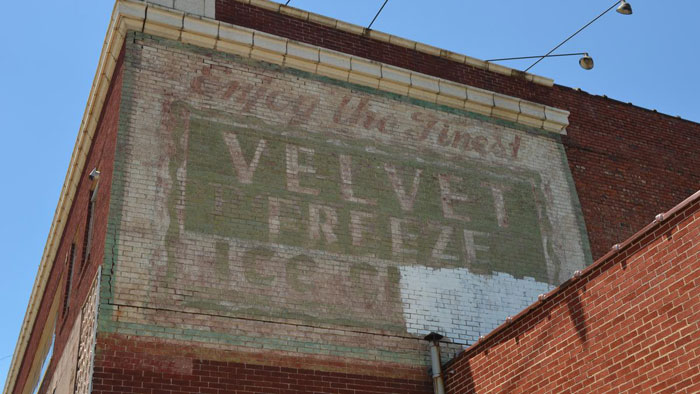 Signage visible on Velvet Freeze Building in 2016
31st Street and Gillham Road, Kansas City
Oscar Grosberg died in July of 1948. He had been succeeded as president of Velvet Freeze by his brother Alexander six months earlier. Grosberg left behind 49 St. Louis Velvet Freeze locations selling "18 delicious flavors" of "purer, smoother, creamier" ice cream.

St. Louis Post-Dispatch, July 30, 1948
(click image to enlarge)
St. Louis Star and Times, April 26, 1949

In 1958, Jacob Martin, then chairman of the board, and Alexander Grosberg resigned as officers of Velvet Freeze, staying on as directors. Martin's son Sidney was elected president of the company and Richard S. McQuay was named executive vice president, secretary and treasurer.
While there were many Velvet Freeze locations over the years, few photographs exist. The 5822 S. Grand store was open as early as 1948 and was still in existence in 1966.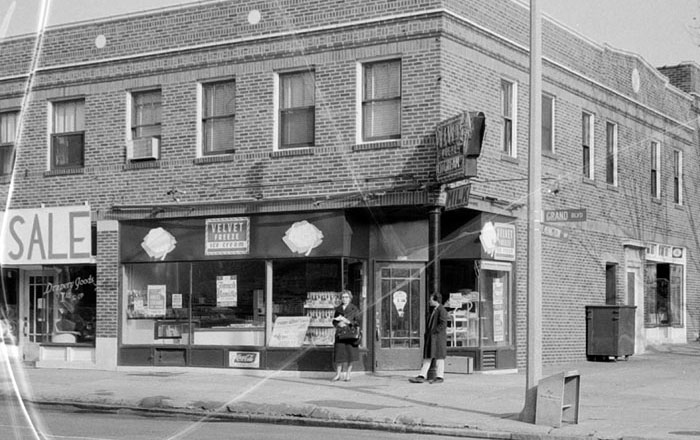 Velvet Freeze, 5822 S. Grand at Wilmington, March, 1966
Irv Schankman/Allied Photocolor Collection
(click image to enlarge)
In the 1960s, there was a Velvet Freeze in the University City Loop at 6380 Delmar. Appropriately, a Ben & Jerry's now occupies the space.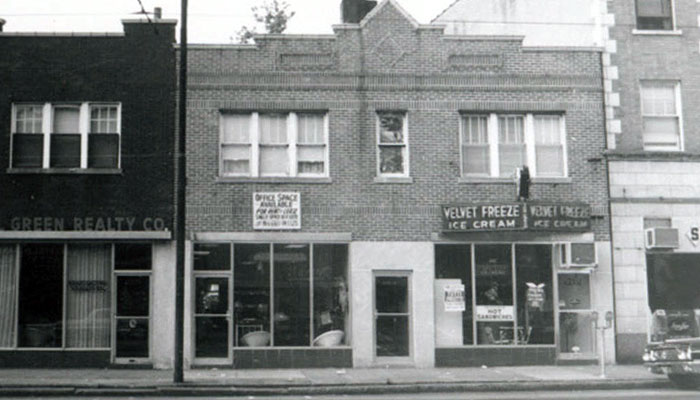 University City Loop Velvet Freeze, 6380 Delmar, 1965
As early as 1934, there was a Velvet Freeze at 208 N. Kirkwood. By 1954, the Kirkwood location had moved to 200 N. Kirkwood at the intersection of Kirkwood Road and Jefferson.

Kirkwood Velvet Freeze
200 N Kirkwood Road, 1964

St. Louis Post-Dispatch
July 19, 1967
(click image to enlarge)
The Concord Village Velvet Freeze, at 11427 Concord Village Avenue, had been the Josse Ice Creamery from 1946 to 1959. The Concord Village location operated into the mid 1970s.


Concord Village Velvet Freeze, 11427 Concord Village Avenue
In 1918, a brick and stucco building was built on West Lockwood in Webster Groves as a three storefront building. In 1948, Velvet Freeze opened in the building, and in 1963 combined the western two store fronts into one. The Webster Groves Velvet Freeze became an iconic hangout until it closed in the mid 1980s. Another iconic tenant, Webster Records, occupied the space starting in 1990.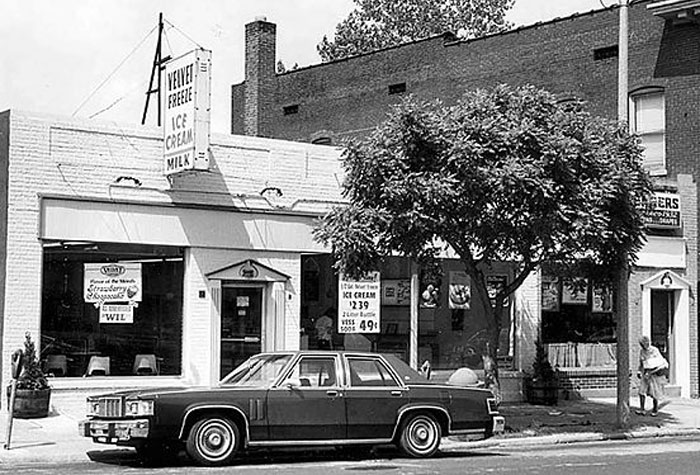 Webster Groves Velvet Freeze, 119 West Lockwood, 1982
In 1972, E. C. Adams Jr., the owner of Adams Dairy, purchased Velvet Freeze and its 50 St. Louis area stores. Adams retired in 1978 and sold both Adams Diary and Velvet Freeze to a group of private investors, headed by Tom Spitzer. Spitzer became president of both companies and his new management team included Daniel Pepper and John McGuiness, both Velvet Freeze veterans.
"We don't believe our ice cream could be any better, but we do want a new look for our stores and a new experience for our customers," Spitzer said. New stores featured sit down service and, in some locations, sidewalk tables. By the beginning of 1980, there were 45 Velvet Freeze locations, and by the middle of 1981, there were 56 outlets in the St. Louis area.

"We don't want to be a Haagen-Dazs, and we're not a fancy Swensen's," said Sptizer. "We have microwaves at some locations, and grills, video games and some grocery items." Velvet Freeze did make a sortie into the premium-priced ice cream market with its Velvet Emporiums. However, the higher-priced outlets were not successful.
"In the ice cream business, everyone boasts of secret formulas," said Spitzer. "It's just not true. Over the years, and with the changes in ownership, our sweet cream formulation has never changed. All ice cream flavors come from two common roots – chocolate and vanilla. And vanilla is still the most sold flavor."
Spitzer said the making of ice cream was really rather simple. Liquid sugar, corn syrup and milk solids made up the basic ingredients. The mix was usually 12 percent cream or butterfat, 16 percent sugar and 72 percent milk solids. The mix was pasteurized at 160-degree temperatures, then cooled to freezing, at which time the flavorings, candy, fruit, nuts or powdered chocolates were added. At the Velvet Freeze plant, 500-gallon stainless steel vats were used in the mixing process, and the thick, creamy mix flowed to the floor below where it was packaged and then sent to the hardening room. That room, which ran almost the length of the Velvet Freeze building, led to the loading docks. The room was kept at 30 degrees below zero.
Ice cream flavors were seasonal. At Velvet Freeze, the number of available flavors was about 30 at any one time, and about 60 over the year. Vanilla was the most popular flavor, chocolate came in second and third place was shared by Swiss chocolate and strawberry. Other popular flavors included bubble gum, strawberry cheese cake and choc-almond fudge. And then there was Velvet Freeze's iconic Gold Coast Chocolate, which was "extra dark, extra rich and extra delicious."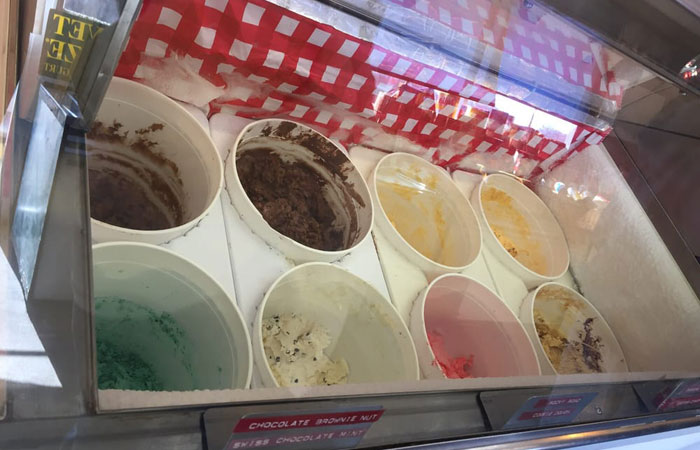 Velvet Freeze Ice Cream
In the spring of 1982, Tom Spitzer sold 23 Velvet Freeze stores and the company's trademark and name to James Schultze, a financial analyst and former vice president at Centerre Trust. At the time, there were also 19 Velvet Freeze franchised locations in the St. Louis area. Spitzer and Adams Dairy continued to operate the manufacturing plant at 3230 Gravois and supply the stores with ice cream.
By June of 1986, the Velvet Freeze ice cream factory had ceased operation. The company, then owned by South Side Bank, had become financially strapped. Many stores were closing and the manufacturing plant wasn't producing enough volume to operate efficiently. Pevely Diary began making Velvet Freeze ice cream, using the Velvet Freeze formula.
In October of 1986, the Velvet Freeze name and franchise rights were sold to John McGuinness. McGuinness, who operated a Velvet Freeze store at 7355 West Florissant in Jennings with his wife Barbara, had been an executive vice president in charge of the Velvet Freeze plant in the 1970s.
McGuinness said his goal was to restore the glory to the Velvet Freeze name. "Velvet Freeze does not deserve what it's gotten," he said. "It's one of the oldest and best names in town. To think that this thing would have died, I just couldn't stand it. I'm just as sentimental as they come."
By 1987, there were 16 Velvet Freeze locations remaining in the St. Louis area. In July of 1988, a four-alarm fire ravaged the vacant Velvet Freeze factory at 3230 Gravois. The company was then manufacturing ice cream in North St. Louis County.

St. Louis Post-Dispatch
May 15, 1987
(click image to enlarge)
Velvet Freeze Plant, 3230 Gravois
St. Louis Post-Dispatch, July 18, 1988

By 2001, only one Velvet Freeze remained in the St. Louis area – the longtime location operated by John and Barbara McGuinness at 7355 West Florissant in Jennings. The store offered more than 50 flavors of ice cream, all from the original Velvet Freeze recipes. The ice cream was made by hand at 3 a.m. on Saturdays by the McGuinness' son, Matt.
The Velvet Freeze tables that most of us remember have long been lost. But the Jennings Velvet Freeze, still owned and operated by John and Barbara McGuinness, has survived, still serving Gold Coast Chocolate ice cream.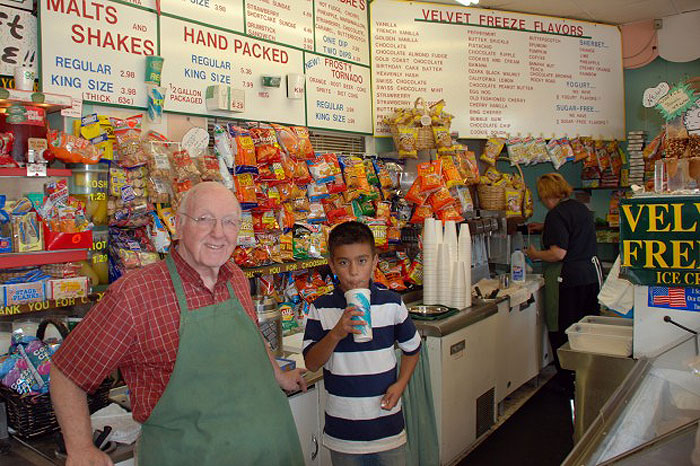 John McGuinness in his Velvet Freeze at 7355 West Florissant, 2012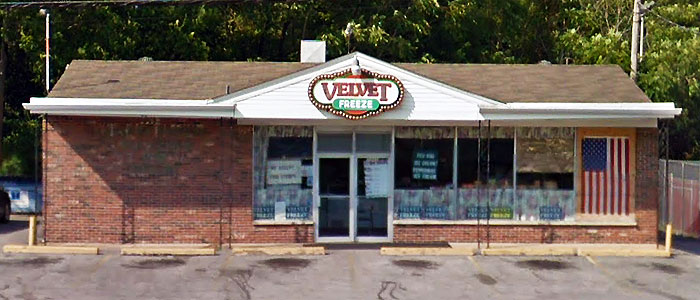 Jennings Velvet Freeze, 7355 West Florissant – July, 2017
---
Copyright © 2018 LostTables.com
Lost TablesTM is a trademark of LostTables.com. All rights reserved.