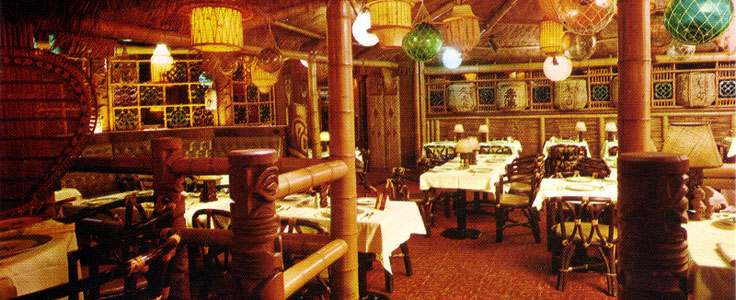 Tiki Bars
Tikis are physical representations of Polynesian deities, usually carved in wood or stone, which were used in Polynesian-style bars and restaurants in the 20th-century.
Tiki culture in the United States began in 1934 with the opening of Don the Beachcomber, a Polynesian-themed bar and restaurant in Hollywood, California. The proprietor was Ernest Raymond Beaumont-Gantt, a young man from Louisiana, who had sailed throughout the South Pacific. His restaurant featured Cantonese cuisine and exotic rum punches, with a decor of flaming torches, rattan furniture, flower leis and brightly colored fabrics.
By the middle of the 20th century, most cities in America had at least one tiki bar. Many were deluxe restaurants – an upscale evening out, worthy of dressing up. The food and drink presentations were elaborate. While the food usually looked better than it tasted – it was often simply a twist on American-Chinese food, dressed up in pineapple – it was revolutionary in a time when people didn't commonly eat outside their own culture.
A hallmark of the tiki bar was the specialty drink, many of them rum-based, such as the Mai Tai and Zombie. Most bars offered their signature drinks in decorated ceramic tiki mugs. Cocktails were often garnished with paper cocktail umbrellas, live flowers or plastic animals.
St. Louis featured two prominent tiki bars, both opening in the early 1960s. One was homegrown and one was imported.
* * * * *
The Mainlander restaurant was opened on July 3, 1962 at the intersection of Bonhomme and Hanley roads in Clayton. The restaurant's primary owner was Dale McGowan. McGowan lived in Webster Groves and had formerly lived in Tahiti.

| | |
| --- | --- |
| | |
| The Mainlander, 7700 Bonhomme | Dale McGowan, 1963 |
The Mainlander's dining room featured grass shacks, a tiki fountain, bamboo covered walls and many Polynesian artifacts. Outside in front was another fountain and a white sand beach. The tiki fountain, designed by William Westenhaver and sold through his Witco company, was used as The Mainlander's signature tiki, appearing on its advertising, matchbooks and in the form of its souvenir mugs.

The Mainlander Tiki Fountain

The Mainlander Tiki Mug

| | |
| --- | --- |
| | |
| The Mainlander Menu Cover | The Mainlander Matchbook Cover |
The Mainlander's maître d', Conrad Castillo, was born in the Philippines. He came to the United States as a teenager and served in the Navy in World War II as a personal aide to Admiral William "Bull" Halsey.
The Mainlander's lengthy menu included fresh seafood, chicken, steaks and various Polynesian dishes. Lobster Tahiti was a specialty served in a huge clam shell. And, of course, The Mainlander offered a variety of exotic "South Sea potions."

In its lower level, a waterfall of lava rock decorated the Mainlander's Huki Lau bar and lounge. Native St. Louisan and well respected pianist Marion Miller played there for many years and recorded a best-selling album.

"Marion at the Mainlander" Album Cover
* * * * *
At the age of 34, Victor Bergeron borrowed $800 from his aunt, persuaded a carpenter to build a shack in Oakland for $500 and spent the rest on supplies for a restaurant he named Hinky Dinks. Within two years Bergeron's talent for mixing potent but unusual drinks – rum with fruit was an early favorite – and cooking slightly exotic food, enabled him to expand his restaurant.

In 1937, Bergeron investigated a restaurant that was attracting attention in Los Angeles – Don the Beachcomber's. "I felt I could do it better," he said. "I had never been out of the country, but I ate in Chinese restaurants every night."

Bergeron covered the walls of his own restaurant with green fabric resembling grass, dreamed up gimmicky rum drinks festooned with flowers and fruit salad, and Hinky Dinks became Trader Vic's. Business boomed, and Bergeron proceeded to open his Trader Vic's restaurants all over the country and throughout the world.

Hinky Dinks, The Original Trader Vic's and Victor Bergeron (aka Trader Vic)
In December of 1963, Norman Probstein opened the 17-story Bel Air East Motel at Fourth and Washington in Downtown St. Louis. Probstein had opened the Bel Air West on Lindell in the Central West End six years earlier. The new downtown motel would include two street level restaurants – a Miss Hulling's and a Trader Vic's.

Trader Vic's at the Bel Air East Motel
A St. Louis Symphony Society benefit party marked the opening of Trader Vic's new restaurant on December 5, 1963. The restaurant was open to the public the following evening.
Three large wooden tikis, which had been carved in New Guinea and Java, flanked the restaurant's high pointed-roofed entrance. They combined to give the otherwise gleaming white motel an exotic air. There was a tropical ambiance inside, including wicker furniture, tables of monkey-pod wood and a Fiji Island totem pole. Background music was from a genre called exotica, courtesy of such artists as Martin Denny and Arthur Lyman.
There were four dining rooms. In one of the rooms, two white ovens – each shaped like a huge barrel – stood on a platform. The ovens were Bergeron's own invention and were used in all his restaurants. Such dishes as Indonesian lamb roast and Chinese barbecued chicken were cooked in them.

Trader Vic's Main Dining Room
Trader Vic's restaurants were better known for their exotic food and drink than their haute cuisine. But the Trader Vic's in the Bel Air East was different, and the difference maker was their executive chef, DuBois Chen.
Chen Tsai Ching was born in a village outside of Shanghai, China in 1918, and worked in several Shanghai restaurants as a young man. He left China in 1941 and emigrated to what was then French Indo-China, joining the French navy as a cook and changing his name to DuBois to make it easier for the French to address him. After 10 years of French cuisine, Chen switched to Chinese cuisine, finding work on a Chinese passenger ship. His next position was as executive chef of Jimmy's Kitchen Restaurant in Hong Kong, and from there, Chen came to the United States, where he found his way to St. Louis as the executive chef at Trader Vic's when its doors opened in 1963.

With Chen at the helm, not only was the St. Louis Trader Vic's considered among the best in the nation, but it was also rated one of the top restaurants in the city. In 1976, Chen was named Chef of the Year by the St. Louis Chefs de Cuisine.

Chef DuBois Chen
Trader Vic's lengthy menu had imaginative Chinese cuisine, but also displayed a wide variety of Indian curries, entrees with a French influence and a number of basic American dishes. While the menu included dishes like butterfly steak Hong Kong style, barbecued suckling pig (15-person minimum and a week's notice), Canton crab leg curry and breast of peach blossom duck, there were also entrees like calf sweetbreads with mushrooms and shallots, veal Cordon Bleu, scampi in cream sauce with garlic, and red snapper with artichoke and mushroom sauce. Most of the appetizers were Asian and they were among the highlights of a visit to Trader Vic's.

Trader Vic's franchise was built on its cocktails. In 1944, after success with several exotic drinks, a bit of serendipity occurred that would earn Victor Bergeron a place in history. That day in Oakland, he pulled down a bottle of 17-year-old Jamaican rum, added a squeeze of lime, a dash of rock candy syrup, a splash of orange Curaçao, and some French orgeat, and poured the concoction over cracked ice. He handed it to a friend visiting from Tahiti who immediately exclaimed, "It's mai tai roa ae!" (Tahitian for "out of this world, the best.") The first Mai Tai was born.

* * * * *
The tiki craze came to its climax in the mid-1960s, and by the end of the Vietnam War, came crashing to an end. What was once considered stylish and trendy was now considered tacky and passé by a younger crowd that rejected the values and tastes of their parents' generation. Tiki bars began to close in droves.
The Mainlander closed early in 1977. Owner Dale McGowan went on to become a broker developing real estate on the island of Maui.
After a 23-year run in St. Louis, the doors of Trader Vic's were permanently shuttered on August 31, 1985. However, the Mai Tai is still served at 18 Trader Vic's restaurants throughout the world.
---
Copyright © 2017 LostTables.com