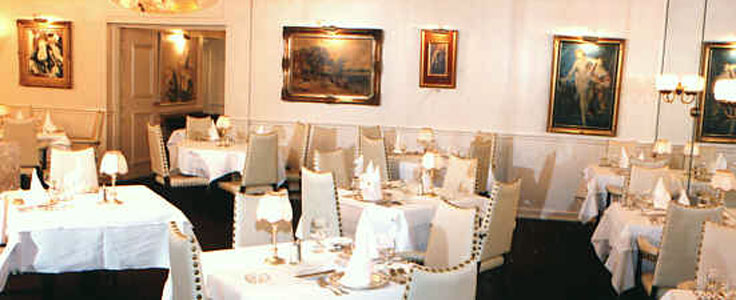 Seventh Inn
Else and Lee Barth met in Iceland in the mid 1960s. Else, a native of Denmark, was born in 1938. Lee, a St. Louisan, was born in 1925. They happened to meet again two years later when Else was visiting her sister in Palm Beach, Florida. Not long after that, they were married.
It was reported that both Else and Lee had many years of restaurant experience. It was also reported that Else was a trained chef, who had "studied in countries such as Italy, Iceland and Germany." Lee Barth had been the president of Buckaroo Steak Ranches in St. Louis in the late 1960s.
In 1970, the Barths, still "almost newlyweds," decided to open a restaurant in Ballwin on Seven Trails Drive in the Seven Trails West apartment complex off Manchester.
"At the time we were very romantic, you know," said Else Barth. "When we got this place, we thought it was like seventh heaven opening up for us. So between that and all the other sevens out here, we called it the Seventh Inn and it's been the House of Happiness ever since."
"In the beginning," she explained, "the surrounding area was not yet developed. The Inn was at the end of everything, and there were cows and horses all over. We had to downplay the sophistication at first, and wait until the time was right."
In 1971, "downplayed sophistication" included "Italian Nite" every Tuesday and "Indonesian Nite" every Wednesday.

| | |
| --- | --- |
| | |
| St. Louis Post-Dispatch, Feb 7, 1971 | St. Louis Post-Dispatch, May 2, 1971 |
By 1973, sophistication had apparently arrived, as evidenced by St. Louis Post-Dispatch food critic Joe Pollack's gushing review.
The restaurant is interesting, excellent and quite different. It boasts some of the most unusual appetizers and entrees in the area, and a chef whose touch with seafood is outstanding. There is imagination and love in the cooking, and the results show it, and there is pride in the serving of a dish that has eye appeal as well as taste.

St. Louis Post-Dispatch, Apr 11, 1973
Sophistication continued to abound, as the Seventh Inn received the 1976 Holiday Magazine award for fine dining. The award was based on "the selection, preparation and serving of foods; restaurant atmosphere; and the attentive sincerity of personnel." The restaurant would receive this award annually for 12 years, beginning in 1978.
The "restaurant atmosphere" was opulent. Tiny sparking lights greeted diners as they entered the Seventh Inn's 100-seat dining room, its white decor highlighted by Roman statues, French impressionist paintings and large silk flower arrangements. A smaller dining area, often used for private parties, seated 28.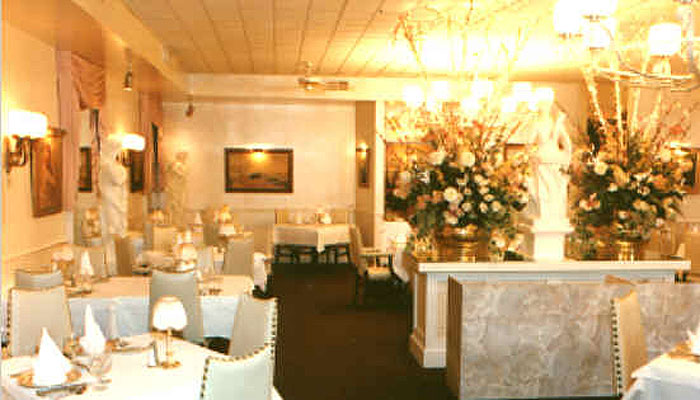 Seventh Inn Main Dining Room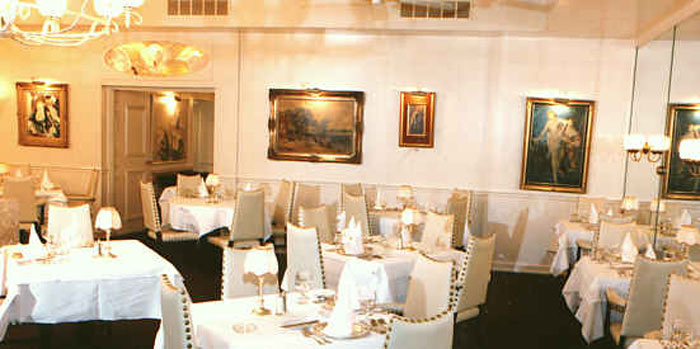 Seventh Inn Main Dining Room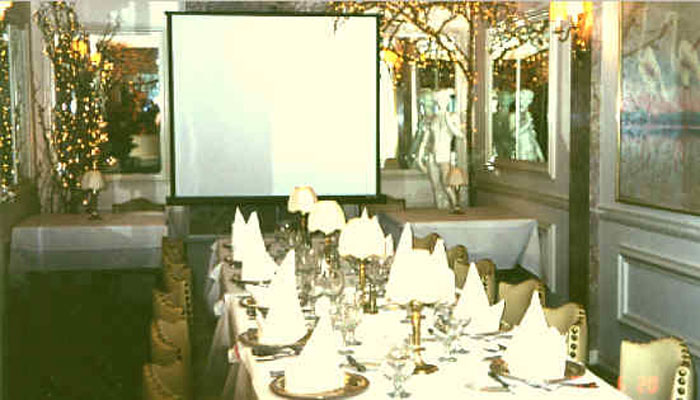 Seventh Inn Private Dining Room
Else Barth greeted each diner. Women received a long-stemmed carnation from the oversized bouquet in the center of the dining room. The maître d' unobtrusively provided a jacket for men if they were without one.
The Seventh Inn boasted a highly polished staff of tuxedo-clad waiters, complete with white gloves, who offered impeccably proper service. A sincere interest in the well-being of their customers was a prime consideration, said Else Barth, who didn't want her staff to be considered aloof or stuffy.
"We want people to feel comfortable here, which is one of the reasons we try not to use a lot of fancy foreign names on our menu," said Barth. "That way, people don't have to ask what things are or feel as if they have to pronounce the names with the proper French accent."
Things were not so easy for the waiters, who nightly recited a list of a dozen or more off-the-menu specials and described their preparation in great detail.
"Our goal here is to have the best food and the best service available anywhere," Barth said. "Professionalism in the presentation of the food is extremely important."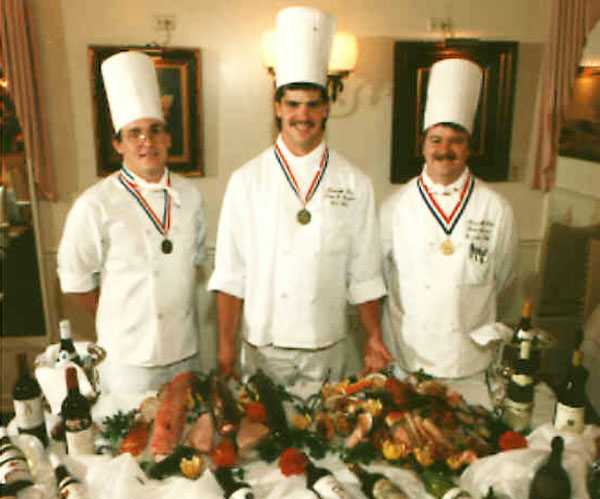 Seventh Inn Chefs
The printed menu listed some 75 items, not counting desserts. There were more than a dozen appetizers alone, from shrimp de Jonghe and fresh mussels to steak tartare, stuffed mushrooms and fried artichoke hearts.
Entrees included three kinds of Wellingtons, five chicken dishes, 10 beef entrees, eight veal or lamb dishes and 19 fish and seafood plates, including Florida red snapper, Danish lemon sole, creamed curry scampi and lobster with champagne sauce.
Among the dishes Barth was most proud of were the Sicilian steaks, with Provel cheese, mushrooms and prosciutto ham; the veal chops, with fresh morels in brandy sauce; the fresh swordfish, stuffed with escargots, fresh shallots and capers; and a lemon sole Wellington, with a Bearnaise sauce.
Smoked shrimp fettuccini was served as a side dish at the restaurant, usually beside a seafood entree, such as the sole Wellington.
Many of the dishes were prepared tableside, partly because Barth believed that hot food should be served hot and partly, she said, because it was entertaining for her customers.
Soup, salad and sorbet came with each dinner.
Barth calculated that, with all the specials plus the desserts and flaming coffees, the restaurant offered nearly 150 items a night.

Else Barth with Chef Tom Herides and staff
St. Louis Post-Dispatch, Nov 29, 1989
Seventh Inn Menu, 1989
(click image to enlarge)
However, quantity did not always mean quality, and by 1991, food critic Joe Pollack's review was less glowing.
Walking into the Seventh Inn is like taking a large step backward in time. The decor is much like a post-World War II Miami Beach Hotel, right to the draped statues. The so-called "Continental" menu, with items like crab Oscar, shrimp de Jonghe and stuffed tenderloin, seems like an echo of the '50s, though certainly not an unpleasant one.

Prices, however, are strictly 1992, and two recent visits resulted in meals that were a lot less than I expect in a restaurant where dinner is going to be about $40 a person before beverages, tax and tip. As I've said on many occasions, restaurants set their own standards with their prices and there are no minor mistakes at the top end of the scale.

St. Louis Post-Dispatch, Oct 24, 1991
In 1994 the Seventh Inn received the DiRōNA award. The Distinguished Restaurants of North America recognized excellence throughout the United States, Canada, Mexico, Central America and the Caribbean. But there were still tepid appraisals locally, including a 1996 review by Post-Dispatch food critic Susan Hegger.
So is it time for the standing ovation? How about just a hefty round of applause? The Seventh Inn certainly does exactly what it sets out to do: It serves classic continental cuisine in a highly formalized, ritualized setting.

But for me, its very predictability and rigidity weakened the overall experience. I missed the excitement and surprise that come from taking culinary risks and playing with adventurous combinations. I didn't want to know from the start how the play would end.

St. Louis Post-Dispatch, Feb 8, 1996
Lee Barth died on December 31, 1997 at the age of 77. Else, age 59 at the time, said in his obituary: "My dear husband, my best friend. Such strength, love & courage through so much pain. He now is at peace and will be forever missed."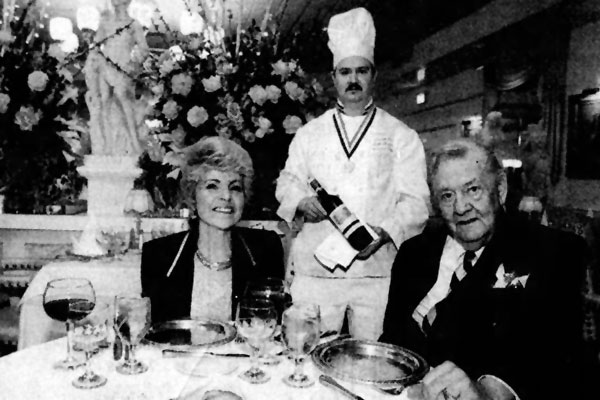 Else and Lee Barth with Executive Chef Keith Martins
St. Louis Post-Dispatch, Feb 8, 1996
In January of 2006, the City of Ballwin banned smoking in public places. For 35 years, customers would stay for hours after dinner at the Seventh Inn drinking brandy, smoking cigars or cigarettes, and listening to live music. Now the income from these traditional indulgences was gone.
From January to April of 2006, sales at the Seventh Inn had dropped 30 percent over the same period the previous year, hitting the worst level in five years. "It can happen that I will close down," said Barth in June of 2006.
She had cut down live music evenings from five to three days a week, made changes to the menu, launched Sunday European brunches and hoped that with nice summer weather customers would not mind smoking outside the restaurant.
But Barth, a smoker herself, worried about what was to come. "I wonder what will happen in the winter," she said. "I just feel so rude telling my guests to go out when it is cold."
Barth didn't have to wonder what would happen for long. On the morning of November 20, 2006 a devastating fire destroyed the Seventh Inn restaurant.
"It's a total loss," said Metro West Fire Chief Vince Loyal. "They won't be able to reuse this structure."
Loyal said he was not sure if the fire was suspicious. "We investigate all fires to determine their cause," he said.
"There was no malicious intent. It was not a set fire," said Michael Thiemann, spokesman for the Metro West Fire Protection District. "It was accidental, and apparently started in the lounge area."
But Thiemann added that the exact cause of the fire was unknown.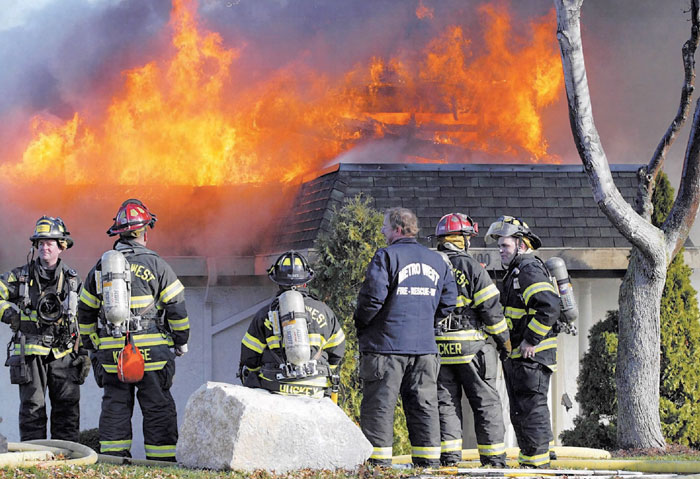 Firefighters wait to be assigned at a fire at the Seventh Inn restaurant
St. Louis Post-Dispatch, Now 21, 2006
As the ashes smoldered, the following appeared on the Seventh Inn website.
Please keep us in your prayers, all the employees and their families during this trying time. We will return . . . this has been a devastating experience but one we will overcome . . . with your thoughts and prayers . . . Else Barth
However, the Seventh Inn did not return and Else Barth disappeared from public view.
* * * * *
In 2016, Else Barth resurfaced south of the border. She helped open a new eatery – Elaine's – at the Villas Del Sol hotel in Bucerias, Mexico, a small town just north of Puerto Vallarta. The restaurant's executive chef was Keith Martins, who had worked with Barth at the Seventh Inn for more than twelve years. Entertainment was provided by R & B artist Clinton Gallagher, who had worked with Barth for over 20 years and was her companion. Else Barth had returned.

| | |
| --- | --- |
| | |
| Else Barth and Chef Keith Martins | Else Barth |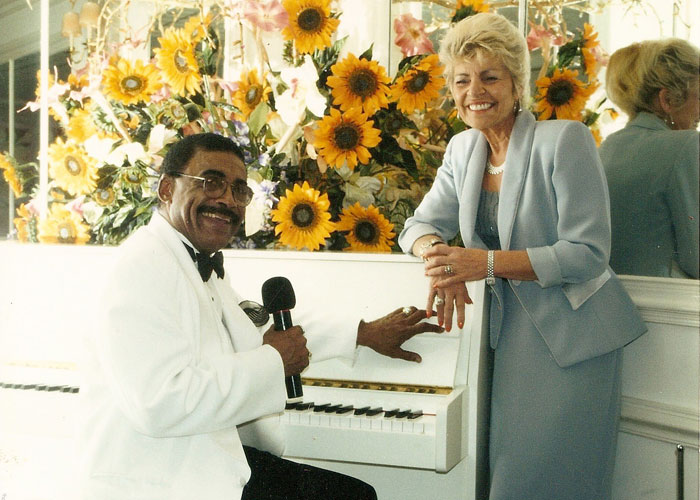 Else Barth and Clinton Gallagher
---
Copyright © 2019 LostTables.com
Lost TablesTM is a trademark of LostTables.com. All rights reserved.