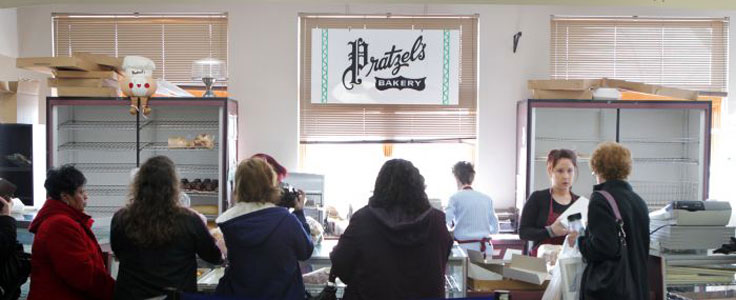 Pratzel's Bakery
Max Pratzel and his younger brother Nathan were born in Mieroszów, Poland towards the end of the nineteenth century. Max's gravestone at Chesed Shel Emeth Cemetery in University City lists his birth year as 1887; Nathan's is listed as 1891. However, Max's draft registration cards list his birth date as September 1, 1885. Nathan lists his birth year as 1889 on his WWI card and his birth date as December 17, 1888 on his WWII card. It's probably safe to say that neither brother brought along a birth certificate when they immigrated to the United States.

In the early 1900s there was a Jewish quarter in north St. Louis, bounded by Sixth and Eighteenth Streets. There were some sixteen Yiddish bakeries in the district, including Adam Knebel, at 1400 Biddle, H. Goldberg, at Fifteenth and O'Fallon, J. Komens, at Fourteenth and Biddle, Harry Senturia, at 1014 North Eleventh, David Senturia, at 819 Carr, Paul Brehm, at 2417 North Fifteenth, Henry Cohen, at 814 Biddle, William Ellerbrock, at 1444 North Thirteenth, and Moritz Lewis, at 1102 High.
In 1908, there was a bread war in the district; bread of all kinds was selling at less than cost. Sixteen-cent loaves of bread were selling for eight cents, 10-cent loaves for four-cents, five-cent loaves at two for five cents, and Vienna rolls and pumpernickel were passing over the counter at half price and less.
Mrs. Rosa Lewis, wife of Moritz Lewis, who manages her husband's bakery at 1102 High street, is given the credit by his rivals of starting the bread war that now rages in the Ghetto. They assert that she made the first cut in prices and that they had to go her one better to hold their trade.

On the other hand, Mrs. Lewis told a Post-Dispatch reporter that the other Yiddish bakers tried to get her into a combination to boost prices and bull the bread market, and when she refused they cut prices to put her out of business.

No matter which version of the tale is correct, the result filled Biddle, Carr, High, Eleventh and other streets in the Jewish quarter with such bread lines Monday and Tuesday that it required the services of the police to keep the crowds in order.

St. Louis Post-Dispatch, December 29, 1908
In 1913 (or 1914) Max Pratzel, who had been a baker in Poland, entered this fray, opening a bakery on High Street (possibly 1102), at Carr.

As the Jewish population migrated westward, so did the Pratzels. By 1916, Max Pratzel and his brother Nathan had opened Pratzel Brothers Bakery at 2839 Dickson.


1917 Gould's Directory
In 1914, Max Pratzel married 17-year-old Sarah Hilch, who had immigrated to the United States from Russia in 1905. By 1919, the couple had three children – Loretta (Yetta), Alvin and Nathan (Nate) – and they all lived above the bakery at 2839 Dickson. Nathan Pratzel also lived above the bakery, first by himself and then with his wife Tillie, who he married in 1919. As Nathan and Tillie's family grew, they eventually moved to a home of their own at 5818 Roosevelt Place.
Pratzel's Bakery moved westward to 5615 Easton Avenue in 1928, and then westward again in 1931, to 611 Eastgate Avenue in University City. Max and Sarah Pratzel, and their three children, lived in an apartment over the bakery, at 609a Eastgate. This would be Max Pratzel's final home.

| | |
| --- | --- |
| | |
| Max Pratzel | Sarah and Max Pratzel |
From childhood, Max Pratzel's children were involved in the business. They helped out in the store after school and during the summer months. The bakery was literally home. When they married, their spouses pitched in too.
Max's brother Nathan also continued to work at the bakery. On his 1942 draft registration card he listed his employer as Max Pratzel at 611 Eastgate. Nathan died in 1949 at the age of 58.
When Max Pratzel became disabled in his early 50s, his children stepped in to run the bakery. His son Nate officially took over management of the business after World War II, and ran the bakery with his brother Alvin, his sister Yetta Lugger and his brother-in-law Aaron Lugger.
On November 10, 1963, Max Pratzel died at the age of 77.
The bakery continued to prosper and the Pratzel family earned a reputation for providing the community with much more than their quality baked goods. Pratzel's made deliveries to homes during the Great Depression which consisted of only a half loaf of bread or a half-dozen bagels. With money scarce, these orders were often filled for customers on a promise to pay later.
Nate Pratzel had three sons, Ronald, Robert and Alan.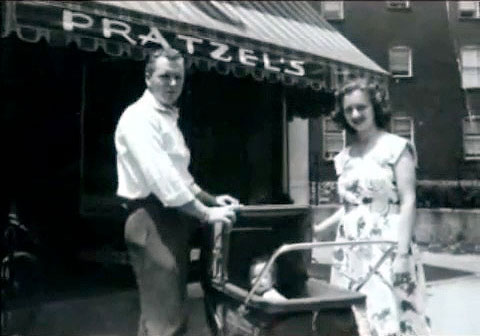 Nate's wife Bertha, their son Ronald (in buggy) and Bertha's brother
611 Eastgate, late 1940s
"When I was born, my family lived above the bakery," Ron Pratzel recalled. "We worked on top of each other, and we made a whole lot of bread."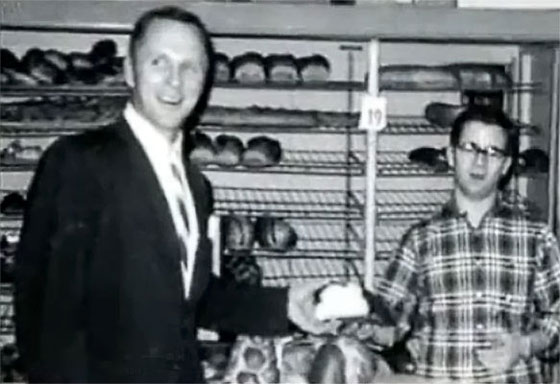 Pratzel's Bakery - 611 Eastgate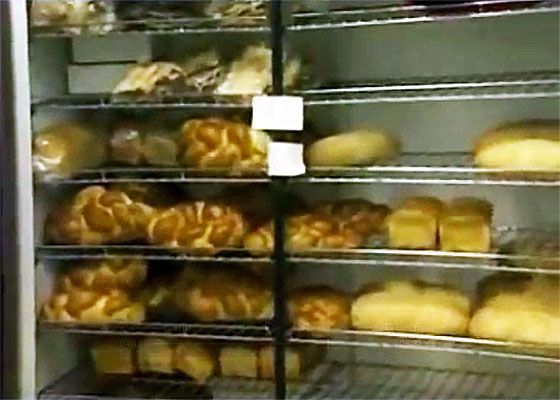 Pratzel's Bakery - 10405 Old Olive Street Road
Long before sourdough was a word associated with San Francisco, Jewish bakers were creating ryes and pumpernickel breads using sourdough starters they brought with them from Europe. When Max Pratzel came to St. Louis, he went to another Jewish baker and asked him for a small portion of his sour culture. Pratzel's continued to grow that culture for almost 100 years and used it to make their rye bread.
Bakers used cornmeal to glide loaves in and out of the baking ovens. Nate Pratzel liked the taste of the cornmeal coated rye bread bottoms so much that he would cut them off and take them home. Eventually, it occurred to him that it might be a good idea to cover the entire loaf with cornmeal, which is how one of Pratzel's bestseller, tzizel rye bread, was born.

And, of course, Pratzel's baked challahs (egg breads) for the Jewish holidays and bagels of all varieties.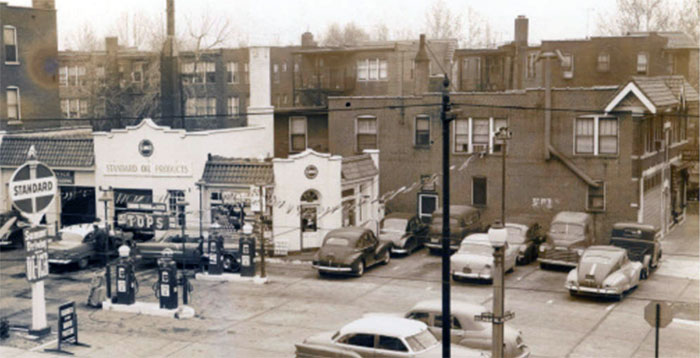 Pratzel's Bakery, 611 Eastgate at Delmar, 1955
Recognizing the need to serve the Jewish population which had migrated to West County, the Pratzels opened a second bakery in 1973 at 11730 Olive, just east of Ballas Road, next door to the Creve Coeur fire house. To service their two locations more efficiently, the family moved their baking plant to an 8,000-square-foot building in Olivette, at 9263 Dielman Industrial Drive.
In 1978, Pratzel's opened another retail location in University City, at 928 North McKnight, and for a short time, they had three retail stores. However, the following year they closed their 611 Eastgate store, which Max Pratzel had opened in 1931.
In the 1980s, the third generation of the Pratzel family took over the reins of the bakery. Nate's son Ron had completed his third year as an English major at Washington University when he married his high school sweetheart. He decided he wanted to quit school and work in the bakery.

"My father said, 'You're stupid,'" he recalled. "But I always enjoyed working at the bakery."

In 1978, Ron Pratzel and his wife Elaine started working at the bakery full time, and in 1983, they purchased the business. Nate Pratzel continued to be involved in the business, and could regularly be seen overseeing work at the Dielman plant.
In 1984, the Pratzels moved their Creve Coeur store around the corner, from Olive Blvd. to 727 North New Ballas.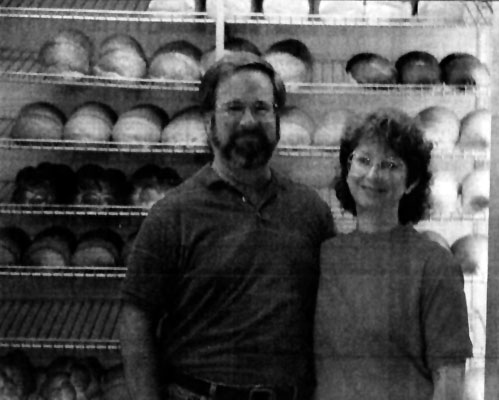 Ron and Elaine Pratzel at their North New Ballas store
St. Louis Post-Dispatch, August 21, 1989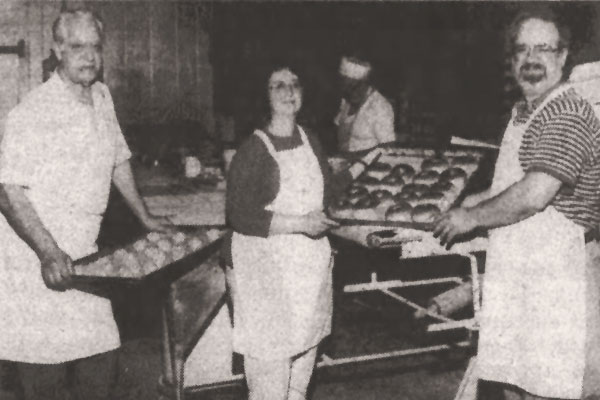 Nate, Elaine and Ron Pratzel at their Dielman baking plant
St. Louis Jewish Light, May 9, 1994
Ron and Elaine Pratzel made the bakery business their life, often spending 12-15 hours a day at work. Ron managed the production end of the business while Elaine handled the bookkeeping.

Through the years, the Pratzel family saw the focus of their business change. In the early days, the bulk of their business was retail and they sold mostly bread products. In later years, the majority of retail sales consisted of pastry items, including stollens and their famous "upside-down" cupcakes.

| | |
| --- | --- |
| | |
| Pratzel's Stollens | Pratzel's Cupcakes |
Ron Pratzel estimated that his bakers made 15,000 hamantaschen every year for Purim. Hamantaschen are filled triangular pastries, representing the hat worn my Haman, the villainous biblical courtier from the Book of Esther. Pratzel's made its own cherry filling, and bought its other hamantaschen fillings – prune, poppy, apricot and strawberry – in bulk.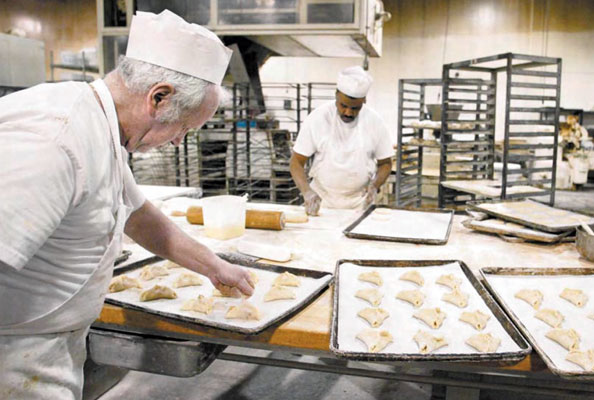 Hamantaschen prepared at Pratzel's Dielman baking plant
Pratzel's wholesale business initially consisted of primarily the 15-20 delicatessens that could be found in St. Louis. As the number of delis dwindled, Pratzel's supplied bread and baked goods to area supermarkets, hotels and restaurants.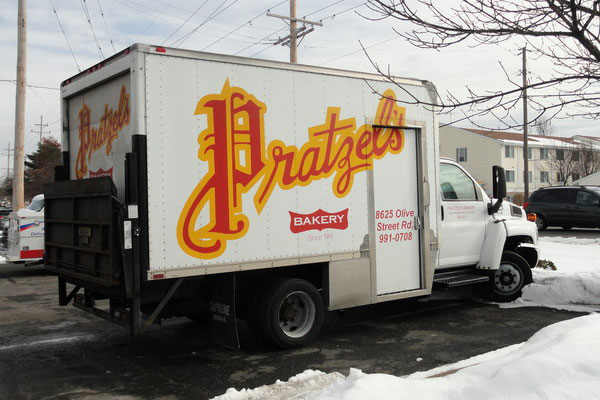 Pratzel's Delivery Truck
In 1999, the Pratzels moved their North McKnight store in University City "down the hill" to 8625 Olive, in Jeffrey Plaza.
Nate Pratzel died on June 14, 2000 at the age of 81.
In 2004, the Pratzels closed their Creve Coeur bakery on North New Ballas, consolidating their retail operation at their University City location on Olive, in Jeffrey Plaza.
In 2007, the Pratzels moved their retail operation back to Creve Coeur. They closed their University City store and found a new home inside Simon Kohn's Kosher Market at 10405 Old Olive Street Road.
"There were a number of factors for the move," said Ron Pratzel. "First and foremost was the opportunity to be with Kohn's in what we think is a mutual clientele of kosher customers. Our lease was up so we decided to go and act. We have always observed the same kosher rules, like being closed for the Jewish holidays that came about, so it seemed like a good match.
"The location avails itself a little more to the population that lives in the Creve Coeur and Chesterfield areas, without having gone completely away from U City. We are obviously not going to make everyone happy but we've tried to accommodate as best we could."
Kohn's was the Pratzel family's last home. Early in 2011, they announced they would be closing the bakery.
"We've had a good long run," said Ron Pratzel, "but we just can't do it anymore."
Pratzel said while the retail side of the operation at Kohn's had remained strong, the wholesale end, representing about three-quarters of the business, had dropped off by 15 to 20 percent.

"We got through the first year of the recession pretty well. We didn't make money but we didn't lose any money," he said. "But by the time we rolled into 2010, it just became a monthly fact that we had red ink."

The bakery's last day was Sunday, January 30, 2011, after which the retail store inside Kohn's Market and the baking plant in Olivette both closed.
However, Pratzel's didn't go out without a bang. The news of the shutdown sparked a huge demand for the bakery's products. The bakery went into overdrive, but even working at full capacity, the shelves were empty by 1:00 on the last Sunday. Cupcakes were so popular, they had to reorder chocolate from their supplier two or three times. Stollens were another hot item.

"People were buying seven or eight [cupcakes] at a time," said Elaine Pratzel. "We just couldn't keep up with the demand."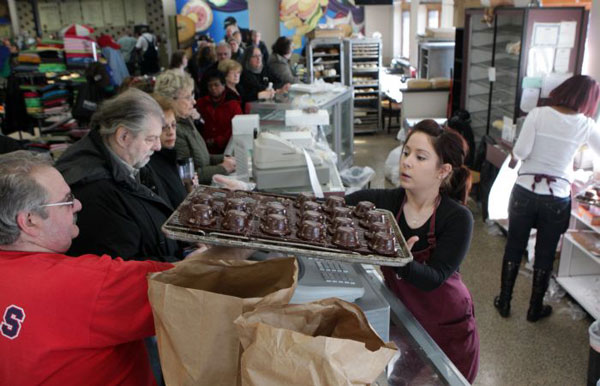 Pratzel's Bakery inside Kohn's Market, January 30, 2011
As the shelves ran dry, memento-seeking customers began purchasing items not on the menu, including the Pratzel logoed aprons off the sales clerks.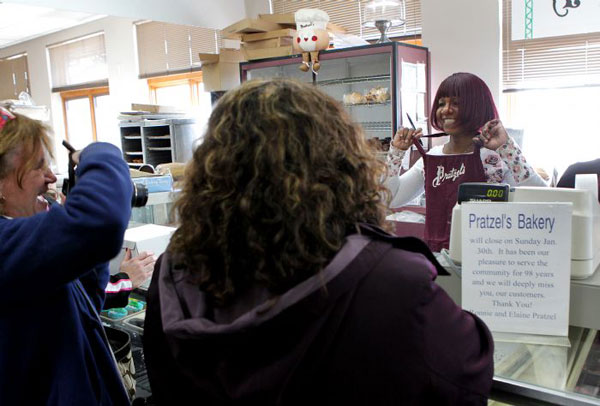 Pratzel's Bakery inside Kohn's Market, January 30, 2011
As the final day drew to a close, "there was nothing left," said Elaine Pratzel. "Not even crumbs."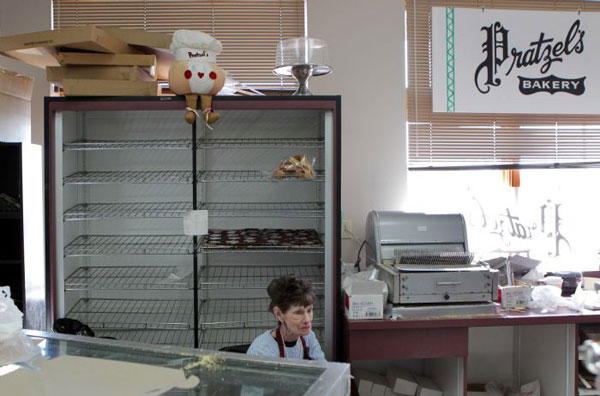 Pratzel's Bakery inside Kohn's Market, January 30, 2011
The Pratzels had searched for a buyer for their bakery before they closed it, and they continued to do so.
"We are exploring every avenue that we can to perpetuate the bakery," said Ron Pratzel. "The fact that we've closed won't prevent that."
In March of 2011, it was announced that Jon Mills, who described himself as a documentary producer and foodie, had purchased Pratzel's Bakery's trademark, recipes and kitchen equipment.

In the summer of 2011, Mills resumed baking at the company's plant at 9263 Dielman Industrial Drive and opened a storefront retail shop in the same building. He named the business Eastgate Bakery, in honor of Pratzel's longtime University City location. Ron Pratzel stayed on as a consultant until June of the following year.

| | |
| --- | --- |
| | |
| Ron Pratzel and Jon Mills | Pratzel's Eastgate Bakery |
But Pratzel's Eastgate Bakery lasted only until the end of the following summer, when the Olivette bakery facility closed without warning. Jon Mills disappeared – along with Pratzel's challahs and tzizel bread and bagels and stollens and upside-down cupcakes.

---
Copyright © 2017 LostTables.com