Pizzeria's
Pizza, an Italian dish ranking in popularity with spaghetti and ravioli in the East, is a newcomer in St. Louis. It is part pie, part hot sandwich, and a restaurant where it is baked is called a pizzeria (peetser-ee-ah).
St. Louis Post-Dispatch, April 13, 1947
Melrose Pizzeria
The Melrose Apartments was constructed in 1907. Three stories tall, with a raised basement, the L-shaped, red-brick building fronted west on Sarah and north on West Pine. The tall basement allowed for sufficient light for commercial use. Older tenement-style buildings provided only cellars or storage areas in dim, low-ceiling basements, with commercial use only in first floor storefronts. The Melrose Apartments demonstrated that modern apartment buildings in St. Louis could efficiently utilize all interior space, even the basement.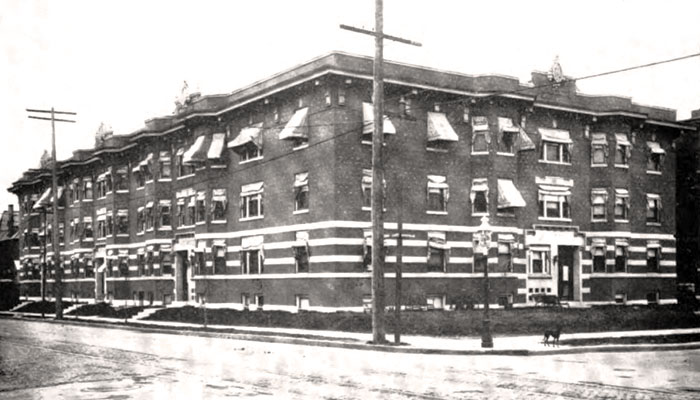 Melrose Apartments
Starting in the 1920s, a series of restaurants began operating in the Melrose Apartments basement, at 204 N. Sarah.


St. Louis Post-Dispatch, February 27, 1931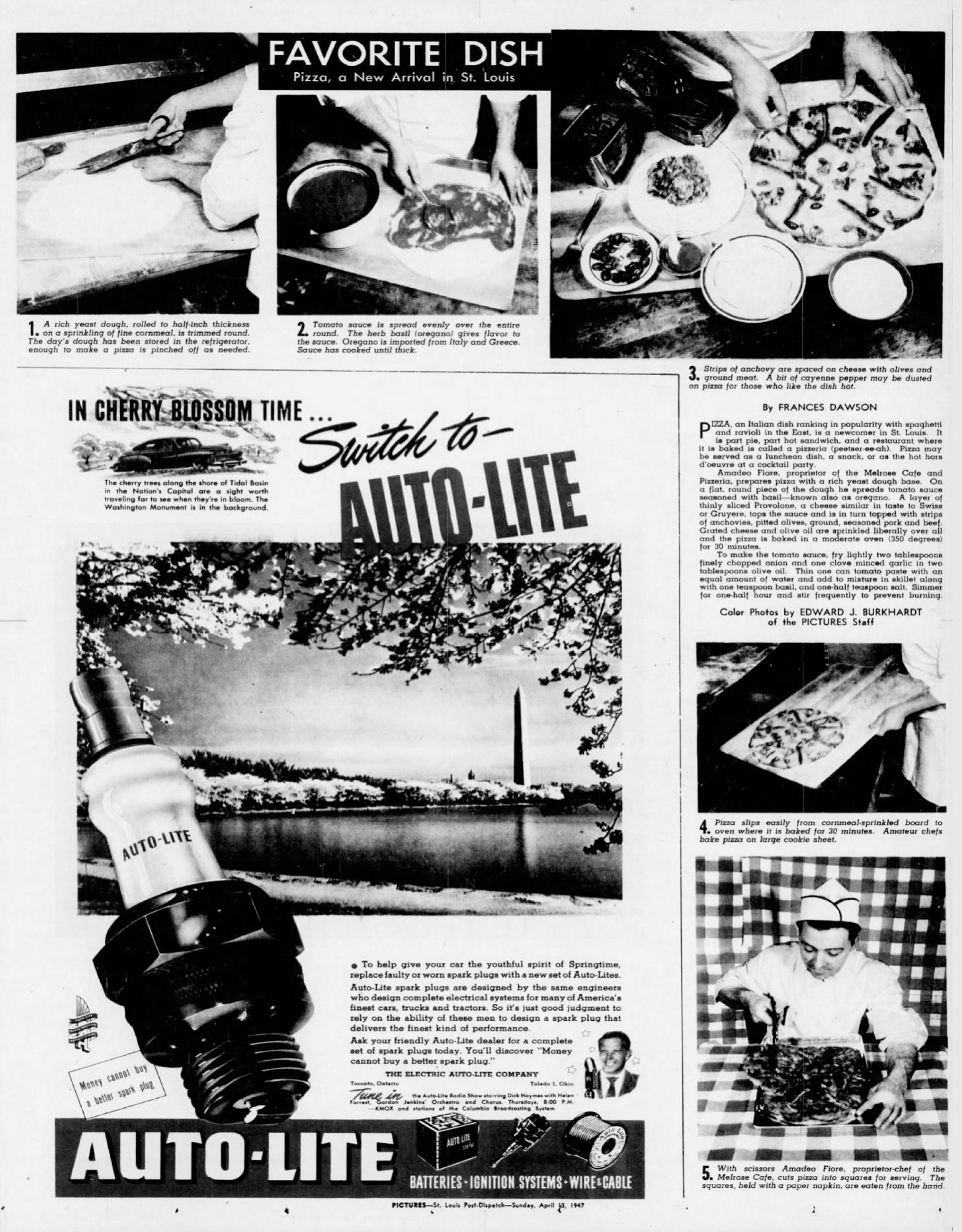 St. Louis Post-Dispatch, October 1, 1944
In April of 1945, Amedeo Fiore and his wife Elizabeth opened an Italian restaurant in the basement space. The restaurant was frequented by a diverse clientele, including guests from the Chase Hotel, sent there by Hack Ulrich, manager of the Chase Club. Legend has it that when hotel guests complained to Ulrich there was nowhere to go in St. Louis for a pizza, he convinced Fiore to add it to his menu. Fiore ordered an oven and developed a special recipe; the Melrose Pizzeria and St. Louis style pizza were born.

St. Louis Post-Dispatch, November 13, 1946
Amedeo and Elizabeth Fiore
St. Louis Post-Dispatch, November 15, 1946
An April 13, 1947 St. Louis Post-Dispatch article detailed Fiore's St. Louis pizza recipe.
Amedeo Fiore, proprietor of the Melrose Pizzeria, prepares pizza with a rich yeast dough base. On a flat, round piece of the dough he spreads tomato sauce seasoned with basil – known as oregano. A layer of thinly sliced Provolone, a cheese similar in taste to Swiss or Gruyere, tops the sauce and is in turn topped with strips of anchovies, pitted olives, ground seasoned pork and beef. Grated cheese and olive oil are sprinkled liberally over all and the pizza is baked in a moderated oven (350 degrees) for 30 minutes.
Strips of anchovies are spaced on cheese with olives and ground meat (left)
With scissors, Amedeo Fiore cuts pizza into squares for serving (right)
St. Louis Post-Dispatch, April 13, 1947
By the end of 1947, Fiore had closed his restaurant at Sarah and West Pine, reopening it in the spring of 1948 at 5026-5028 Easton. On April 29, 1951, Fiore opened a Melrose Pizzeria at 5910 Natural Bridge, where St. Louis style pizza was served until the early 1970s, when the Fiores closed their pizzeria and retired to California.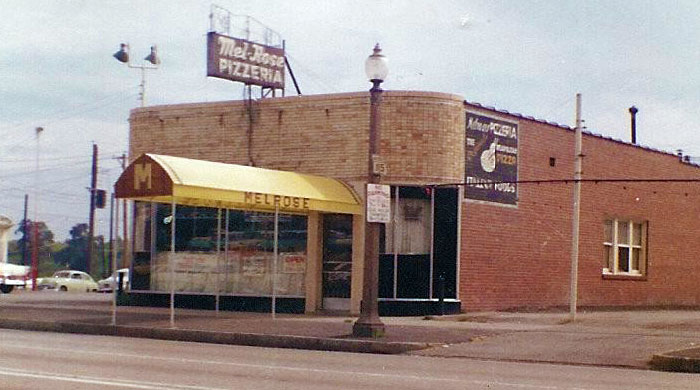 Melrose Pizzeria, 5910 Natural Bridge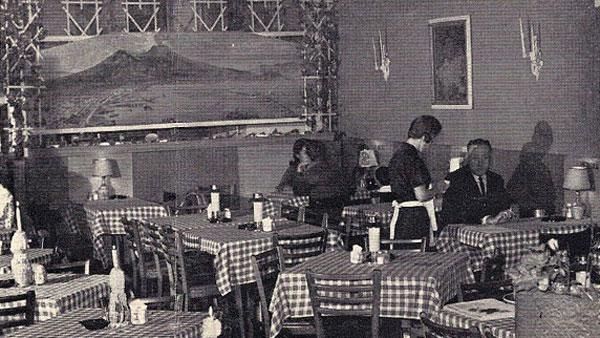 Melrose Pizzeria, 5910 Natural Bridge, Interior
Parente's
Brothers Joseph and Louis Parente got their start in the restaurant business under the tutelage of Amadeo Fiore at his Melrose Pizzeria, at Sarah and West Pine. When Fiore moved his restaurant to Easton Avenue at the end of 1947, he sold the space in the basement of the Melrose Apartments to the Parente brothers, and they reopened it as Parente's Pizzeria.
As the Parentes' "pizza pie" was discovered by more and more St. Louisans, Joe Parente opened a second pizzeria, Pagliacci's, at 4592 Manchester and Kingshighway, with partner Bob Cassulo.

| | |
| --- | --- |
| | |
| St. Louis Post-Dispatch, February 22, 1948 | St. Louis Post-Dispatch, January 21, 1951 |
Pagliacci's, 1956
(click image to enlarge)

The Parentes' restaurants were known for hospitality and great Italian food. Joe could usually be found at the stove, while Lou was more of a front man. The restaurants were popular places for sports and entertainment figures, their walls adorned with autographed photos of well-known customers.
In early November of 1954, the Parente brothers opened Parente's Italian Village on Chippewa at Watson, in a building that had once housed the Shangri-La restaurant. By the end of November, they had sold their original restaurant at Sarah and West Pine. Joe Parente also sold his interest in Pagliacci's Pizzeria.

The Parentes' new restaurant flourished. But on the morning of April 5, 1963, a fire started in a basement storeroom. Dense clouds of smoke billowed across Chippewa and Lansdowne, and flames shot through the roof of the one-story building. Parente's Italian Village was virtually destroyed, with damage exceeding $100,000.
The Parente brothers chose not to rebuild; they eventually sold the burned restaurant to Roy Russo in 1964, who reopened it in 1965 as Saro's Sunny Italy. Instead, the Parentes reopened Parente's Italian Village on Manchester Road in Rock Hill.
The turreted building at 9748 Manchester Road that housed the new restaurant was built in 1861 as the home of steamboat captain Mils T. Redmon, whose guests included Ulysses S. Grant. The first use of the building as a restaurant was as Chalet de Normandie, in 1951.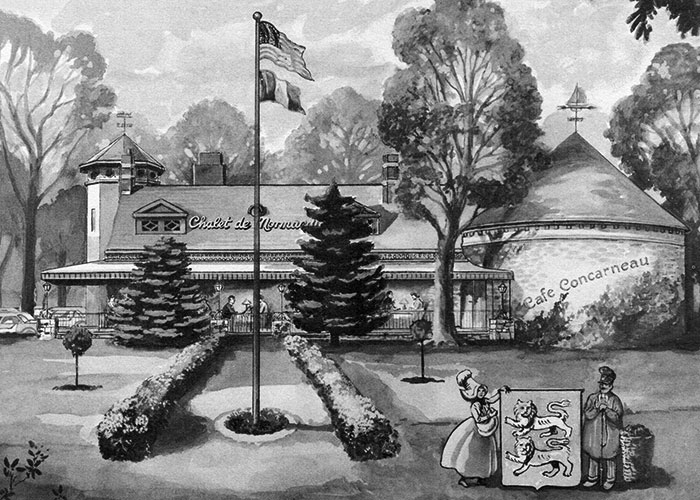 9748 Manchester Road
In 1965, Joe Parente went out on his own and opened Mama Parente's at 2524 Hampton, on the northeast corner of Hampton and Columbia Avenues. In 1969, he sold it and rejoined his brother.
In 1974, the Parentes closed Parente's Italian Village – the turreted building would become Oliver's and then Hacienda. In the fall of 1975, they opened a Parente's restaurant at 5356 Daggett Avenue, at the corner of Macklind on the Hill.
The new restaurant retained the homey touches the Parente brothers were known for. There was a sign saying "Parente's has it from Antipasto to Zabaglione" and another in front of the kitchen noting that "the finest meat balls in the world pass through this door." And there was plenty of pizza on the menu, including a sausage, mushroom, onion and green pepper offering, with the acronym SMOG.
In 1977, the Parents closed their restaurant on Daggett, and Joseph Parente retired from the restaurant business. But Lou Parente wasn't finished selling pizza. In 1981, he opened Parente's Pizza at 9824 Manchester in the Rock Hill Shopping Center, and in 1983, he opened Parente's on Pershing at 5501 Pershing as part of the remodeled DeBaliviere area. Both restaurants offered pizza, with a thin crust and lots of toppings.

Louis Parente eventually sold both businesses and retired to Florida. He died on March 7, 2001 at the age of 79. His brother Joseph died on September 15, 2001 at the age of 81.

Rossino's
Rossino's was the third pizzeria to inhabit the basement space in the Melrose Apartments at 204 N. Sarah, following on the heels of Parente's Pizzeria. Roy and Nina Russo, and their partner Frank Gianino, took over the space in 1954, combining their surnames to christen the new restaurant. Gianino soon left, leaving the Russos as Rossino's sole owners.

Rossino's - 204 N. Sarah
The basement restaurant was dimly lit, with low hanging pipes overhead. Joe Pollack, the late Post-Dispatch critic, wrote that Rossino's was "especially popular with short persons and athletic types with reflexes good enough to duck the pipes...." The decor included a fascinating clutter of sports memorabilia, old signs, photos, advertisements, mirrors, paintings, books, trophies, license plates and bottles.

Rossino's Interior
The menu included a classic Italian salad with salami, provolone, olives and a sweet vinaigrette; a unique chicken-liver-and-mushroom pasta and another pasta made with Rossino's rich, tangy marinara; and a distinctive rectangular pizza made with mozzarella or provolone or both.

Many of St. Louis' Italian restaurateurs got their start at Rossino's. Roy and Nina Russo's daughter Nancy, who with her husband Tom Zimmerman bought Rossino's from her parents in 1963, laid out the lineage.
The Pasta House guys worked here before they started on their own. Mike Faille (Talayna's) is my uncle; he started here making pizzas when he was 15 years old. Mike Del Pietro was my brother-in-law; we started them in business. He worked for us as a waiter for 20 years. We used to own half of Portabella. We used to own Deli D'Italia, which we sold lock, stock and barrel to Bob Candice (Candicci's) and started him off. And the grandfather of the Bartolino family worked for us. About 35 restaurants have come out of Rossino's, including Charlie Gitto's – that's my Uncle Charlie. He worked for us also.
Roy Russo died in 1976. Tom Zimmerman was killed by a drunk driver in 1986. Nancy continued to run Rossino's with the help of her mother Nina and her son Rory until April of 2006, when she retired and the restaurant closed its doors.
* * * * *
St. Louis style pizza is a distinct type of pizza popular in the Midwestern American city of St. Louis and surrounding areas. The definitive characteristics of St. Louis style pizza are a very thin crust made without yeast, the common (but not mandatory) use of Provel processed cheese, and pizzas cut into squares or rectangles instead of wedges. The sauce is often seasoned with more oregano than other pizza types.

Provel is a white processed cheese particularly popular in St. Louis cuisine, that is a combination of cheddar, Swiss and provolone cheeses, and tastes nothing like any of them. Provel has a low melting point, and therefore has a gooey and almost buttery texture at room temperature. It is the traditional topping for St. Louis style pizza.

Although popular in the St. Louis area, Provel is rarely used elsewhere. It is not universally beloved even in St. Louis, where its pronounced tendency to stick to the teeth has made some avoid it.
Wikipedia
* * * * *
Luigi's
Luca "Luigi" Meglio was born in 1927 in St. Louis, the oldest son among five children, including two older sisters and two brothers. His parents were from Italy. His mother was a seamstress. His father had a series of jobs: cobbler, street lantern lighter and mason. After graduating from Southwest High School in 1945, he joined the Marines and was sent to China. While he was there, his father died.
Meglio returned home to work as a waiter in a restaurant in the Central West End operated by his cousins – the Parente brothers. His mother, Angiolina Meglio, was a Parente. She told her son, "If they can do it, we can," and mortgaged her home on Morganford Road in south St. Louis to help him get started.
In January of 1953, Meglio opened Luigi's Restaurant on Watson Road at Arsenal. His mother worked in the kitchen. The restaurant used her recipes and sold Italian food. Pizza was a hot seller. His brother Frank started behind the bar and his brother Tony started as a waiter.

The restaurant prospered, and the overflow of customers resulted in Meglio opening three more Luigi's – at 8965 Natural Bridge, at 12870 Manchester and at 12900 New Halls Ferry, in the Village Square Shopping Center.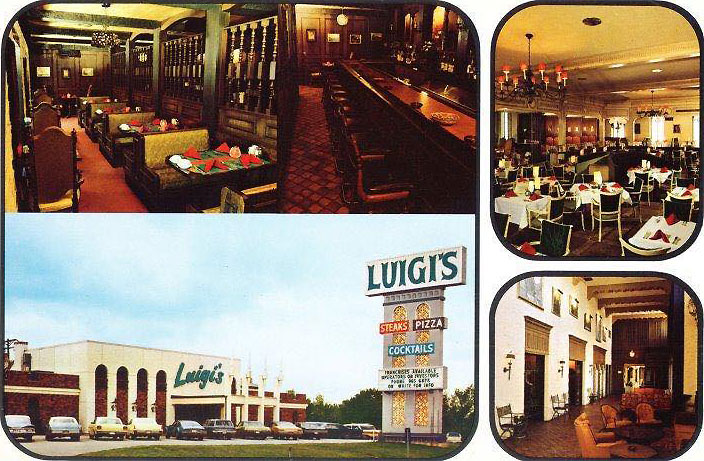 Luigi's - 12870 Manchester Road
Meglio was known as an innovator. He instructed his waitresses to introduce themselves by leaving their name tags at each table. Noticing that four round pizza pans didn't fit easily on top of a restaurant table, he began serving his pies in rectangular pans. He made thin crust pizzas with Provel cheese, and was among the first to offer unusual toppings, such as pineapple and ham.

Meglio invented a better pizza oven. He took two Bakers Pride ovens, cut off the sides, and linked them together with a conveyor belt to speed up production and cook the pizzas uniformly.
At 5:30 in the morning on Jan. 2, 1977, Meglio's brother Frank was making a deposit at Southwest Bank on South Kingshighway. He was shot in the back and robbed of $2,000, leaving him partially paralyzed. Police arrested a former dishwasher and pizza maker who had worked for the Meglios during his high school years.

The shooting of his brother left Meglio worried about what would happen when his three daughters were old enough to work in his restaurants. By 1981, Meglio had closed all four restaurants.
Luca "Luigi" Meglio died on August 28, 2014 at the age of 86.
* * * * *
The Fiores, the Parentes, the Russos and the Meglios set the stage for the pizzerias that would follow; Pastori's on Laclede, Cusanelli's on W. Pine, Di Martino's on Shaw, La Contessa on Delmar, Marietta's on Clayton, Charlie Mittino's on Watson, Dettoli's on Jefferson, Kemoll's on N. Grand, Rinaldi's on Delmar, Garavaglia's on Watson, Yacovelli's on Big Bend, Ponticello's on Goodfellow, Staebell's on Southwest, Lombardo's on W. Florissant, Antonio's on Gravois, Rose's on Franklin, Sala's on Newstead . . . and lots more.

---
Copyright © 2016 LostTables.com