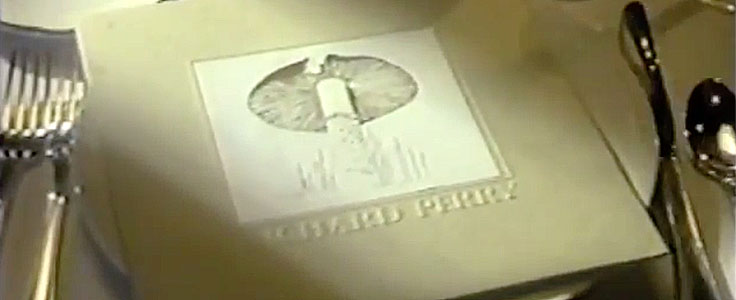 Richard Perry
Richard Perry's parents were both from the same farming community in Potomac, Illinois. After they were married, they moved to Chicago, where Perry was born.
When his father was drafted in World War II, Perry and his mother returned to the family farm, where they stayed until the war ended. It was on the farm that Perry developed some basic attitudes about food. There was no electricity or running water. Cooking was done on a wood burning stove. Breakfast was hearty and lunch was the major meal of the day.
"On the farm, I used to help with the butchering," Perry recalled. "I can remember my grandfather seasoning sausage in the smokehouse and frying off bits to taste until it was just right. The icehouse had an artesian well that was almost as cold as ice. Mother would keep the freshly churned butter and other dairy products in crocks submerged in the icy water, while other things that needed to be refrigerated would stay cool in that dark room.
"That cave was our refuge when tornadoes threatened, but it also was the larder for untold numbers of seasonal goods that were 'put up' - tomatoes, beans, corn relishes, jams and preserves, and mincemeat - they were all there.
"I remember my aunt's potato salad, fresh peach pies, dark chocolate cakes with fluffy white icing, and home cured bacon with fried eggs."
Perry's family moved to St. Louis in 1948; he grew up in the St. Louis Hills neighborhood. He attended Cleveland High School and was a student at the University of Illinois at Champaign-Urbana when he was drafted. After two years in the Army, Perry returned to Champaign to earn an undergraduate degree in history, mathematics and German. He graduated in 1964, and went to work for the national college social fraternity, Delta Sigma Phi. After two years, he quit and moved to Chicago to work for McGraw Hill, the textbook publisher.
During the five years Perry was working for McGraw Hill, the idea of opening a restaurant was simmering in his mind.
"As I traveled through my territory, I ate out a lot, and every restaurant had either continental cuisine or steak," Perry recalled. "I remember wondering often why no nice restaurants were serving the good food I remembered from the farm in Potomac."
As the bottom dropped out of the textbook market, opening a restaurant became more appealing.

"It wasn't going well, but when I asked what I was trained to do, the answer was nothing," Perry said. "I decided I would open a restaurant, in the same spirit that Mickey Rooney and Judy Garland would decide to find a barn and do a show in those old movies."
But Chicago was too expensive. One summer weekend, Perry was visiting friends in St. Louis. While driving, he noticed an old house on the northwest corner of Jefferson and Utah, with the windows boarded up. At City Hall, he learned the name of the owner, a woman in Greenville, Illinois, whose family had built the house. When Perry called her, she said she would sell the building for $10,000.
"I drove to Greenville with a wad of hundred dollar bills in my pocket," Perry remembered. "I reminded the woman that there was no electricity, no gas, no furnace and no running water in the building. I told her I would give her $2,700 in cash."

The woman said that wasn't enough. Perry held his breath. Finally, the woman said, "Make it $3,000." Richard Perry had his restaurant.
Perry resigned from his job at McGraw Hill and moved to St. Louis. He began renovating his new building at 3265 South Jefferson Avenue, living above his would-be restaurant.
In the winter of 1972, after the renovation had taken twice as long and cost twice as much as planned, Richard Perry opened the Jefferson Avenue Boarding House.

The Jefferson Avenue Boarding House had no sign. The dining room had a high ceiling, with walls painted a light mustard color above a Williamsburg flowered print wallpaper. Greenery, along with antique pitchers and glasses, were on the window sills. The walls were adorned with prints and a bas-relief. An old clock with a pendulum ticked on the south wall.
The linens were crisp and white, with large napkins rolled into tight U-shapes expanding from stemmed water glasses. Fresh flowers were on every table, budding from bulbous green Perrier water bottles. When it opened, the Boarding House seated only 40 for dinner.
Perry was the maître d', the waiter, the cashier and the voice on the phone taking reservations. He and the bus boys wore blue denim work shirts and jeans, with white aprons. Soup was ladled from a blackened kettle and coffee was poured from an old-fashioned blue enameled pot.

The Jefferson Avenue Boarding House
St. Louis Post-Dispatch, Aug 23, 1972
Richard Perry ladles soup from an iron kettle
St. Louis Post-Dispatch, Sept 28, 1975
There was a fixed menu each night - diners ate what was served to them, as they would at a boarding house. Since Perry had no restaurant experience, a single menu was all he and his staff could handle.
"I opened serving one meal a night, but a different meal every night. I did that because that was all I could do," Perry recalled.
The menus, based on recipes from turn-of-the-century St. Louis hotels, restaurants, riverboats and private homes, were usually available a day or two in advance.
"It all depends on what's at the market," Perry explained at the time. "We only work with fresh meat and vegetables, so it's hard to know too far in advance."
In 1972, a typical dinner was tomato soup, braised cube steaks, boiled new potatoes, cauliflower, salad and chocolate cake for dessert - all for the price of $4.50.
By 1977, The Boarding House was serving dinner on two floors; the main dining room was upstairs, with a smaller room downstairs designated for private parties. Dark chocolate colored walls replaced the mustard colored walls and print wallpaper. There were now two seatings at dinner - three on Saturdays - and breakfast was served at 12:30 on Sundays.
Dinner prices had risen to the range of $10 per person. Prices varied slightly from day to day, depending on the entree being served. The menu was chosen for an entire month, and was mailed to interested customers for a charge of $2 per year.

There was a greater emphasis on beef, which Perry said was due to customer demand. There were 22 beef dishes, three chicken and two pork on the March menu. The beef was prepared in a wide variety of ways, including steak baked in a sour cream and cheese sauce, braised short ribs, sauerbraten, steak marinated and cooked in a brown paper sack, and steak stuffed with ham and spices. Dinner still included soup, salad, vegetables, freshly baked bread and dessert.
Starting in 1978, the Boarding House entree no longer changed nightly, but weekly. Three-month menus were mailed out to interested customers at no charge.

Jefferson Avenue Boarding House Dinner Entrees
January, February and March 1978
(click image to enlarge)
By 1980, the Jefferson Avenue Boarding House was offering a choice of entrees each evening; there was still no menu. A waiter described the three or four entrees of the day, which were served with a salad and potato or vegetable. The salad was offered before or after the entree. Appetizers and dessert were extra. A full dinner was now $15-$20 per person, not including wine.
On January 19, 1982, a long black awning went up over the doorway of the the restaurant at 3265 South Jefferson Avenue. On its 10th anniversary, the Jefferson Avenue Boarding House became simply Richard Perry.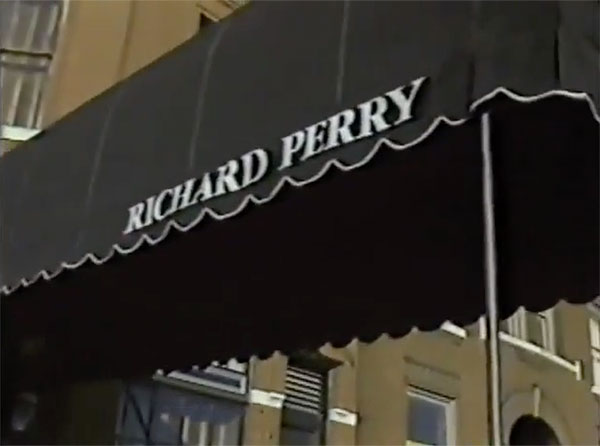 Richard Perry
Along with the new name were new dinner, brunch, luncheon and dessert menus. The dining room with its white linen, U-shaped napkins, fresh flowers in green Perrier bottles and chocolate background stayed the same.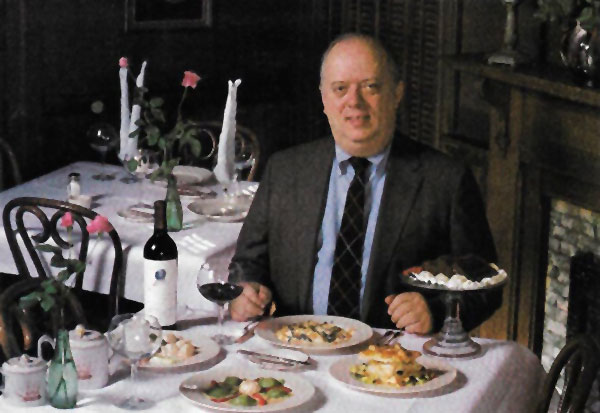 Richard Perry in his dining room
Bon Appetit, May 1985
When Perry opened the Jefferson Avenue Boarding House, he was already thinking in terms of American cuisine, reproducing the best of St. Louis menus of the past and serving in boarding house manner. Although the name of the restaurant and the cooking style had changed, the thrust was still toward American food.
"Our sauces aren't as heavy anymore, but they are based on some of the same recipes we've always used," Perry said. He and his young chef, Gregg Mosberger, emphasized local, seasonal foods as much as possible on their menus. "That's the way restaurants will be going in the next 10 years," Perry predicted.
The menus changed almost weekly, according to what Perry and Mosberger found at the local produce markets. On the theory that the best food never came into the market, they found local sources, especially for fish. "It's a shame to have to rely on the East Coast swordfish and scrod when there is bluegill and trout here in Missouri," Perry said.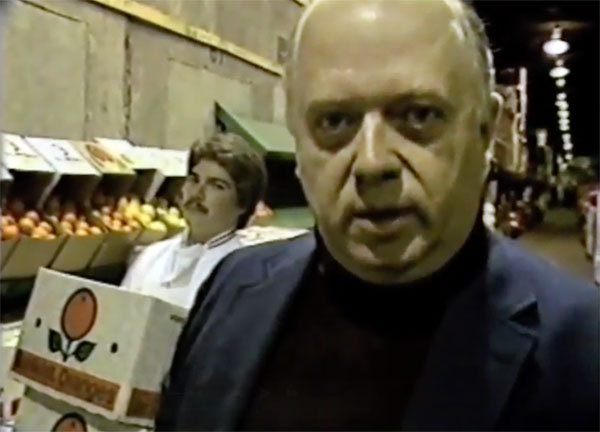 Richard Perry, with Chef Gregg Mosberger in background, mid 1980s
Perry's menus included dishes like pork tenderloin served with port sauce, enriched with Iowa Maytag Blue cheese. Boneless breast of chicken was occasionally braised with smoked country ham and appeared in a sauce of cream and wild mushrooms. At other times chicken breasts might be rolled around green onions, lightly breaded and accompanied by tarragon creams.
Local fish, such as smallmouth bass and bluegill fillets, were staples of the Perry kitchen. Even vegetables took on a regional slant; there might be wild Illinois asparagus wrapped in Missouri's Boone County ham.
According to Perry, Midwesterners had a special affection for sweets, and his desserts mirrored that. Baked hazelnut meringue, layered with semisweet chocolate and raspberry buttercream with raspberries on top, was a specialty of the house. Fresh gooseberry pies, rhubarb Bavarian cream, pecan tarts and old-fashioned chocolate pudding with maple cream were among other delights.
The restaurant had a new garden in back for outdoor dining. White patio furniture sat on a brick floor surrounded with flower beds. Fountains gurgled at both ends of the garden, and overhead netting shaded diners.
"To take advantage of the weather, we recently added an outdoor summer garden, with its own all-cold menu," Perry expounded. "Fresh herbs grow around the border, and are collected daily for seasoning. Customers there are encouraged to order several different dishes for the table, with everyone getting a little taste of everything."
Perry and Mosberger's new cold menu included a raw vegetable plate, an assorted cold meat platter served with three mayonnaises, fresh fruit with strawberry bread and cream cheese, ceviche of bay scallops, pates, and shrimp and avocado salad.

Perry said he had changed the name of his restaurant in part to gain attention for the restaurant. But the food didn't change, because Perry liked it the way it was. He called the food Midwestern.
"What I call Midwestern food really stretches from western New York all the way to the West Coast. When you think about it, the food that they're cooking as the new California cuisine is Midwestern food. They're serving chicken and noodles and pretending it's a new dish. Just because they're making fresh egg noodles and using range-fed chicken doesn't make it any different from what I remember as a kid."
Richard Perry became known as a landmark restaurant with a national reputation for creative and imaginative dishes that retained the flavors of America's heartland. Perry was quoted on the subject of American cuisine by food writers around the country.
"I make the point that it's really the restaurants that failed American food. The restaurants that existed from the '30s, '40s, '50s and '60s. They were trying to present highfalutin food, and all they could present was some kind of continental thing. I think good American food has always been around, but it's been preserved in the homes, primarily in the rural homes of the Midwest and South."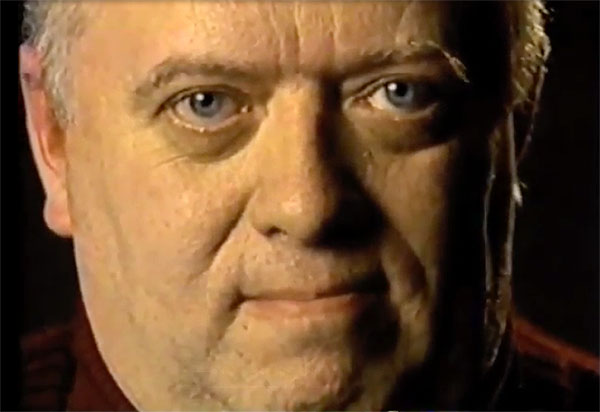 Richard Perry
Perry resisted ceremony. "I don't want to be stiff and formal. That's why we don't put our people in tuxedos, although we often talk about it.
"I think St. Louisans have been bamboozled into thinking that service is equated with somebody standing at the table tossing pasta in a flaming chafing dish. In my mind, that's how you ruin the pasta by overcooking it. I think there's another thing some people are hung up on. It's good if it's hot. I agree with (James) Beard that food tastes better if it's closer to room temperature."

In March of 1988, Richard Perry moved his restaurant downtown, taking over the dining room of the Majestic Hotel at 11th and Pine. The move was made, he said, because his restaurant was increasingly considered out of the main stream. He called the new space Richard Perry Restaurant. He used his South Jefferson Avenue location for catering and baking.
"I'd been looking to move downtown for some time, and then this opportunity came along and I took it," Perry explained. "The volume of our business has picked up dramatically, and I think we're more accessible to people now.
"Instead of serving lunch and dinner and a brunch on the weekend, I'm now serving breakfast beginning at 6:30 and dinner until midnight. But I'm proud to say I don't think our quality has slipped. We've maintained our quality food and our good service, but that's not to say that we don't make our share of mistakes, as well."
St. Louis Post-Dispatch food critic Joe Pollack, who had sung Perry's praises since he opened his restaurant in 1972, disagreed. In a December 28, 1989 review, Pollack lamented:
Few things are more painful than watching a once-great baseball player loose his skills - become fooled by the curve ball, unable to get the bat around on the fast ball, a step too slow to chase down the once-easy fly. The same sadness is present when a favorite restaurant, highly praised and recommended over many years, shows major flaws.

Over the past months, this has happened to me at Richard Perry Restaurant, where shoddy service and less-than enjoyable meals have been a surprising - almost shocking - turn of events. Perry's restaurant, now in the dining room of the Hotel Majestic, at 11th and Pine Streets, and earlier in his Jefferson Avenue location, has been one of the brightest dining spots in St. Louis since it opened in 1972.

Something has gone awry. Perry remains affable and jovial, a delightful host and conversationalist, but the restaurant is not what it was.
Perry had signed a two-year contract with the Hotel Majestic, and was there until the end of 1989. When he left the hotel, he reopened in his original location, naming it the Jefferson Avenue Bistro.
"I stuck with the same food but encouraged customers to order for the whole table, like you do with tapas," Perry said. "Customers didn't want to do that. I guess I was ahead of my time."
Perry closed the restaurant on the last day of 1990. But the restaurant business was in his blood.
Perry moved to Cincinnati, where for five years he operated the upscale Orchids at the Omni International Plaza Hotel. When he started, the restaurant was bringing in about $600,000 a year. When he left, Perry said, the place was on track to make $1.75 million.

In 1997, still in Cincinnati, Perry "gently restored" a former restaurant and opened Café de Luxe. "Basically, I did what I always do," Perry said. "I painted the walls dark brown, hung my art and folded the napkins. I stuck with my usual food, and I did very well, but the place was undercapitalized. A harsh winter did us in, and I closed the restaurant."

Perry moved to Belleville in 1998 to work with a couple running the Mansion at Lakepointe, a restaurant in O'Fallon, Illinois.

In 1999, Perry joined chef Mickey Kitterman of the Sappington Barn Restaurant in Crestwood in preparing favorite dishes from the Jefferson Avenue Boarding House.

In 2000, Perry landed at The Jug in Belleville as chef/consultant.

In September of 2001, Perry opened the Richard Perry Lindell Terrace Café & Bar at 4501 Lindell.

In July of 2007, Perry and co-owner James Russel served meals at the Farmer's Inn in Millstadt, renaming it the Farmer's Inn and Prairie Kitchen and reverting to the limited menu, family-style format that worked in the early days of the Boarding House.
Twenty First Century Richard Perry
Richard Perry said that his chief thrill in life was going out to eat. "You sit there and you pick it apart and have all kinds of fun. Nothing better."
On Christmas Day 2017, the restaurateur and chef who was at the forefront of the Modern American food movement stopped having fun. But his legacy lives on.
---
Copyright © 2018 LostTables.com