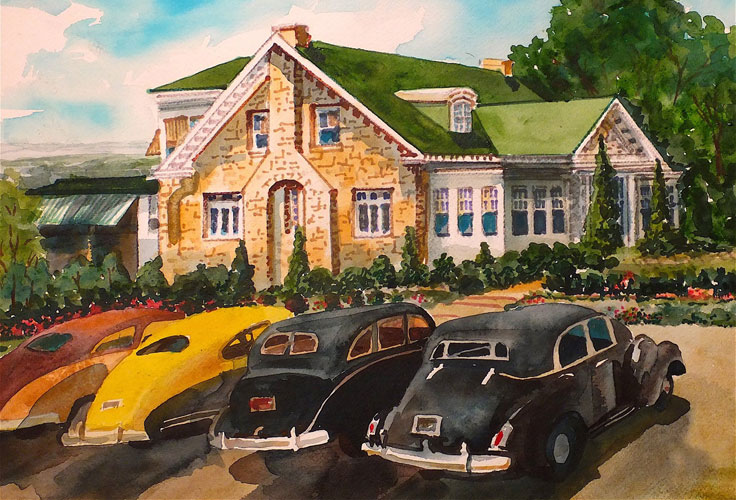 Watercolor by Marilynne Bradley
Green Parrot Inn
RESIDENCE IN KIRKWOOD TO BE MADE INTO INN

J. P. Bentley, in charge of HOLC sales for John H. Armbruster & Co., reports the sale of property at Marshall and Big Bend roads, Kirkwood, to J. H. Toothman of Topeka Kansas. The property consists of an eight-room stone residence with large attached dining room, spacious servants quarters, seven acres of ground overlooking Meramec Valley and will be operated as the Green Parrot Inn, a branch of the Kansas City Green Parrot, popular eating place owned by Mrs. J. B. Dowd.

Mrs. Dowd, who will manage the St. Louis Green Parrot, announces that only the finest food will be served in accordance with her high standards of service.
St. Louis Star and Times, October 14, 1938
Tena May Dowd grew up on a ranch in Downs, in north-central Kansas. When she was thirteen, her mother died, and it fell upon the adolescent Dowd to take care of her younger brothers and sisters, and run the household, which fostered a love of cooking.
Dowd married a local boy (J. B. Dowd), had a family and relocated to Wichita for her husbandís job. It was in Wichita that Dowd capitalized on her love for cooking and opened a restaurant, which she called the Green Parrot Inn.
Dowd operated the Wichita Green Parrot Inn from 1925 to 1929. The menu featured home cooked meals, including the dish that would become her staple Ė fried chicken.
In 1929, Dowd's husband was transferred to Kansas City as assistant manager of the Oliver Farm Equipment Company. Dowd closed her Wichita restaurant and purchased a 3-room frame building on a weed-covered hill at 52nd Street and State Line Road. Her Kansas City Green Parrot Inn would eventually expand to a building seating more than 300 patrons.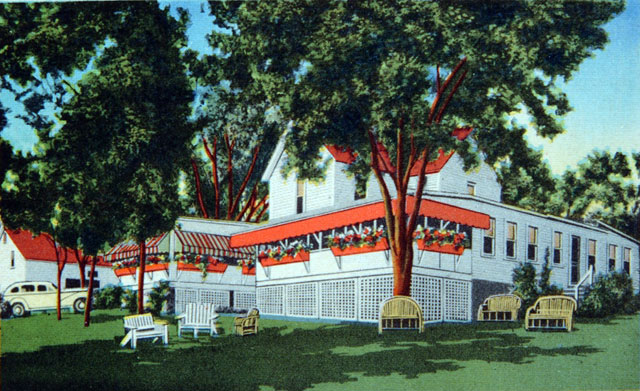 The Green Parrot Inn, 52nd Street and State Line Road, Kansas City, Missouri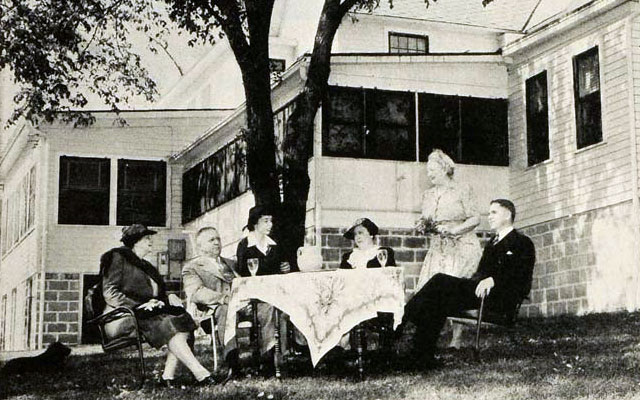 The Green Parrot Inn, Kansas City, Missouri
Mrs. J. B. Dowd entertains guests awaiting a place in her busy dining room.
The Green Parrot Inn thrived. It became "the place to eat fried chicken" in Kansas City. In 1938, basking in her success, Tena May Dowd and her brother, James H. Toothman, expanded to the St. Louis suburbs and opened a Green Parrot Inn at 12120 Big Bend Road in Kirkwood.

| | |
| --- | --- |
| | |
| Tena May Dowd | The Green Parrot Inn, 12120 Big Bend Road |
* * * * *
James Toothman and his wife Mary operated the Green Parrot Inn on a beautiful ten-acre tract on Big Bend in Kirkwood. In its early day, patrons used to complain about the remote location.
The main building was built in 1915 by William Bopp, constructed of limestone quarried on the property. In the Prohibition era, before the Toothmans took over, it was a speakeasy. Because the Toothmans believed that good food and liquor didnít mix, they never served anything stronger than coffee, tea and milk.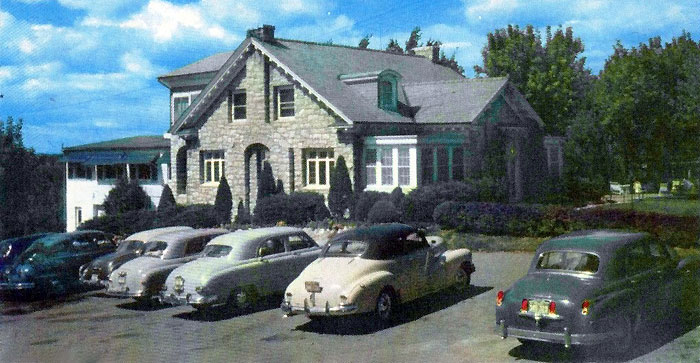 The Green Parrot Inn, 12120 Big Bend Road
When customers arrived at the restaurant, they were greeted by the Toothman's pet green parrot on the screened front porch. They then entered the Green Parrot's dining room, with its patterned wallpaper and airy windows along one long wall.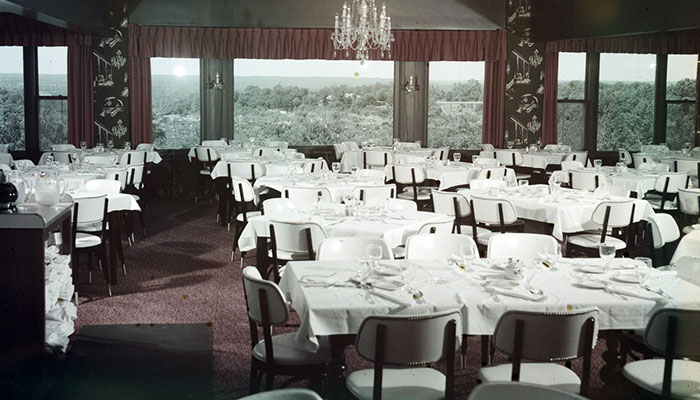 The Green Parrot Inn's Dining Room
The Green Parrot Inn served family-style all-you-can-eat fare. After being seated, a waitress arrived and provided a verbal menu. In 1971, the choices were fried chicken, T-bone steak, red snapper or lobster tails. But the restaurant's success was built on its fried chicken dinners, accounting for 90 per cent of its trade. The chicken was rolled in flour, salt and pepper, and fried in a heavy aluminum covered skillet in "the best lard money could buy."

The entree was the only dish ordered. In minutes, a busboy arrived with water and tossed salads. Ten minutes after being seated, the entrees were set down by one busboy, and another filled the remaining space on the table with serving bowls of Spanish rice, cottage cheese, green beans flavored with bacon and onion, mashed potatoes with cream gravy on the side, and a homemade applesauce that contained Jonathan apples, sugar and water. Homemade Parker House rolls were served with honey butter.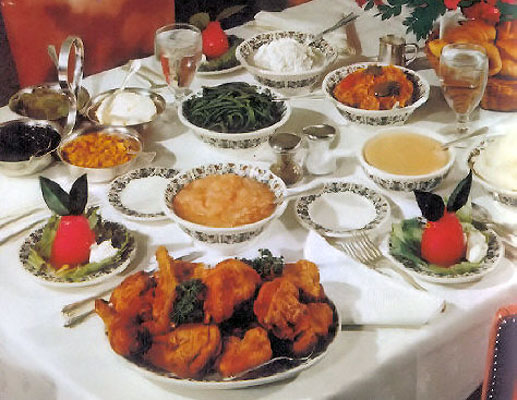 The Green Parrot Inn Dinner Table
Ice cream and sherbet were included with the dinner, but if a diner wanted to splurge, they could order homemade French silk chocolate pie for 35 cents extra. Children who ate all their food were rewarded with sticks of gum.
The serving was so well organized, that smaller parties could get out in 45 minutes and larger groups in no more than an hour. Many left with doggie bags, or "people bags," as the Toothman's son Wayne preferred to call them. Diners frequently ordered more chicken than they could eat and dined on the surplus at home.
In 1971, the Green Parrot Inn's chicken dinners ranged from $3.75 to $4.25 for adults, and started at $1.25 for children age 2, gradually increasing to age 9. In 1977, the all-you-can-eat chicken dinner cost $7.00.
* * * * *
In 1955, Tena May Dowd closed her Green Parrot Inn in Kansas City and retired to a home on a hill overlooking the restaurant.
The Green Parrot Inn in Kirkwood, which Dowd had opened with her brother James Toothman in 1938, continued to serve family-style fried chicken dinners until 1983. After Toothman died in 1962 and his wife in 1973, the restaurant was operated by their two sons, Wayne and Ben. Five years later, Wayne Toothman sold his share of the restaurant to his brother.
On June 12, 1983, eight hundred longtime customers of the Green Parrot Inn sat down to their last family-style Sunday dinner at the Kirkwood restaurant. The Toothman familyís pet green parrot had died three weeks earlier.

In its heyday during World War II, the Green Parrot Inn attracted 1600 diners for Sunday dinner. The relocation of Big Bend and the influx of fast-food restaurants had whittled that number to 50. On weeknights, as few as four or five dinners were served.
Upon closing his restaurant, Ben Toothman sold the building and land his parents had purchased in 1938, and it became a banquet hall called Big Bend Manor. Eventually, the building was redeveloped as a single family home.

---
Copyright © 2017 LostTables.com