Otis T. Hodge died in November of 1942 at the age of 70. By that time, the number of chili parlors bearing his name had been considerably reduced.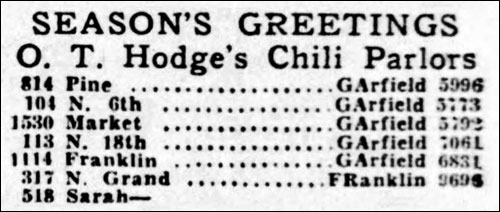 St. Louis Star and Times, December 24, 1942
* * * * *
Harry Brunsen was born in St. Louis and raised in Maplewood. He served in the army in World War II as a baker and cook. After the war, he returned to Maplewood and started the Brunsen Candy Store.
Otis and Miriam Hodge had one adopted daughter and no sons. Their daughter, Audrey, married Harry Brunsen, and after Otis Hodge died in 1942, Brunsen took over operation of the chili parlors.
Brunsen was married to Hodge's daughter for 18 years; the couple divorced in 1960. After the divorce, Brunsen stayed in the Hodge family business, running the parlors with his nephew, John Eirten. In 1962, Brunsen married Ruth Brunsen, who was his wife for 36 years.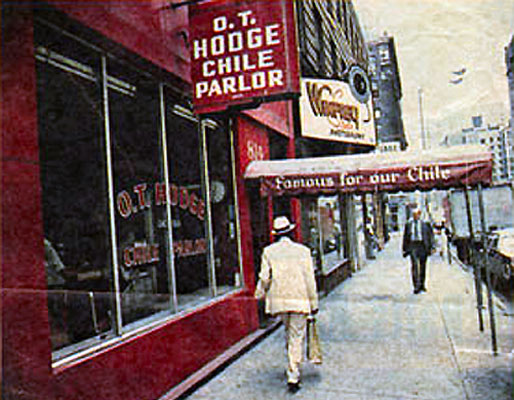 O. T. Hodge Chile Parlor, 814 Pine Street, 1955
By 1973, Harry Brunsen's restaurant at 814 Pine Street was the last remaining O. T. Hodge Chile Parlor. Brunson remembered the bustling days when the doors were never locked. "We used to be open all day and all night," he recalled. "Why, sometimes at two or three in the morning there'd be so many winos and, well, other people in here you could hardly sit down."
Hodge's had come a long way from the days when Otis and Miriam Hodge made their chili in a dishpan in the kitchen of the restaurant. But there was still an old world charm about the place.
The restaurant had well scrubbed white tiled floor with brown hexagonal patterns. There was a counter and several tables set end to end, communal style. There were wall hooks for hanging coats on three sides of the restaurant. Background music was provided by the crackling sounds of KMOX-FM on a radio that sounded only a tad younger than the restaurant itself.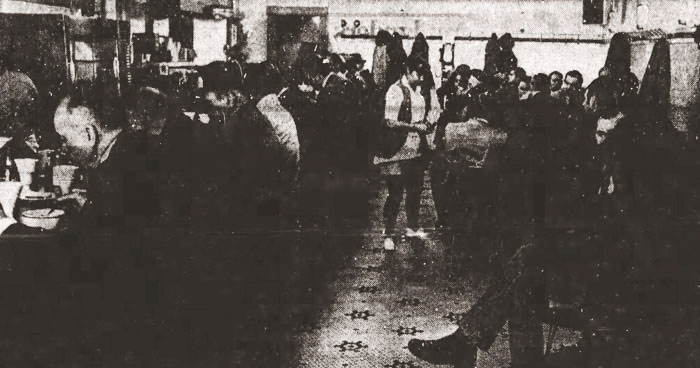 O. T. Hodge Chile Parlor, 814 Pine Street
St. Louis Post-Dispatch, March 30, 1973
The restaurant was clean, but not antiseptic. As the waitresses took orders, they deftly placed stainless steel knife, fork and spoon before their customers, and though it seemed they weren't paying attention to what was being said, they heard every word.
Part of Hodge's character stemmed from the manner in which orders were relayed from the waitresses to the kitchen. A large bowl of chili was known as a "double." If beans were to be included, "light" indicated a little and "heavy" a lot. A "double straight" was a large bowl with no beans. An order for two tamales translated into a "twenty-one," while an order of chili mac with tamale became a "mac a la mode."
| | |
| --- | --- |
| | |
| "Double Light" | "Twenty-One" |
Hodge's customers came from nearby Southwestern Bell, the Treasury Department, the Police Department, the Federal Bureau of Investigation, the Mart Building – and throughout the country.
"People know us from coast to coast," Brunsen said. "For example, when Buddy Hackett was here he ate here almost every day. And so did John Banner when he was appearing at the American Theater." (Banner played Sergeant Schultz in the television series Hogan's Heroes.)
The chili recipe used was the original one, and it was stored in a safety deposit box. A separate firm under a different name – Edmond's– had been established to place the chili on the retail market. Sold in rolls which had to be mixed with equal parts water, the chili was the same that was served at the Pine Street restaurant.
| | |
| --- | --- |
| | |
| "Tamale In" | Edmund's Chili |
The chili was stored in vats in refrigerated rooms in the basement of the restaurant. In an average day, customers went through 20 containers of chili; each container held 45 pounds of chili. Three containers were kept going on the steam table, along with a container of beans. Dried pinto beans were used because they cooked up firm and had better flavor.
"Oddly enough," Brunsen observed, "January, February and March are our worst months – that's when you'd think chili would be most popular. Our best months are May and June."
Brunsen thought that was because there were more people out and about downtown in the summer months. "Although it's hard to tell, really," he continued, "so much has changed over the years." He remembered 1956 as a peak year, but said that things had been going down since then. The second oldest parlor, at 104 North Sixth Street, became history when the site was snapped up for a parking garage. It had been there for over 50 years.
"I suppose I could pick up and move to the county like a lot of other businesses have done, but it just wouldn't be the same," Brunsen said.
* * * * *
The O. T. Hodge Chile Parlor at 814 Pine Street closed in August of 1985; Hodge's chili had been served on the block for 80 years. However, shortly thereafter, an O. T. Hodge Chile Parlor opened in the newly renovated Union Station. Another was opened by the beginning of 1987 in the new downtown Union Market, and by the end of 1988, there were new chili parlors at 611 Pine and 1622 South Jefferson in Lafayette Square.
O. T. Hodge's most famous dish was the "slinger" – two cheeseburgers, a pair of fried eggs and American fries or hash browns, blanketed with chili and sometimes red peppers.
St. Louis Post-Dispatch food critic Joe Pollack wrote in a July 10, 1995 column: "I've never seen slingers served anywhere but Hodge, and they're perfect at 3 in the morning, after the saloons close, when the body is in great need of sustenance for the journey home. At lunch, they're a little frightening, especially when you're at the counter and watch the preparation."

According to John Eirten, the name was derived from a customer at the 814 Pine Street restaurant. "He'd come in and shout, 'sling me something.' And so we did, and it included all that stuff."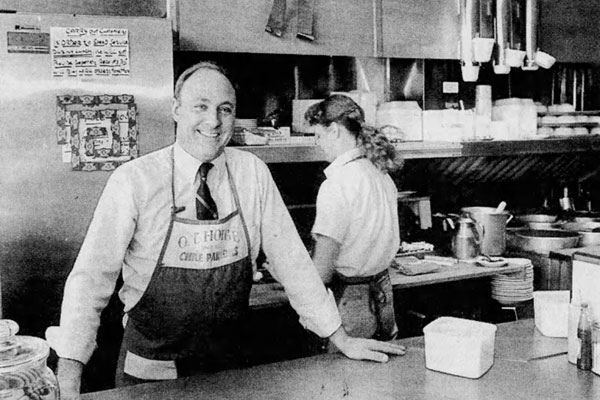 John Eirten behind the counter at 1622 South Jefferson
St. Louis Post-Dispatch, December 5, 1988

By 1995, there was an O. T. Hodge Chile Parlor at 510 Pine Street. If you sat at the counter, one of Hodge's beloved gruff waitresses would take your order over your shoulder. She usually served you that way, although sometimes a cook would hand you your "and one" – the Hodgeian tongue for a bowl of chili with beans.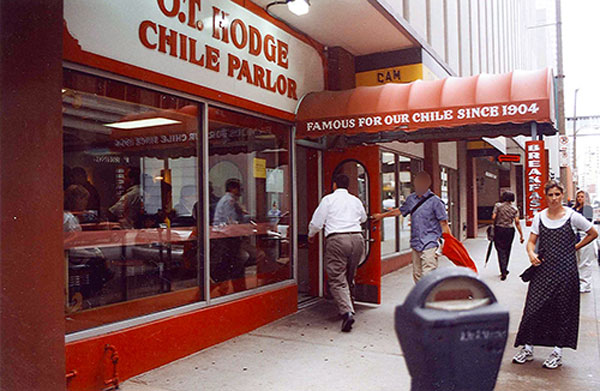 O. T. Hodge Chile Parlor, 510 Pine Street, 1995
Harry Brunsen died in October of 1998 at the age of 80. Brunsen retired in the early 1990s, but had continued to be active at the chili parlors almost daily. John Eirten continued to operate three of the five remaining parlors – on North Broadway, Pine Street and Jefferson Avenue. The other two, one at Union Station and the other in Crestwood, were franchised.

Soon after Brunsen's death, his widow, Ruth Brunsen, and his three children wanted ownership of the nearly century-old Hodge name, and they didn't want to share it with Eirten, Brunsen's nephew.
The legal battle ended in 2003 with the Brunsen family owning the name and obtaining sole right to the manufacturing and sale of the chili formula. The family sold its stock in the restaurants to John Eirten, allowing each side to go their own way.
Eirten changed the name of the three Hodge parlors he owned – at 3523 North Broadway, 6 South Central in Clayton and 510 Pine Street – to Big Ed's Chili Mac's.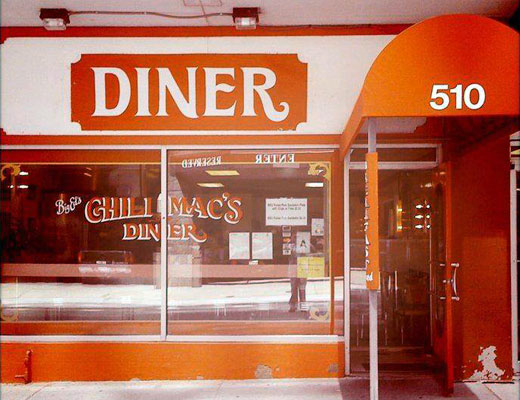 Big Ed's Chili Mac's Diner, 510 Pine Street
The Brunsen family attempted to license additional O. T. Hodge Chile Parlors. Only two were left at the time of the settlement, one on South Jefferson and one on Watson Road in Crestwood, and they closed shortly thereafter. In 2005, one last O. T. Hodge Chile Parlor was licensed at 250 South Florissant Road in Ferguson. It served "double straights" and "slingers" until it closed in 2008.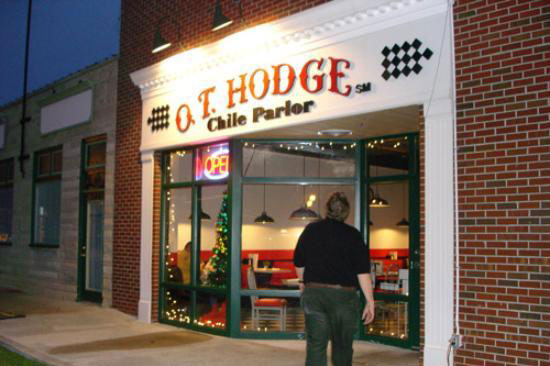 O. T. Hodge Chile Parlor, 250 South Florissant Road, 2005