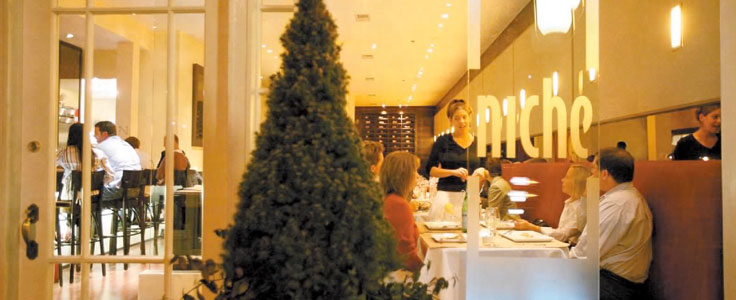 Niche

Gerard Craft grew up in the state of Washington, the second and youngest son of attorney Robert Craft and interior decorator Jamie Ford Craft. His grandmother was modeling agency pioneer Eileen Ford.

After high school, Craft bounced between jobs, tried college, with poor results, and ended up washing dishes at Fats Grill in Salt Lake City. While at Fats,

Craft began cooking and liked it.

"I loved the action, the instant gratification of preparing an order," he said. And Fats wasn't a bad place to start. "It wasn't a total greasy spoon. It had a micro-brewery, with a hint of class."

In 2000, Craft landed a job at the acclaimed Bistro Toujours in Salt Lake City, working for chef Bryan Moscatello.

"It was the most humbling experience in my life," Craft said. "Somehow, I talked myself into a job there as a line cook. It was evident after my first night that I had no business being there."

Craft was quickly demoted to grunt work – chiseling ice from the freezers, cleaning refrigerator racks and peeling onions. "I think they were just hoping I would quit," he said.

But Craft worked tirelessly at cooking for the next three years. In the fall of 2003, he did an internship at the Ryland Inn in New Jersey, a proving ground for some of the best chefs in the country.

"I saw people who were really good cooks, and I wanted to be one of them."

In 2004, Craft returned to Salt Lake City and was married. He and wife Suzie decided to open their own restaurant, and began searching the Internet for an affordable place. The 25-year-old Craft zeroed in on a building in the Benton Park neighborhood of St. Louis.

An ad on Craigslist was offering a wine bar for sale, down the street from the successful Sidney Street Cafe. Craft saw there were a lot of young owner-chefs settling in St. Louis, and felt something good was happening. So he showed up, signed some papers and it was done.

In 2005, Craft opened Niche at 1831 Sidney Street. Craft cooked and Suzie handled the books. Two Utah friends, pastry chef Mathew Rice and house manager Christian Schnurr, came to help the Crafts get started.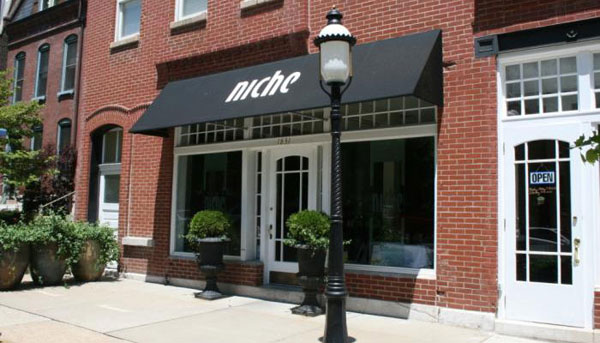 Niche,

1831 Sidney Street
Suzie & Gerard Craft, Christian Schnurr, 2005 ● Gerard Craft, 2008
The deep storefront space glowed out onto Sidney Street through large windows, with the name of the restaurant etched in glass on either side of the entrance. Reddish orange banquette seating lined the east wall, with a short row of tables down the center of the room. The west wall featured a bar near the front and a large serving window into the kitchen at the rear. The tables were set with brown paper over linen; reddish orange clipboards held the menus.

Niche's menu was one page long and changed periodically, depending on what was available from local purveyors. Craft was acclaimed for his innovative interpretations of what he called "humble" Midwest ingredients. He sourced his menus through relationships with more than 100 area farmers.
Initially, there were four pre-appetizers, six appetizers, six entrées and four desserts, plus several add-on side dishes. A three-course prix fixe menu could be composed of any appetizer, any entrée and any dessert, for $30.
As his menus evolved, Craft experimented with styles and flavor combinations, embracing infused oils and foams and unusual ingredients, pushing the boundaries.
Craft's signature amuse-bouche started every meal. A brown egg shell, filled with maple custard, roasted mushrooms and bonito caviar, sat in a classic white egg cup.
The Niche menu started with a TO NOSH ON section, later called SNACKS. A staple here was Dia's Cheese Bread (Pao de Queijo), which came compliments of Craft's boyhood nanny.
I was lucky enough to grow up with a Brazilian nanny named Dia. She was a second mother to me, and also happened to be the best cook I have ever met. These tasty and naturally gluten free cheese puffs were baked in our house almost daily. The smell of them cooking was enough to make my brother and I come running.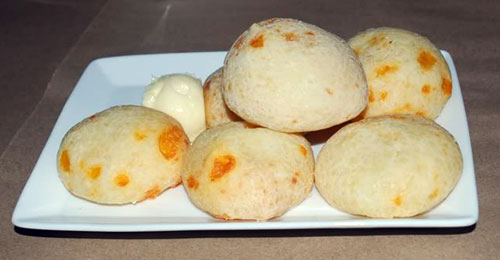 Dia's Cheese Bread (Pao de Queijo)
Next came FIRST THINGS FIRST followed by ON TO BIGGER THINGS. While Craft's menu changed and evolved over the years, there were recurring favorites in both sections.
One of Craft's classic starters was his Reuben with Rye Gnocchi. Craft melded rye gnocchi, pickled mustard seeds, horseradish and house-corned pig's tongue into a perfectly deconstructed Reuben sandwich. He later added a bit of sauerkraut.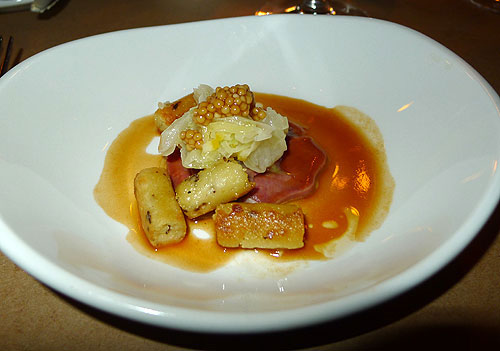 Reuben with Rye Gnocchi
Another favorite was the Braised Pork Pappardelle. For the luscious meat sauce, Craft braised pork with apples and honey, which added unexpected sweetness. He finished the pasta with a sprinkling of smoked salt. The dish was so successful that Craft carried it over to his Pastaria menu in Clayton.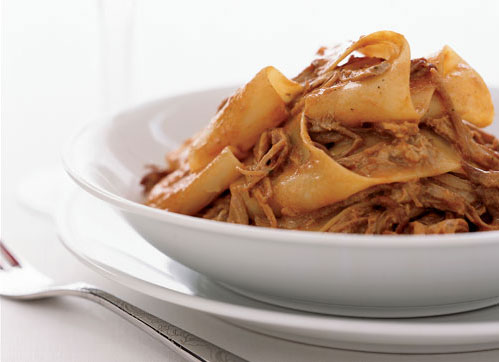 Braised Pork Pappardelle
One memorable dish was Craft's Bacon Two Ways, which paired braised pork belly and "bacon ice cream" with baby Brussels sprouts, cubes of pork and thyme-sprinkled polenta. As more of a bacon-flavored sour cream than a true ice cream, the dish was both unexpected and approachable – and ultimately successful.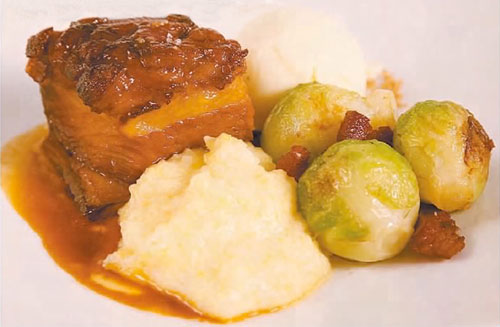 Bacon Two Ways
Another staple on the Niche menu was the Bistro Steak, a specialty shoulder cut procured from Middendorf Meat. Craft's initial preparation included two Asian-hybrid sauces, port plum and soy caramel, and a buttery potato purée dotted with fresh thyme. In a later preparation, the steak was rubbed with coffee and cocoa, and served with a mushroom demi-glace.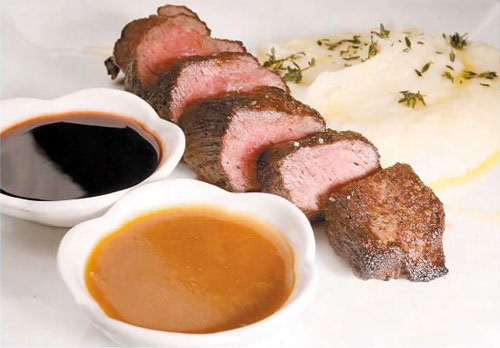 Bistro Steak
St. Louis born restaurateur Danny Meyer wrote that the best way to ensure a great customer experience was to hire great employees and put them first. Gerard Craft brought that philosophy to Niche. The quality and warmth of his managers and servers were as responsible for Niche's success as was the quality of the food.
Craft had a knack for surrounding himself with talented individuals and bringing out the best in them. One of them was Adam Altnether.
A St. Louis native, Altnether graduated from the Culinary Institute of America in New York City at the age of 21. Returning to St. Louis, he got a job at Niche as a prep cook, performing a litany of tedious grunt work. "You have to start at the bottom," he said. "I just wanted a chance. If you work hard, everyone else is going to see it."

It paid off. One night, a line cook got sick and had to go home, so Altnether wound up taking over the station for the evening. "After that, I just kept moving up."
Craft took Altnether under his wing, and Altnether raced up the ladder. Within a year, he became the sous chef of Niche, and eventually the Chef de Cuisine, which allowed him to create the menu with Craft.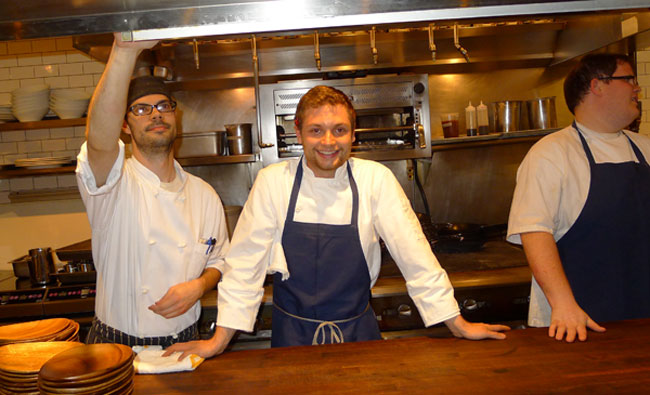 Adam Altnether (center) in Niche's Benton Park Kitchen, 2012
Altnether opened and had a controlling interest in Taste when it moved from Benton Park to the Central West End. He eventually became a partner in all of Craft's restaurants. In 2014, he was named to Forbes Magazine's prestigious 30 under 30 list. Altnether was a rising star.
"Gerard is like a mentor to me. Honestly, he's like way more talented than I'll ever be. The stuff he can do with food is just incredible. And I still learn tons of stuff from him every day. It's amazing to work with someone like that. It pushes you harder."
But Altnether was more comfortable as a chef than as an entrepreneur. He sold back his controlling interest in Taste to Craft. And then in March of 2015, after spending over seven years with Craft, it was announced that Altnether was leaving Niche to "pursue other endeavors."
* * * * *
The final section of the Niche menu was labeled SWEET DREAMS and, in the beginning, it belonged to Matthew Rice.
Rice grew up in Asheville, North Carolina, in a family of bakers, so early on he developed a love of all things sweet. His first executive pastry position was in Salt Lake City.
"It's where I met Gerard," Rice said. "When he first started, he was just the guy with all the tattoos on the line." Craft would pass Rice when he grabbed things from the walk-in cooler, and he'd grab a spoonful of sorbet or ice cream to cool down from the hotline. The two struck up a friendship.

When Craft made his way to St. Louis to open Niche, he turned to Rice to consult on the pastries.

"The plan was to develop a menu that was simple enough for his salad cook to prepare," Rice explained. "I came out to help him get ready for the opening, and as it got closer – maybe a few days out – I think he was getting nervous and realized he wanted something full-time. He asked me if I'd stay."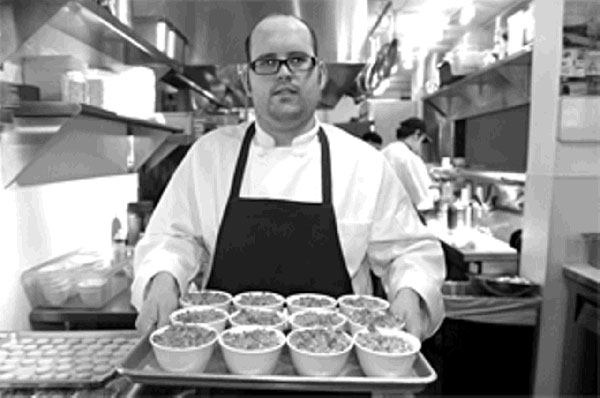 Matthew Rice in Niche's Benton Park kitchen, 2006
Rice's inventive desserts were the perfect compliment to Craft's creative menus; customers looked forward to the end of their dinners as much as they did the start.
Rice's first dessert for Niche was a chocolate cake with a liquid center. At that time, Niche didn't have an ice cream maker, so for the frozen element he made a malted chocolate semifreddo. It was on a bed of cookie crumbles and covered with hot fudge sauce.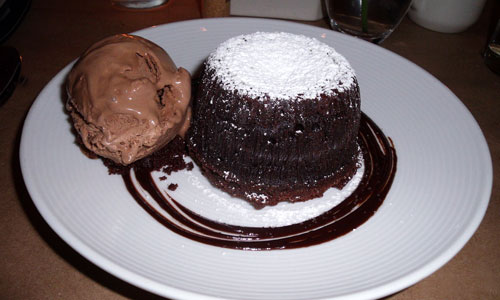 Liquid Chocolate Cake with Malted Chocolate Ice Cream
Rice's most popular desserts were his semifreddos, a luscious Italian dessert, cold and creamy like ice cream, but much simpler to make. His favorite was his toasted marshmallow, which he served with salted milk chocolate sauce and graham crackers – an homage to s'mores.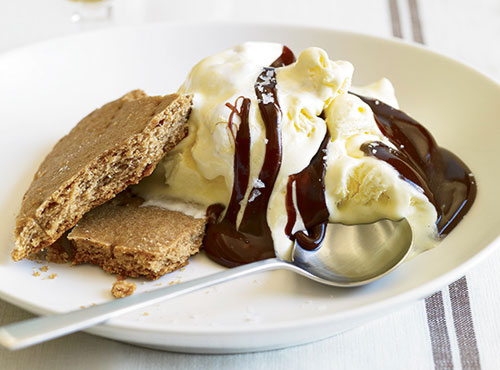 Toasted Marshmallow Semifreddo
In October of 2009, Rice announced he was leaving Niche after treating St. Louis to his "sweat dreams" for four years. "It was a hard decision to leave the best restaurant in town," he said. "I'm so proud of what I was able to accomplish there, but I've got other exciting things up my sleeve."
* * * * *
In 2008, Craft was voted one of Food & Wine magazine's 10 best new chefs in America. He was nominated for the prestigious James Beard Award as Best Chef in the Midwest in 2009, 2010, 2012, 2013 and 2014.
In October of 2010, Craft announced that his small-plates restaurant Taste was moving from its space adjacent to Niche to the Central West End. He also disclosed that Niche would move into Taste's 12-seat space and feature "eight- and 10-course tasting menus expertly prepared with products from local farmers and chef Craft's original vision in mind." The Niche space was to become Porano, an osteria that would serve "Italian country fare." However, Craft received so much pushback from the restaurant's loyal following, that he canceled Niche's proposed change of venue – at least temporarily.
In November of 2012, Niche did vacate its Benton Park location. The restaurant moved to the new Centene Plaza building at the corner of Hanley and Forsyth, next door to Craft's Pastaria by Niche.

"The move to Clayton is an amazing opportunity for Niche and Craft Restaurants," Craft said. "Centene Plaza allows us to be centrally located and more accessible to our customers in both location and purpose . . . . The menu and the staff will be unchanged. It's just a matter of cooking in a different location."
But the menu did indeed change; it became more limited and less accessible. The three-course prix fixe menu became four courses, with three options per course. There was also a chef's tasting menu priced at $100. A July, 2014 menu offered ribeye, white fish or mushrooms as the main course options. Another menu offered only two main courses – beef or carrots.

Craft explained that he now had three restaurants – Taste, Brasserie and Pastaria – where he offered customers what they wanted to eat. At Niche, he cooked what he wanted them to eat.
Longtime customers began dining at Niche on special occasions, as opposed to once or twice a month, as they did in Benton Park. And there were now more customers on expense accounts. "I love cooking interesting food at Niche, but I rarely like to eat that kind of food when I go out," Craft admitted.
Perhaps realizing the pendulum had swung too far, in the summer of 2014, Craft instituted special Monday Night Suppers at Niche. A unique menu was presented each week – a single starter, two entrées to choose from, and a dessert. The limited menu worked; the dishes were accessible, the menus were inventive from week to week and the supper was initially priced at $35. The suppers were so successful that Craft added Sunday Night Suppers at Niche.

Monday Night Supper at Niche, Jun 30, 2014
Heirloom Cherry Tomato & Bread Salad ● Porchetta ● Ice Cream Sandwich
In 2015, on his sixth time as a nominee, Craft received the James Beard Award as the Best Chef in the Midwest at a ceremony in Chicago.
"Awesome," Craft said of the award, after the ceremony. "I was so set on losing, this was the calmest I've been. It came as a shock when they called my name. I just hope this helps the St. Louis (food scene) spiral up."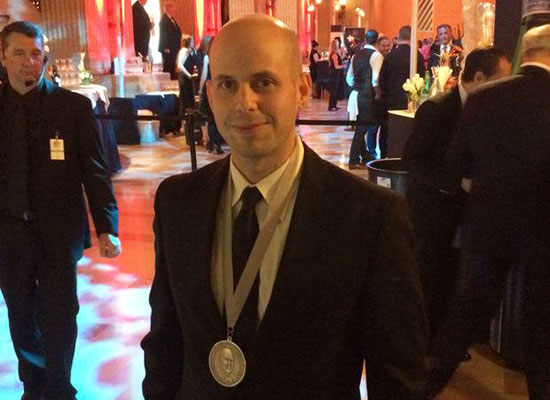 Gerard Craft at the James Beard Awards in Chicago - May 4, 2015

In 2016, Craft announced that his flagship restaurant Niche would close on June 11 and reopen as Sardella, a casual, modern Italian restaurant.
"Being at the top is a really tough place to be sometimes," Craft said. "Getting there can be exhilarating, but staying there can be excruciating. We want to be in a place where it's fun again.

"Selfishly, we like to open restaurants that we want to go to," Craft explained. "Sadly, none of us wanted to go to Niche."
Officially, Niche's tables were lost on June 11, 2016. But some would say they were lost on October 17, 2012, when Niche served its final meal at 1831 Sidney Street in Benton Park.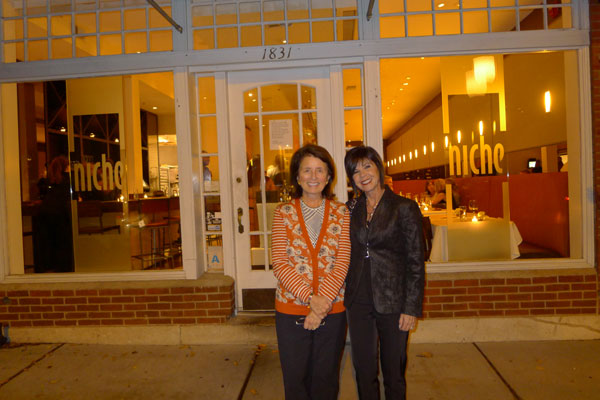 Niche's Farewell Dinner, 1831 Sidney Street - October 17, 2012
Jamie Ford Craft (left) and Marlene Hammerman
---
Copyright © 2017 LostTables.com