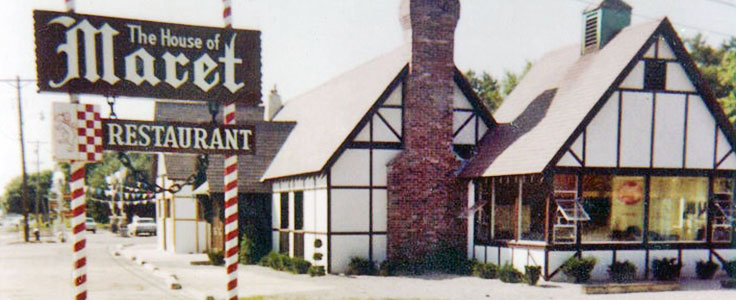 The House of Maret
Wilhelm August Maret was born in 1840 in Karlsruhe, Baden-Württemberg, a city in southwestern Germany. In 1870, on the eve of the Franco-Prussian War, he immigrated to the United States, settling in Chicago. Maret relocated to St. Louis in 1871, where he purchased 20 acres on the west side of Denny Road (now Lindbergh), just south of Rott Road.
In 1875, Wilhelm Maret married a young widow named Barbara Miller Gartman. Of their five children, only Charles Francis Maret, born in 1876, survived beyond three years of age. The 20-acre tract became the Maret family diary farm.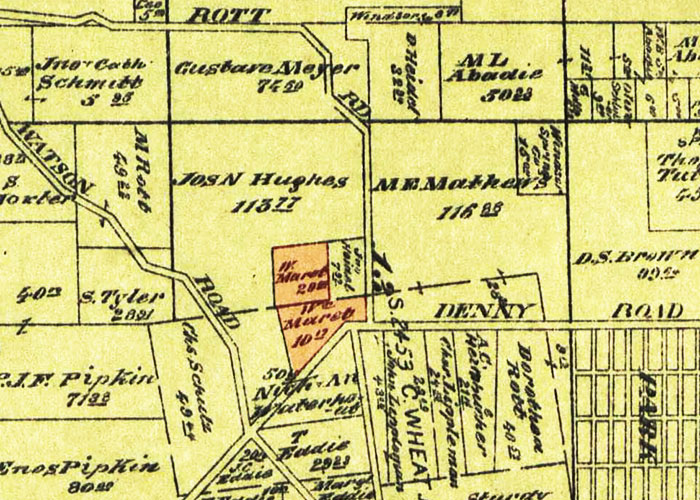 Maret Property, 1893
Charles Maret married Anna Vogelsang in August of 1900.
Charles Maret of Kirkwood and Miss Annie Vogelsang of Old Manchester were married at the Catholic Church, Kirkwood yesterday afternoon, after the ceremony had been delayed for nearly an hour by various accidents.

Maret and Miss Vogelsang went to Clayton Monday and obtained their license. Maret went to Old Manchester early yesterday afternoon with a two-seated carriage in which to convey the bridal party to Kirkwood. Some time was consumed in preparing for the trip and the party left Old Manchester a half hour late, and Maret urged the horses continually to maintain a pace that would satisfy his impatience.

Kirkwood was at last reached and the party had almost reached the church when one of the horses gave a lurch and went down, exhausted and overheated. Efforts were made to revive him, but in vain. The wedding party was compelled to descend from the carriage and wade through dust three inches deep for several hundred yards to the church. With spirits scorched rather than dampened the dusty party entered the church. The Reverend Father Stempker, who was in waiting, performed the ceremony.

St. Louis Republic, Aug 16, 1900
Wilhelm Maret died in 1914 and Barbara died in 1925. Charles and Anna Maret continued working the dairy farm on Denny Road with their seven children. Their herd grew to 100 and hand milking was all consuming for the family.
William, the eldest son, was assigned the task of delivering cows to market. He would drive the them north on Denny Road, through the center of Kirkwood, then east on Manchester to St. Louis where the meat packers were located.
William Charles Maret married Bertha Ulreich Fleck in 1925. They lived with their seven children on 30 acres of land just north of the Denny Road property.

| | |
| --- | --- |
| | |
| Charles & Anna Maret | William & Bertha Maret |
William (Bill) Maret was not a farmer. He owned a successful plaster and stucco contracting business at Denny and Watson Roads.
In 1929, when the stock market crashed, Bill Maret was financially ruined. His father came to his rescue by letting him take over a dilapidated shack of a filling station on his Denny Road property that had been leased to a Vogelsang relative. Maret took over the little station in December of 1930.
In 1933, when Prohibition was repealed, Maret purchased a liquor license for 3.2 beer. He began with a few cases of beer iced in a wash tub at his filling station. Golfers from nearby Sunset Country Club would stop for gas and a cold beer, and eventually a sandwich or a bowl of chili.
Over time, the simple tavern food and beverage business picked up, so Maret added a dining room with a bar to his filling station. Bill Maret's "66" Tavern became known for its "delicious thick sandwiches," including steak, ham and hamburger.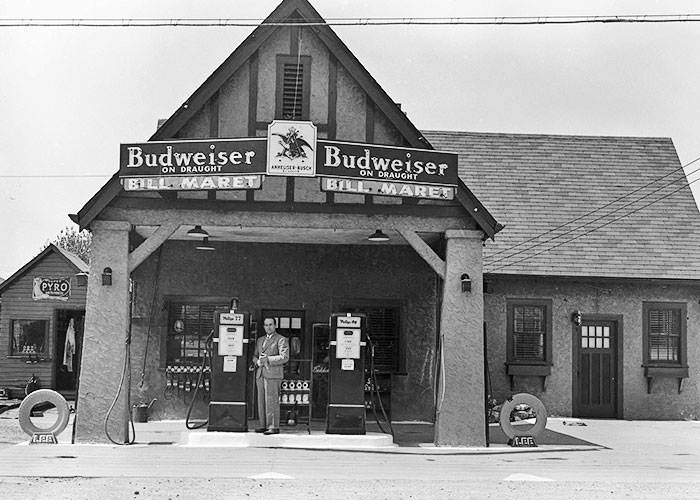 Bill Maret's Tavern, 1940
(click image to enlarge)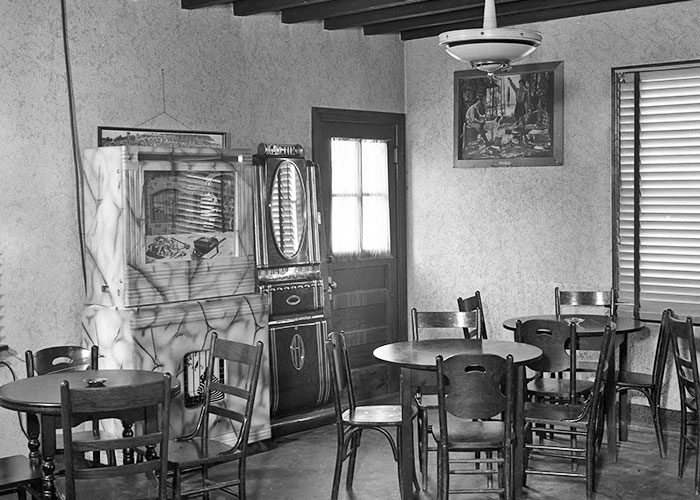 Bill Maret's Dining Room, 1940
(click image to enlarge)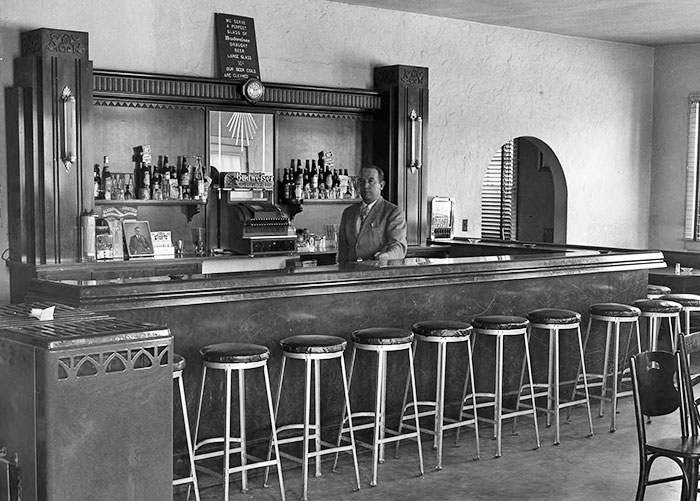 Bill Maret's Bar, 1940
(click image to enlarge)
By 1950, Bill Maret had added barbecue to his menu. He also added an outdoor beer garden, with picnic tables and pecan shells on the ground. The outdoor pit filled the air with the scent of barbecue ribs, bathed in Bill Maret's popular barbecue sauce. The menu also featured old family recipes, including Austrian cabbage and warm German potato salad. Maret still pumped gas, but at some point he switched his affiliation from Phillips 66 to Standard Oil.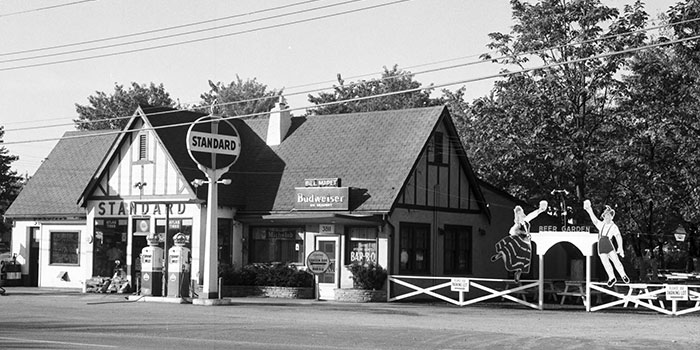 Bill Maret's Cocktail Lounge & Beer Garden, 1959
(click image to enlarge)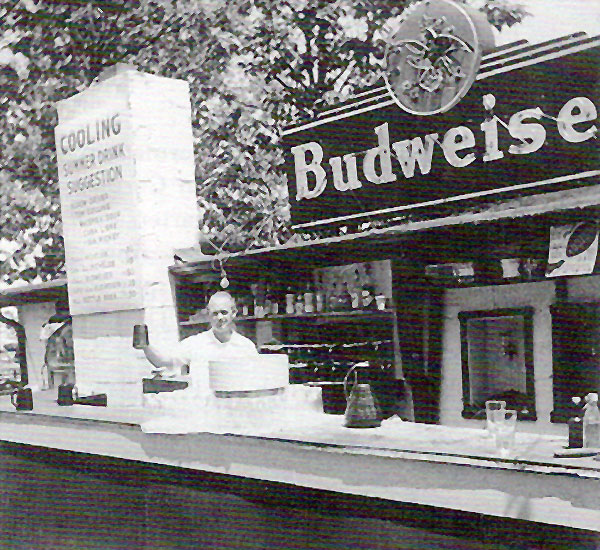 Bill Maret behind the bar in the beer garden
Robert Leo Maret, Bill and Bertha Maret's fourth child, was born in 1931. He graduated Christian Brothers College High School in 1949 and married Rita Jean Johnston in 1951. After his discharge from the Air Force in 1953, he worked for a paint company, helping his father at the restaurant on weekends for extra money. In 1955, he joined his father full-time.

| | |
| --- | --- |
| | |
| Robert L. Maret, 1949 | St. Louis Globe-Democrat, Aug 15, 1951 |
In the early 1960s, the Marets stopped pumping gas and expanded their restaurant. The original 1930 building was completely replaced using old wood and stained glass windows salvaged from historic St. Louis buildings. The restaurant's name was changed to The House of Maret and German cuisine was added to the menu.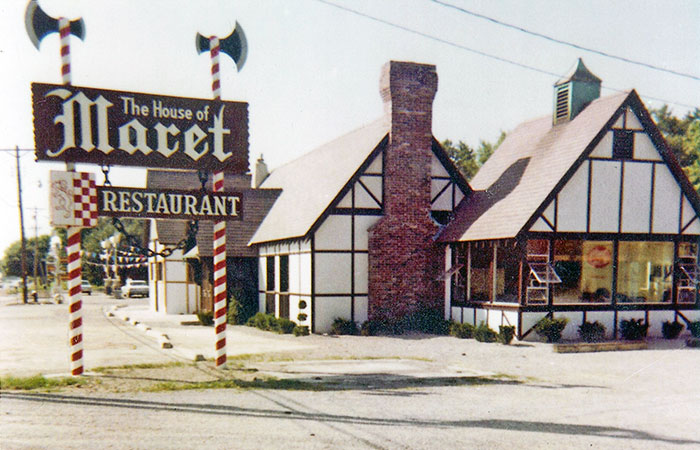 The House of Maret, 3811 South Lindbergh, 1960s

Bill Maret died of a heart attack in 1966. By that time, Robert and Rita Maret were managing the restaurant. They continued to add German dishes to the menu and dressed the wait staff in German-style clothing.
The outdoor beer garden was formalized, with a large fountain, an antique brick floor and wrought iron furniture. It evolved into a garden courtyard, with hundreds of flowering plants, and became a popular spot for rehearsal dinners and wedding receptions.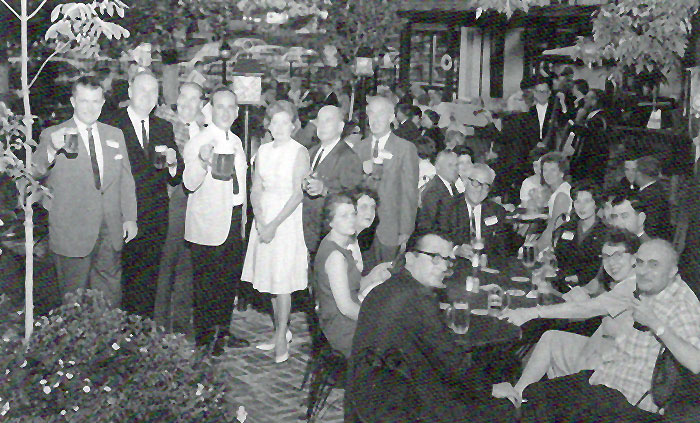 House of Maret Beer Garden
The atmosphere and the food at The House of Maret gradually became more upscale. The dining rooms were called the Trier, Darmstadt, Heidelberg, Munich and Bernstein. There were four wood-burning fireplaces. The restaurant held "Classic Nights" every six weeks, with a gourmet menu and St. Louis Symphony musicians providing entertainment.

In the 1980s, The House of Maret's menu became less German-centric and the staff's uniforms changed to black and white dress.
"For a long time, people just thought we served German food," explained Robert Maret. "But we've expanded the menu and we think of it as being more European now."

In 1988, Robert and Rita Maret retired. They leased their restaurant to Damon's for a second barbecue location. But Bill Maret's barbecue sauce was no longer served at the 3811 South Lindbergh address.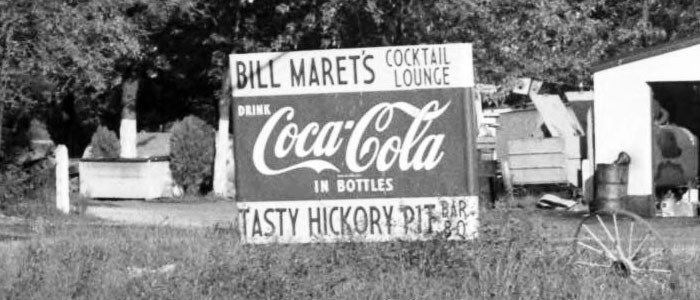 Bill Maret's, 3811 South Lindbergh, 1959
---
Copyright © 2021 LostTables.com
Lost TablesTM is a trademark of LostTables.com. All rights reserved.