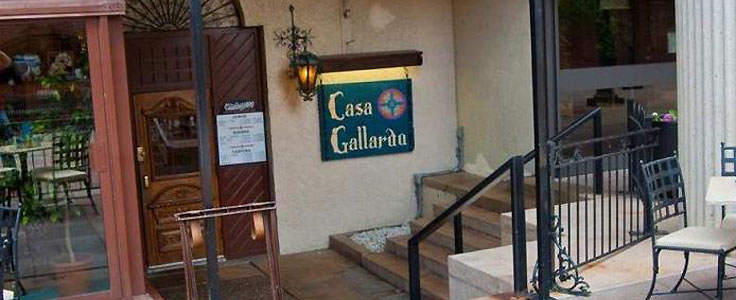 Casa Gallardo
Records show Mexican food was available in St. Louis as early as 1900, with stores selling canned tamales and chili con carne. O. T. Hodge developed the recipe which bears his name and began selling chili at the St. Louis Worlds Fair in 1904. But the biggest Mexican food success story in St. Louis is Ramon Gallardo's.
Ramon Gallardo was born and raised in Mexico City. His mother was a nurse and his father was an attorney. Before Gallardo came to the United States, he worked for an attorney for one and a half years, but his dream of becoming an attorney never materialized.
"Ever since I was a kid, my desire to come to the States was just overwhelming," he remembered. "And in Look magazine, there were these convertibles and blondes. 'My gosh,' I thought, 'That's heaven.' My mother pushed me too."
So while still a teenager, Gallardo went to California to spend the summer with a friend and ended up working at the Biltmore Hotel in Santa Barbara as a dishwasher. He worked there for two months and returned to Mexico City.
"A few years later I came to Chicago planning to attend DePaul University, but my friends suggested I learn the language first before I continue my education."
During this period, Gallardo purposely avoided other Spanish-speaking people so he could master English in the shortest time possible. "I wouldn't go to Mexican restaurants or Mexican bars; I completely buried myself in English."

It was not an easy time. "I was thinking of getting back to school, but I needed work. I was going into alleys, knocking on back doors of restaurants." He eventually found work at the Harding's Cafeteria on Wabash Avenue, again washing dishes.

"I began to learn the language, and worked the front of the soda fountain. I liked the tips, the exposure to people."

While working at Harding's Cafeteria, he met his first wife. One weekend, they took a drive south and arrived in St. Louis in the fall. "It was absolutely beautiful," he recalled.
Soon after, Gallardo moved to St. Louis. For 10 months, he worked in the cafeteria of the Milner Hotel at Washington and 18th Street. He had given up on law school, deciding that the restaurant business was his future. But he saw no future at the Milner Hotel, so he applied for a job at Miss Hulling's. This was the start of a 13-year working relationship with the Apted family; Stephen J. Apted was Florence Hulling's entrepreneurial son, who had greatly expanded upon his mother's cafeterias.
Gallardo's first job was as a butcher at Apted's Cheshire Inn. One day, the cook's helper failed to show up for work. Gallardo asked the chef to let him help. Within a year, he was the chef's assistant. From there, it was supervision of the kitchen, his first management job, and eventually the assistant to the general manager.
Gallardo continued to move upward in the Hulling's organization, eventually becoming general manager of Miss Hulling's Open Hearth Restaurant in the Bel Air Hilton. In the early 1970s, Apted put Gallardo in charge of La Sala, his struggling downtown Mexican restaurant.
"I didn't know anything about Mexican food," Gallardo recalled. "I did some research around town, about what people perceived as Mexican food. I went to Mexico City to do some research and bought good cookbooks. I made up a new menu, made a few changes, hired a new cook. We made money the first month. The place was packed."

Gallardo ran La Sala for a few more years and then, emboldened by his success, in 1975 opened his own place. He got a Small Business Administration loan from the Plaza Bank. A bank officer named Gary O'Neal, who just happened to be crazy about Mexican food, worked out the details.

"I just cried," Gallardo remembered. "I couldn't believe it. I was born in Mexico, and things like that just don't happen that way down there."

Gallardo paid off his $160,000 loan in 18 months.
* * * * *
In April of 1975, Ramon Gallardo opened Casa Gallardo, his new Mexican restaurant, on the ground floor of Westport Plaza's tallest building. There was an authentic Mexican flavor to the décor; Gallardo had made long automobile trips to and from Mexico to buy fixtures for his restaurant – wrought iron ornaments, clay lamps, ornate light fixtures, paintings, serapes, upholstery and assorted knickknacks.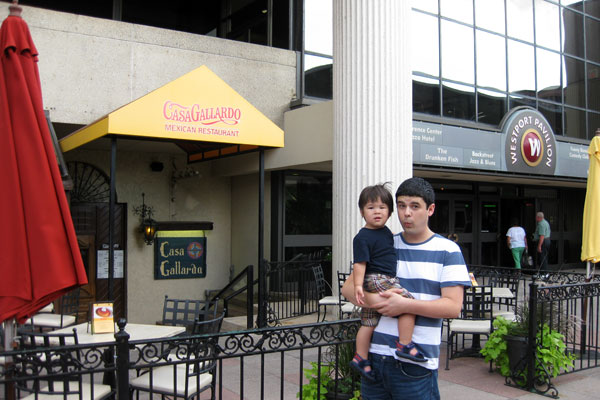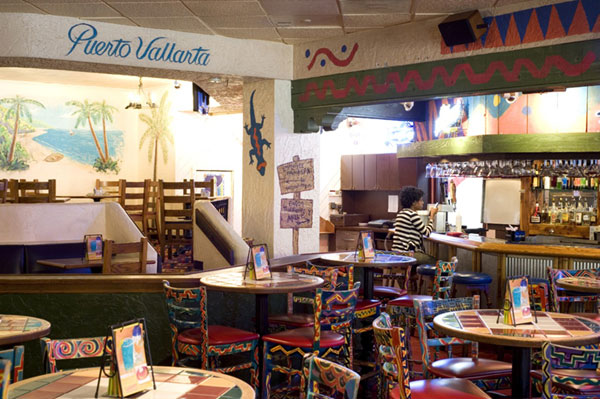 Casa Gallardo - 462 Westport Plaza
Before opening for business, Gallardo did extensive research in Mexico City, California and Texas. He obtained family recipes from an aunt in Mexico City. It's not clear if the restaurant's ubiquitous red salsa was one of those recipes, but the dipping sauce became so popular it was sold in grocery stores throughout the area. On the table with a basket of fresh tortilla chips at the start of every meal, the salsa was heavy on the tomato and had sufficient pepper to give it a nice tang.

Casa Gallardo's menu was filled with standard Mexican fare, although perhaps not so standard in 1975. Appetizers included quesadillas, nachos and tostadas; main dishes included enchiladas, tacos, burritos, chiles rellenos, tamales and fajitas; desserts included flan, fried ice cream, fried bananas and sopapillas. The margaritas were pre-mixed and poured from a bottle, instead of being handmade to order, but were still quite good.

Ramon Gallardo's Westport Plaza restaurant clicked beyond any projections he had made. Long waiting lines prompted two expansions, the second in 1979 doubling the seating.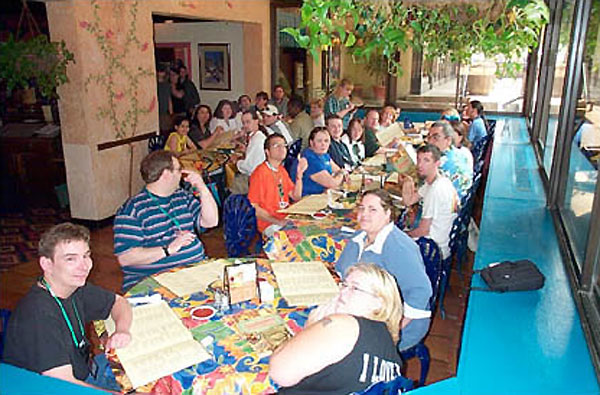 Cass Gallardo's Westport Plaza Porch
* * * * *
In 1978, Ramon Gallardo was approached by General Mills. The consumer food giant was then operating 330 specialty restaurants nationwide, including the Red Lobster seafood chain. General Mills was looking to enter the Mexican food business by purchasing an established restaurant or chain, and presented Gallardo with a deal to take his Westport Plaza restaurant and duplicate it nationwide.
At first Gallardo was hesitant, cherishing his independence. But he eventually accepted the multimillion dollar buyout offer, and in April of 1979, Casa Gallardo became a wholly owned subsidiary of General Mills. Gallardo stayed on as president, retaining full authority over restaurant design and organizational development.
* * * * *
In the spring of 1980, Casa Gallardo opened its second St. Louis location in Des Peres Square, at the southwest corner of Manchester and I-270, and in the summer of 1981, a third in North County, at I-270 and New Halls Ferry Road. To promote his new restaurants, Ramon Gallardo appeared in the company's print and television advertising.

St. Louis Post-Dispatch, June 11, 1981
(click image to enlarge)

St. Louis Post-Dispatch, July 30, 1981
(click image to enlarge)

Casa Gallardo - Des Peres Square
By the end of 1982, there were five St. Louis Casa Gallardo locations, with restaurants opening in South County, at South Towne Square, and in Chesterfield Center, across from Chesterfield Mall. The two-story South Towne Square restaurant was the biggest in the chain, with a seating capacity of 310 in the restaurant and 100 in the lounge.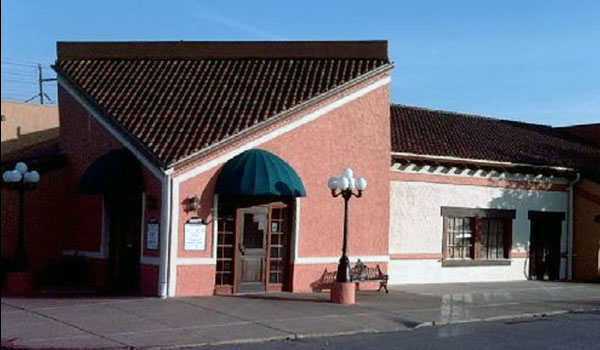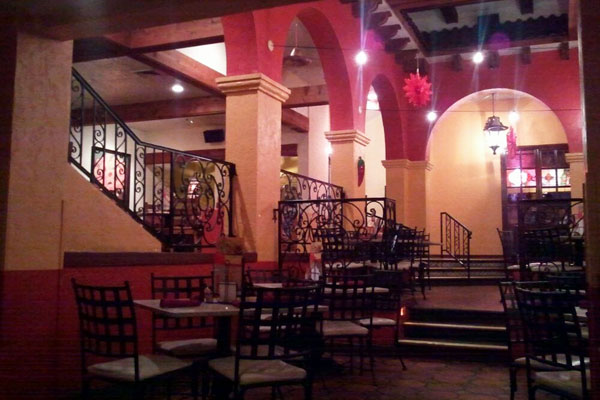 Casa Gallardo - South Towne Square
In the summer of 1982, Ramon Gallardo was promoted from president of Casa Gallardo Mexican Restaurants, Inc. to chairman of the company. He was driving a red Mercedes 450SL, with the vanity license plate TACO-1, and living in a new home in Chesterfield, across the road from another large, imposing home owned by Stephen J. Apted, his old boss.
By August of 1983, there were seven Casa Gallardo locations in the St. Louis area, with restaurants opening at St. Clair Square in Fairview Heights and on St. Charles Rock Road in Bridgeton. There were now twenty-five Casa Gallardo locations, nationwide.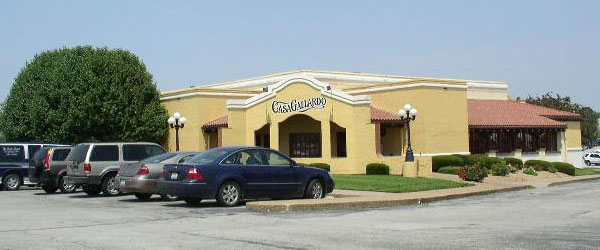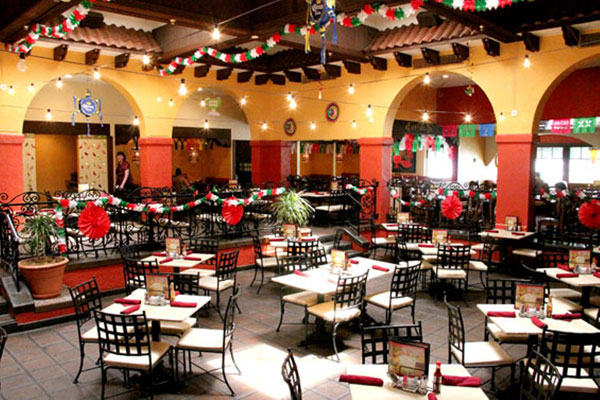 Casa Gallardo - St. Clair Square

Casa Gallardo - Bridgeton
During the late 1970s and early 1980s, Casa Gallardo went up against two other chains in the fight for America's Mexican food obsession – Southern California based El Torito and Minnesota's Chi-Chi's. In 1982, Time magazine covered the dramatic rise of these chains in an article titled "The Enchilada Millionaires," noting that Mexican restaurants had earned $3 billion in revenue the previous year, a 200 percent increase from as recently as 1977, and that "Mexican-food chains are hotter than chili peppers." The piece began by recounting Ramon Gallardo's rags-to-riches story.
In the fall of 1984, General Mills moved Casa Gallardo's headquarters from St. Louis to Columbus, Ohio. Soon thereafter, General Mills said it planned to sell the chain. There were 34 Casa Gallardo restaurants throughout the country, and Ramon Gallardo made an offer to purchase them. But in July of 1985, General Mills announced the sale of Casa Gallardo to W. R. Grace, which at that time operated more than 770 restaurants, including 161 El Toritos.
Gallardo called the deal with Grace "extremely disappointing. It's like giving birth to a child and then having to let somebody adopt it."
Ramon Gallardo stepped down as Casa Gallardo's chairman on June 1, 1985, and left the company at year's end.
* * * * *
Casa Gallardo continued to expand its footprint in the St. Louis area. In the summer of 1986, a restaurant opened on Olive Boulevard in Creve Coeur. A Casa Gallardo restaurant opened in Union Station in the summer of 1992.
In August of 1991, the Casa Gallardo Grill opened in the expanded Saint Louis Galleria in Richmond Heights. The menu differed significantly from the standard Casa Gallardo fare. Southwest specialties were offered, like pasta with shrimp in pumpkin seed and green chili pesto, and duck served on blue corn taquito with jalapeno barbecue sauce.
In his review in the St. Louis Post-Dispatch, Joe Pollack described the Grill as "a far better place for Mexican dishes than its Casa Gallardo cousins in the area." That was a far cry from the positive review Pollack had given those same dishes at the original Casa Gallardo, shortly after it opened in 1975.
"Over time, things change," Ramon Gallardo observed. "When you become a chain and corporations get involved, it's no longer the same as it once was."

* * * * *
The monetary windfall and restaurant operations experience Ramon Gallardo received from General Mills gave him the opportunity to help open a litany of other St. Louis restaurants over the years, including Ramon's Jalapeno, Patrick's (with partner, Pat Hanon), Ozzie's Restaurant & Sports Bar, Bevo Mill and others.
W. R. Grace sold its restaurant holdings, including the Casa Gallardo chain, in a leveraged buyout in 1986. The resulting firm, Restaurant Enterprises Group (REG), filed for bankruptcy in 1993. REF was acquired out of bankruptcy in 1994 by Foodmaker, who renamed itself Family Restaurants, then Koo Koo Roo Enterprises, then Prandium. In 2000, Acapulco bought El Torito, including Casa Gallardo, from Prandium. Acapulco renamed its parent company to Real Mex Restaurants in 2004.
In October of 2011, Real Mex Restaurants filed for Chapter 11 bankruptcy. Only four Casa Gallardo restaurants remained open, all in the St. Louis area; the Des Peres location had closed the previous month.
On Thursday afternoon, February 23, 2012, as employees prepped for the dinner rush, Real Mex shut down the last four Casa Gallardo locations – at Westport Plaza, South Towne Square, Bridgeton and St. Clair Square. A Real Mex spokesman cited sluggish performance and a "very soft economy" as its reasons for closing the restaurants.
Ramon Gallardo visited the Westport Plaza location for one final dinner, only to find it closed. He asked a Real Mex representative if he could at least buy a wooden sign in the restaurant. The rep told Gallardo he could have it for free.
* * * * *
Gallardo finally retired from the restaurant business, but he retained his entrepreneurial spirit. "Being retired, I am now a volunteer at SCORE, which is part of the Small Business Administration. The organization is made up of retired executives and business owners with wide diverse backgrounds in business and in industry, who help people get started in business."

| | |
| --- | --- |
| | |
| Casa Gallardo - Westport Plaza | Ramon Gallardo |
---
Copyright © 2017 LostTables.com