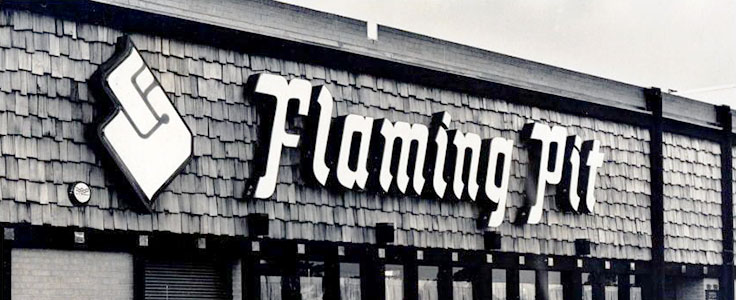 Flaming Pit
On December 3, 1958, Harry L. Hilleary opened the first Flaming Pit restaurant at 8135 Clayton Road, across from Stix Westroads. The steakhouse was an instant success, and that success was Hilleary's undoing.
Harry Hilleary grew up in Webster Groves. He was an honor graduate at Webster Groves High School, where he played football and was captain of the basketball team. In 1941, he entered Cornell University where, after a hiatus of two years of duty as an ensign aboard a destroyer in World War II, he graduated with a degree in chemical engineering in 1947.

Hilleary worked seven years for Standard Oil of Indiana at the Wood River refinery. However, an interest in business and an urge for independence prompted him to seek a law degree. For five of his seven years with Standard Oil he attended classes three nights a week at St. Louis University. He graduated cum laude in 1954 at the head of his class and opened his own law office over a drugstore in Jennings.

Hilleary's first venture into the food business came in 1954. At the suggestion of his younger brother, Donald, a partnership was formed to purchase Nesler's Restaurant at the corner of Euclid and Parkview. Donald Hilleary, a successful Clayton attorney, had kept books for the restaurant while attending law school and thought the place had profit possibilities even though the owner was being pressured by creditors.

"Each of the four partners put up $1300 and we all worked at painting and fixing up the place ourselves," Hilleary recalled. "I wasn't doing much in the law business so I was the one who spent most of the time supervising the operation."

When the restaurant started doing a good business and turning a profit, Hilleary developed an appetite for more of the same.

"We bought a couple of other places that had been notably unsuccessful, putting a little cash down and signing notes for the balance. We were always intrigued with the possibilities they presented – on paper," Hilleary said.
"In our early operations, we had to rely on people with experience in the restaurant business for advice and this sometimes proved a mistake." He eventually was convinced that to be successful it was necessary to come up with a food business he could understand and control.

By 1956, Hilleary and his partners decided they knew enough about the restaurant business to go "big time" and they purchased Fredrik's Cafe in the theater area on North Grand. A prosperous operation during World War II, the restaurant had fallen on hard times. Hilleary and his associates thought they could reverse the trend.

"This proved to be a disaster," Hilleary said, "but it was also a turning point because we really learned about the food business with this place." The restaurant was a disaster because after spending a substantial amount to make Fredrik's a high-priced operation, they could not get the food and service standards high enough to warrant the prices.
Hilleary decided to design a restaurant that would offer a limited menu aimed at the family trade; he wanted to operate it with a minimum of labor; he wanted an operation that would not take a great deal of food "know how" to run.
In selecting a location for his restaurant, Hilleary wanted a high density residential area with nearby commercial trade to support luncheon business.

With these principles in mind, Hilleary opened the first Flaming Pit restaurant in 1958 at 8135 Clayton Road. His concept was to put a barbeque grill in a restaurant with maximum efficiency. His total investment was $50,000. In less than eight months the restaurant was doing business at the rate of $250,000 in sales per year.

| | |
| --- | --- |
| | |
| Harry L. Hilleary | St. Louis Post-Dispatch, December 4, 1958 |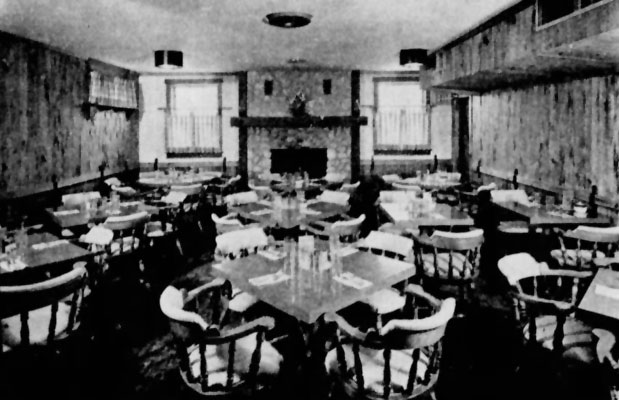 Flaming Pit - 8135 Clayton Road
Hilleary tried to revive his failing Fredrik's Cafe by converting it to his second Flaming Pit location in March of 1960. But this experiment was short-lived, and the Flaming Pit at 516 North Grand, across from the Fox Theatre, closed in early 1961.
But Hilleary was not deterred. He transferred personnel and equipment from North Grand to the Village Square Shopping Center in Hazelwood. An April 4, 1961 St. Louis Post-Dispatch article announced:
Northwest St. Louis County will get a taste of the "Old West" at the Flaming Pit Restaurant opening in the Village Square shopping center in Hazelwood.

Reminiscent of the era of the Old West when fine food was synonymous with family gatherings and relaxation, the new Flaming Pit is decorated with a western feeling. Homey, warm, informal, the focal point is family fun and fine food. The restaurant features a big open charcoal hearth where steaks are hickory charcoal broiled.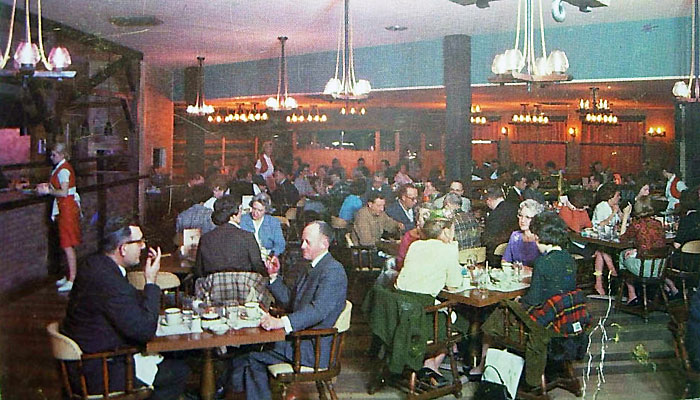 Flaming Pit - Village Square Shopping Center
The Village Square Flaming Pit was an immediate success, and over the next three years, Hilleary opened three more Flaming Pit restaurants in the St. Louis area – at 6435 Chippewa in November of 1962, at 11755 Manchester in June of 1963, and at 9735 Highway 66 in June of 1964.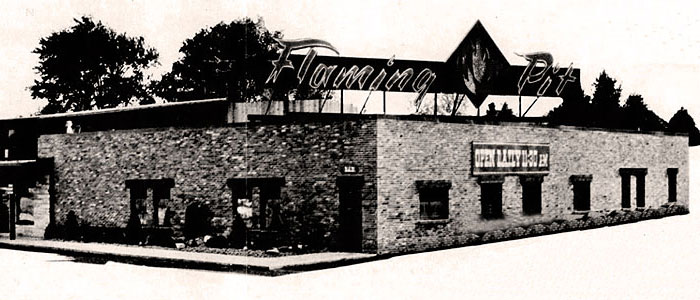 Flaming Pit - 11755 Manchester in Des Peres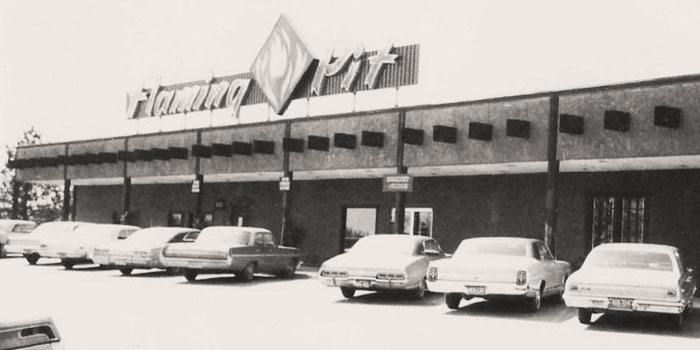 Flaming Pit - 9735 Highway 66 in Crestwood
On June 14, 1964, Hilleary heralded the success of his operation in a full-page ad in the St. Louis Post-Dispatch.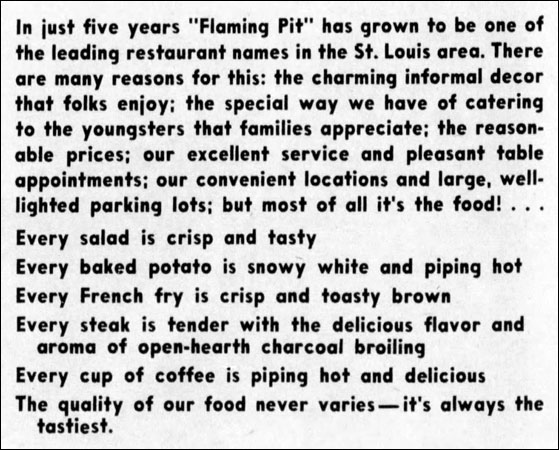 St. Louis Post-Dispatch, June 14, 1964

Early in 1965, Hilleary formed the Flaming Pit Franchising Corporation to award franchises for Flaming Pit restaurants on a national basis. The first franchise was granted in Indianapolis.
In November of 1965, Hilleary assumed management of the Lamplighter Motel in Springfield, Missouri, and remodeled the dining room and lounge into a Flaming Pit restaurant.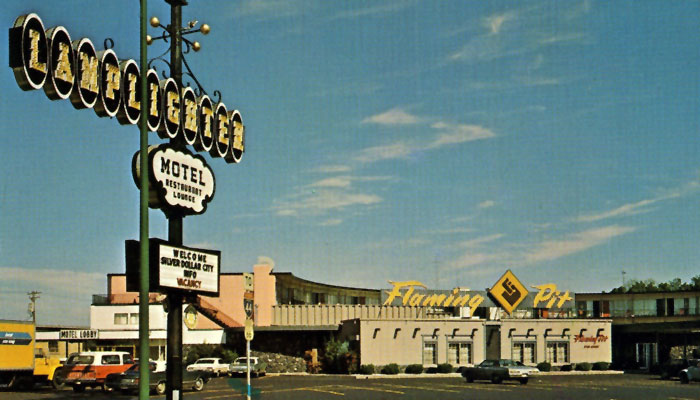 Flaming Pit - Lamplighter Motel, Springfield, Missouri
In the summer of 1966, a Flaming Pit restaurant opened in the Parkade Plaza Shopping Center on Highway 70 West in Columbia, Missouri.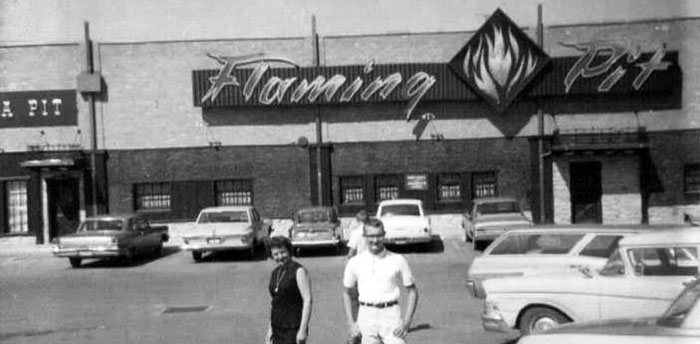 Flaming Pit - Columbia, Missouri
In December of 1965, a sixth St. Louis area Flaming Pit opened in Ferguson, at 9105 West Florissant Road in the Parkridge Plaza Shopping Center. Flaming Pit restaurants were also opened in Ann Arbor and Pompano Beach. In 1966, Flaming Pit franchises were sold for Edwardsville, Cape Girardeau, Tucson, Detroit and all of California.
In February of 1967, Hilleary completed the sale of of 30 Flaming Pit franchises throughout a nine state Midwestern area. The 30 franchises sold for $7,500 each, with Hilleary to receive a two per cent royalty on the gross sales of each restaurant. Hilleary's goal was 500 Flaming Pit restaurants throughout the country and a supporting organization to provide food, supplies, furniture and equipment.
But Harry Hilleary had plans beyond Flaming Pit. He changed the name of his organization from Flaming Pit Franchise Corporation to Hilleary & Partners, as operations expanded.

In the spring of 1967, expanding on his Flaming Pit concept, Hilleary opened a more upscale steak house in St. Charles on Fifth Street, at Highway 70. He took an oblong building, added a bow, a stern and stuffed animals, and called it Noah's Ark. The new restaurant was an instant success, and Hilleary sold 25 Noah's Ark franchises.

In 1969, Hilleary opened two new franchise "pilots" in the St. Louis area – John Henry's Railroad Café in the Northwest Plaza Shopping Center and Time of the Tiger in the Progress West Industrial Park in west St. Louis County.

Time of the Tiger, Progress West Industrial Park - September, 1969
(click image to enlarge)

In November of 1969, Hilleary & Partners opened a Flaming Pit restaurant in New Hartford, New York – their forty-third in the nation. There would be no forty-fourth.
* * * * *
In June of 1970, Harry Hilleary announced his company was deeply in debt and was sharply reducing operations in a "retrenching" effort to avoid bankruptcy. He faced multiple lawsuits filed by persons to whom restaurant franchises had been sold, advertising agencies claiming nonpayment for services, and former employees.

Ten Flaming Pit restaurants were closed or sold, and no new franchise sales were being solicited. Hilleary said further cutbacks were planned and he hoped to "work out a program to keep things going" and eventually establish a total of 25 profitable restaurants.

Hilleary attributed his difficulties to "an effort to move forward too fast without benefit of outside financing." He said his company's outlook was "very cloudy" and that his immediate goals were to bring his franchising operations into balance and to close down or sell any units that weren't profitable.
* * * * *
Despite Hilleary's more global problems, the six St. Louis area Flaming Pit restaurants remained open into the early 1980s, with the Watson, Chippewa and Manchester locations open into the late 1980s.
Some of the franchised restaurants performed even better. The storied Flaming Pit restaurant in Gaithersburg, Maryland opened in the mid 1970s and thrived until 2007.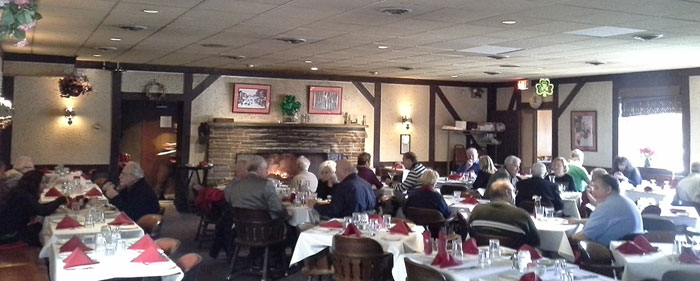 Flaming Pit - Gaithersburg, Maryland
Harry Hilleary died peacefully on August 18, 2010. Appropriated, he had closed his last Flaming Pit restaurant in Florida the year before.


South Florida Sun Sentinel - June 9, 2009
---
Copyright © 2017 LostTables.com