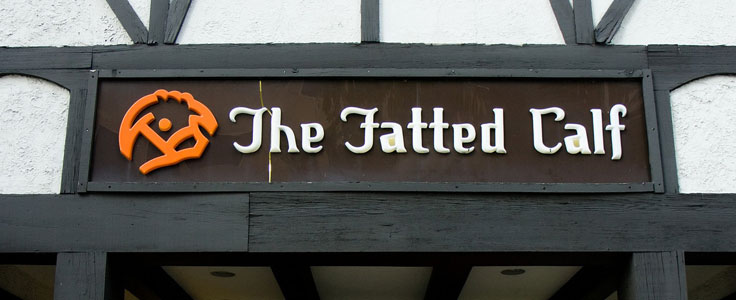 J. Pollack Photography
The Fatted Calf
In 1948, Anthony M. Bommarito and his brother Vincent A. Bommarito were still at St. Louis University High School when their father, the elder Tony Bommarito, died. After they graduated, the brothers took over their father's restaurant – Tony's Spaghetti House. Eventually, the words "Spaghetti House" were dropped, and the restaurant became simply Tony's.
In 1965, Tony and Vince Bommarito inaugurated a new restaurant venture. On November 30, they opened the first of a chain of quick lunch places which they called The Fatted Calf.

"The Fatted Calf will be a sophisticated hamburger joint," Tony said. "People will stand up to eat and there won't be any liquor served. We hope to get four of five going in St. Louis, and later make it a national chain."
The Fatted Calf was located at Tenth and Locust in a building which the Bommaritos had covered with faux English Tudor cladding. The building had previously housed the legendary Noonan-Kocian Art Company, and after that it was the home to Fisher's Opticians.

Vince (left) & Tony Bommarito
St. Louis Post-Dispatch, Nov 28, 1965

923 Locust at Tenth, 1955 - Fisher's Opticians
(click image to enlarge)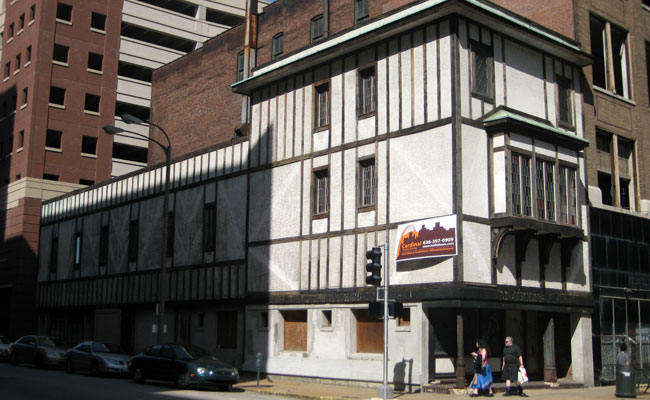 923 Locust at Tenth, 2013 - Prior to Demolition
The Fatted Calf, with its Old English atmosphere, brick flooring, beamed ceiling and burlap covered walls, was an instant success. Customers walked along a cafeteria-style line, ordered from a variety of hamburger sandwich choices, picked up a beverage and chips, paid the cashier, put their tray on a wooden cross-beam and stood munching their food.
"For the first three months, my brother Tony cooked and I took the orders," reminisced Vince Bommarito. "Kim Tucci worked for us, as a cashier. Alex Dooley was our first GM. He, of course, learned a few things about hamburgers, and made a good living serving them."
The limited menu had flame-grilled Calfburgers, Cheddarburgers and Bleuburgers. Picadilly, Buckingham and Berkshire (or Canterbury) sauces were provided as toppings. The Picadilly was a tomato-pepper relish, the Buckingham a mustard-based relish and the Berkshire was similar to Thousand Island.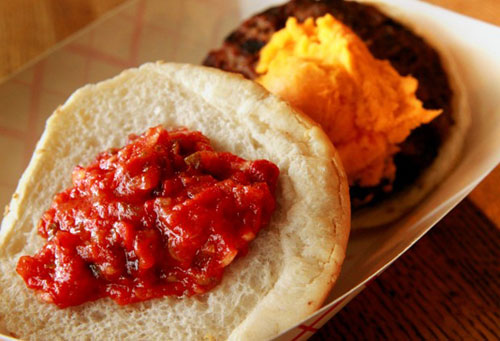 The Fatted Calf Cheddarburger with Picadilly Relish
In September of 1968, the Bommaritos sold The Fatted Calf to American Snacks of Chelsea, Massachusetts. By then there was a second restaurant at 3537 Lindell. American Snacks' chairman Robert Wolfson, who was also vice president and treasurer of the St. Louis Blues, planned additional St. Louis locations and one in Boston.
Tony Bommarito joined American Snacks to assist in the expansion of the Fatted Calf chain. But early in 1970, Tony resigned from American Snacks and resumed his role at Tony's with his brother Vince.
American Snacks opened a third Fatted Calf restaurant at Northwest Plaza in December of 1968 and a fourth in Clayton, at 12 South Bemiston, in March of 1969.

St. Louis Post-Dispatch, Feb 6, 1969
(click image to enlarge)
St. Louis Post-Dispatch, Mar 20, 1969
(click image to enlarge)
A second downtown Fatted Calf location opened at 513 Locust in the beginning of 1970 – the fifth and final St. Louis area location – and there were still five Fatted Calf restaurants open as of the beginning of 1980. But one by one, American Snacks began to close the restaurants. After the Northwest Plaza location was shuttered, only the Clayton restaurant remained, which American Snacks sold to Kathy Sellenriek.
* * * * *
Kathy Sellenriek had worked at The Fatted Calf in Clayton while she attended Fontbonne University, and she managed the Tenth and Locust location for two years after graduation. In 1976, she left to work with Bill and Christine Saigh as they opened The Lettuce Leaf. In 1987, she acquired the remaining Fatted Calf restaurant from American Snacks.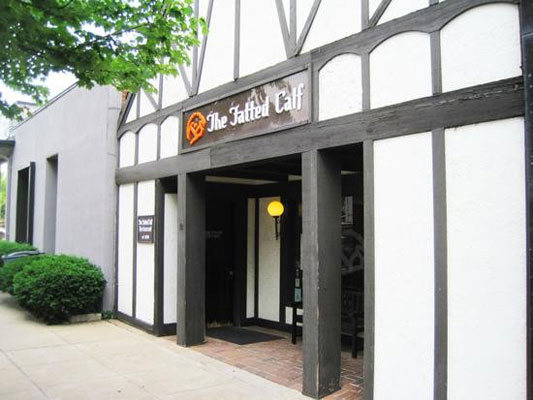 The Fatted Calf - 12 South Bemiston, Clayton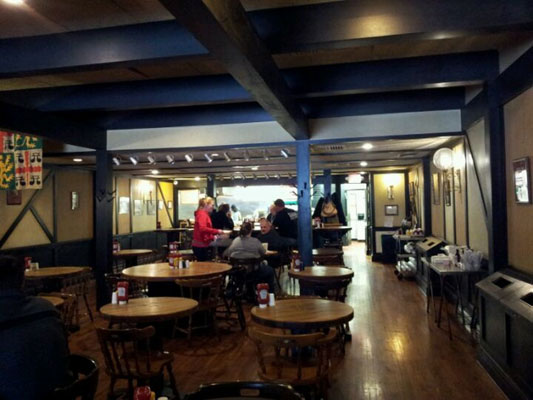 The Fatted Calf Interior - 12 South Bemiston, Clayton
Sellenriek continued to offer the basic Calfburger, but with nine different toppings to choose from. Her menu also included non-burger options, which she discouraged new diners from ordering in her tongue-in-cheek "First-Timers Instruction Manual."
From the exterior, enter through the door to your left marked "Enter." The door on the right is for "Exit" only. (The way we see it, the less you have to think about arrival and departure options, the more you can concentrate on our delicious hamburgers.) Form a line on the left side of the restaurant. As you wait to place your order, be sure to stare at other diners' food as they eat those luscious burgers. Feel that Pavlovian response begin in your saliva glands as you wonder if their burger is topped with tasty mushrooms, or perhaps crispy bacon cooked up fresh that day, and how that fresh thick slice of gorgeous red tomato perfectly accents the cold lettuce and, dare we say it, the scoop of luscious, luscious soft cheddar cheese melting on the hot, meaty burger. We trust you'll be sufficiently hungry by the time you order.

Place your order. Although yes, we do offer options like a Tuna sandwich or a Charbroiled Chicken salad, don't fool yourself. Get our burger – at least the first time here. No, you don't need a double or triple, or mini (although some people order another one after they finish the first). One size – a nice thick and juicy 1/3 pound. Tell us how you want it done (we recommend medium, to maintain the flavor and juices), and settle down to your choice of toppings. Dart your eyes between our menu board and the vintage brown and white containers sitting on our classic copper counter tops (Yep! They're real, and you're darn right – they take a lot of work to keep looking that great) as you try to imagine what your mouth will be most enthralled with – tasty crisp (real and fresh) bacon, hearty fresh tomatoes, crunchy lettuce, savory mushrooms, delectable Swiss cheese and yes, yes! That's it – right there in that crock . . . or is it an urn? Is that really the stuff of which legends are made? Could it be the world-famous soft cheddar cheese that tops the solar system-famous Fatted Calf burgers, the kind of cheese that's scooped out with an ice-cream scoop? (Okay, not a really big ice cream scoop, but one that technically still qualifies – it's got that thumb thing on it.) "Do ittt," as Ahhnold would say. Order the soft cheddar. Especially if it's your first time.
The Fatted Calf Calfburgers
J. Pollack Photography (right image)
In February of 2008, after owning The Fatted Calf in Clayton for over 20 years, Sellenriek decided to sell the restaurant and pursue a career in education. Ironically, she almost sold it to Vince Bommarito, who showed an initial interest. But Bommarito got sidetracked by an abortive plan to move Tony's to the Busch's Grove space. "We wanted to buy it and build about five more of them around town, but then we got involved in this," said Bommarito. "We were ready to buy until this came up."
Sellenriek eventually sold the restaurant to Jason and Kathleen Portman on July 1, 2008. Jason Portman was the Director of Operations at Dierdorf & Hart's in West Port Plaza and Kathleen Portman had been a co-owner of the Leather Bottle in Clayton. The Portmans kept The Fatted Calf pretty much unchanged.

In early June of 2011, a handwritten poster appeared in the window at 12 South Bemiston which read, "Please help save The Fatted Calf. We will be closing our doors June 30 if business doesn't increase dramatically."

Portman lamented that the Fatted Calf had been down to about 100 customers a day and would need to double that to stay afloat.
"We used to get lots of secretaries and paralegals, but we just don't get them in anymore. I think a lot of law firms have cut back and, with the economy the way it is, a lot of our customers don't eat at restaurants anymore."
But after a spate of media attention, business picked up significantly.
"I hired two new part-time people and had to increase our bread order, things got so busy," Portman said. "We re-signed our lease for three more years and then the Fourth of July hit and now we're down again."
And business stayed down. The Fatted Calf served its last Calfburger in March of 2013 and closed its doors for good.

J. Pollack Photography (left image)
---
Copyright © 2017 LostTables.com