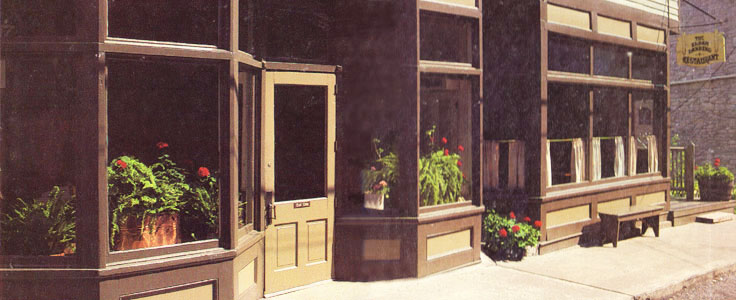 Elsah Landing
The quaint village of Elsah is nestled among the bluffs beside the Great River Road, across the river and about 50 minutes north from St. Louis. In 1975, Dorothy Lindgren and Al Mack opened the Elsah Landing Restaurant there at 18 LaSalle Street. A month or so later, Helen Crafton joined them, and about a year after that, Crafton and Lindgren took over the business.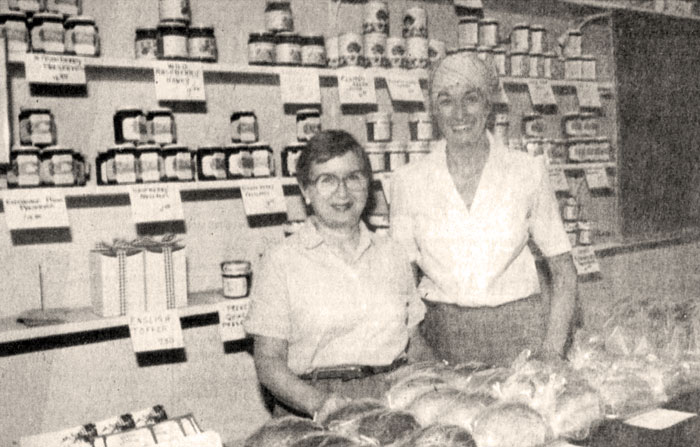 Helen Crafton (left) and Dorothy Lindgren
St. Louis Post-Dispatch, Aug 5, 1981
A small wooden sign at the corner of the white clapboard building identified the restaurant. The scent of freshly baked bread was likely to greet visitors inside. A chalkboard at the back of the two small rooms showed the menu for the day – hearty soups, homemade breads, "grinder" (submarine) sandwiches and fantastic desserts.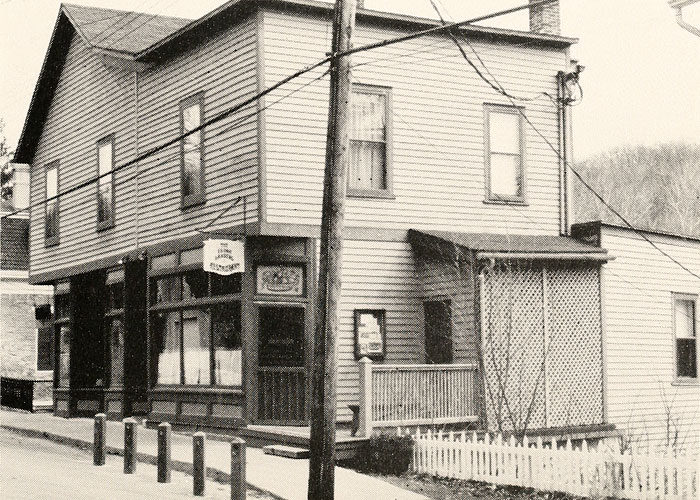 Elsah Landing Restaurant, 18 LaSalle Street
Shiny wooden tables were topped with fresh wildflowers or blossoms from owners' or friends' gardens. Large windows opened onto the winding street just outside and offered a glimpse of the river below. Murals of historic Elsah, a few antiques and scattered green plants completed the simple decor.

Two hundred loaves of bread were baked on weekdays and double that amount on weekends. Pumpernickel, oatmeal, three-grain, cheese and potato were a few of more than 40 different breads that appeared regularly on the menu.
Helen Crafton developed the restaurant's spectacular collection of desserts. Perennial customer favorites were the scintillating lemon pie, black bottom pie, apple pie à la mode with cinnamon sauce, and mocha toffee pie.
Dorothy Lindgren preferred soups to sweets. Her chicken curry soup, a homemade cream of tomato and a delicate cream of lettuce were only a few of the favorites.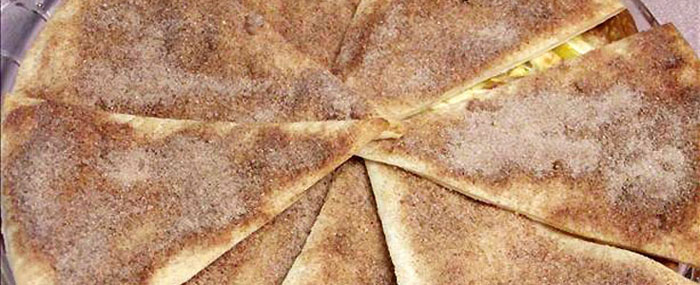 Elsah Landing's Scintillating Lemon Pie
The menu on any given day depended on the season and the weather, or even on the request of a customer who was coming in for a special favorite.
"If they'll give us warning, we'll try to oblige requests. We enjoy the people who come," said Crafton. "We have nice customers. Some are regulars, and if they don't come, we worry about them."
About 80 percent of Elsah Landing's customers were from the greater St. Louis area. Others came from all over the country, drawn by word of mouth or various guidebook recommendations. A look around the dining room might reveal a family with young children, a bearded artist or a couple of local men in high-top work shoes and plaid flannel shirts at the wooden counter. All sorts of locals and tourists mixed happily in the hospitable atmosphere.
"People seem to feel almost as if they have a share in the place," said Crafton. "One man was quite upset when we replaced our original fishing tackle box with a real cash register. People offer us advice and even send us family recipes."
When asked about the secret to her restaurant's success, Lindgren replied, "It's the quality of the food. You just cannot get food from scratch or pie crust made by hand. People will seek out good food."
And seek it out they did. Sometimes customers were lined up halfway to the river where the Elsah Landing used to be. The restaurant was so successfully, it expanded into a second dining room and added a bakery counter where its famous cinnamon rolls and other breads, desserts, jams, jellies, preserves, specialty mustards, vinegars, honey and teas were sold.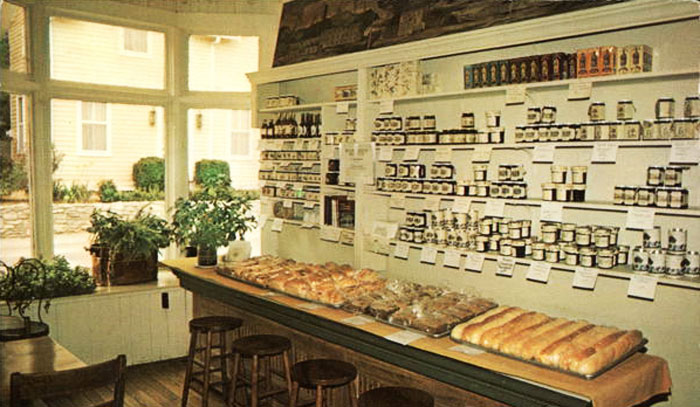 Elsah Landing Restaurant Bakery Counter
In 1981, Crafton and Lindgren brought their "made from scratch" fare to the St. Louis market. They opened a "city cousin" of their country restaurant on the second floor of Plaza Frontenac, at the Saks Fifth Avenue end of the mall. It had a more contemporary atmosphere than the original location, but served the same soups, breads and desserts, plus salads and sandwiches.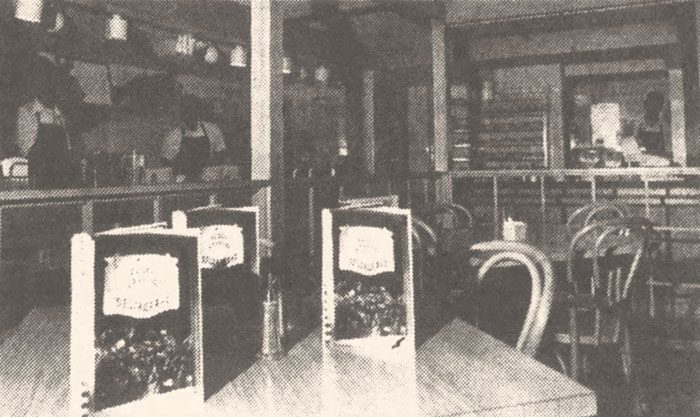 Elsah Landing Restaurant in Plaza Frontenac
In 1986, the original restaurant in Elsah expanded to include the Elsah Landing Bakery and Tea Room in the building next door. Groups could reserve the tea room for fixed-price lunches and meetings, and individuals could make reservations to enjoy assorted tea sandwiches and dainty cookies at teatime.
Crafton and Lindgren decorated the bakery sales room and tea room in dusty rose and soft green colors. Lace curtains, green plants and antiques added homey touches. The tea room seated twenty.
The bakery and tea room answered what had been a problem since the beginning at the Elsah site – lack of space to handle the demand.
"We have been wanting to do something to help serve the customers better and to get the bread sales out of the restaurant for a long, long time," said Lindgren.

The restaurant's famous cinnamon rolls were available at the bakery, as they had been at the restaurant counter and at Plaza Frontenac. About 300 cinnamon rolls were baked each day. Bread pudding sometimes appeared on the restaurant menu, made with leftover cinnamon rolls instead of just bread.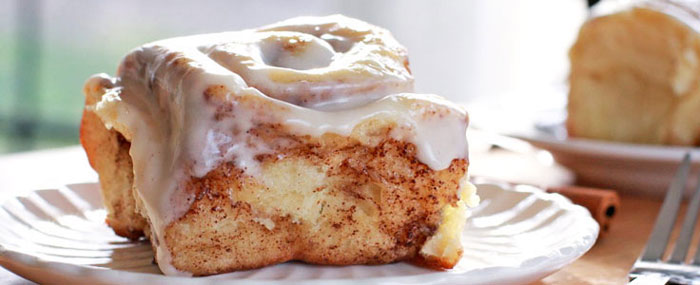 Elsah Landing's Cinnamon Rolls
As time passed, Dorothy Lindgren found she was spending most of her time at Frontenac, so she became sole owner of the Frontenac restaurant in 1994, while Helen Crafton became sole owner of the Elsah restaurant. At the same time, Plaza Frontenac was going through a major renovation, and its owners asked Lindgren to change the name of the restaurant to reflect changes in its menu. Elsah Landing at Frontenac became Something Elsah.
"There has been a complete turnaround in what people eat," Lindgren explained. "Our dairy bill used to be as high as our meat bill. Now the emphasis is on fresh fruit and vegetables and interesting combinations of food."
The restaurant offered five salads, eight sandwiches, three hot soups and one chilled soup, as well as an array of breads and desserts.
"We always run a meatless entree and one with meat, like the three-cheese vegetable lasagna and the Greek lasagna with lamb and beef, spinach and feta cheese," Lindgren said.
"People just will not let us take some things off the menu," she added. "While the demand is there for low-calorie food like the vegetarian chili with no meat, fat or oil, or the spring salad with fresh fruit and low-calorie rice vinegar dressing, people still want the rich desserts like pralines and cream pie or the chocolate maraschino truffle torte."
Sandwiches included grilled vegetables and the Maui, apple-roasted pork tenderloin slices with bacon and pineapple. The ham and asiago cheese sandwich was topped with cranberry mustard and served on herbed Italian flat bread.
Something Elsah featured a variety of homemade breads.
"A lot of the breads we serve are a result of a trip I took to southern and central France," Lindgren noted. "I got ideas and inspiration from the little out-of-the-way restaurants and bakeries. Some were still using 300-year-old wood-fired ovens."
The breads included several varieties of muffins, spicy Cajun pepper bread and olive-walnut rye. Irish soda bread and potato bread were customer favorites.
"People have a hard time making up their minds, there are so many selections," Lindgren said. "But they can get in and out in 30 minutes if they are in a hurry."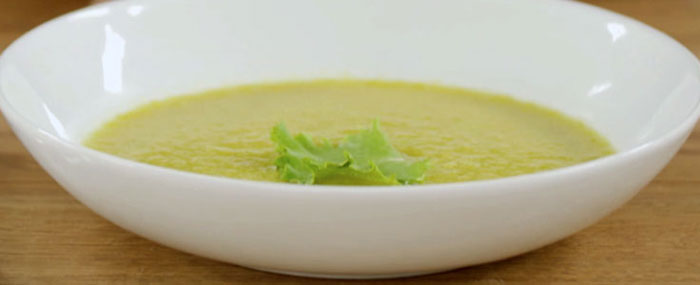 Cream of Lettuce Soup
In June of 1998, Helen Crafton moved her restaurant in Elsah four miles down the River Road to the Brainerd House Bed and Breakfast in Grafton. The restaurant occupied two floors of the 1885 Queen Anne-style Victorian home.
Two dining rooms with active fireplaces and a gift shop were on the first floor. The gift shop sold Elsah Landing's jams, jellies, baked goods and cookbooks. On the lower level, there were two additional dining rooms and the kitchen facilities.
Crafton and her mother Sharon managed the bed and breakfast part of the Brainerd House, in addition to running the restaurant.

Crafton had been reluctant to leave the Elsah area, but enjoyed being in a newly renovated building with a modern kitchen.
"We had been in Elsah a long time, and it was not an easy decision to make," she said. "We had good friends in the village there and we had done well, but it was time to leave."
* * * * *
Elsah Landing's stay in Grafton lasted about three and a half years. After 26 years of "made from scratch" fare, the restaurant closed its doors for the last time on Sunday, December 23, 2001. Its "city cousin" at Plaza Frontenac did the same in the spring of 2003.
But Elsah Landing's hearty soups, homemade breads and fantastic desserts live on. Helen Crafton and Dorothy Lindgren published three cookbooks compiling their wonderful recipes – in 1981, 1984 and 1988. Scintillating lemon pie will not be forgotten.

---
Copyright © 2019 LostTables.com
Lost TablesTM is a trademark of LostTables.com. All rights reserved.