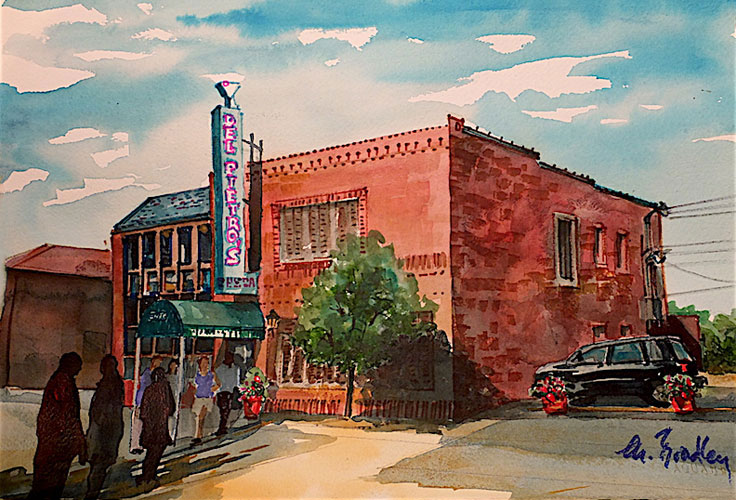 Watercolor by Marilynne Bradley
The Del Pietros
Mary Rose Russo and Michael Del Pietro were childhood sweethearts. They grew up on the same street, Bischoff Avenue on The Hill, and were in the same St. Ambrose grade school class.
Mary Rose was the daughter of Roy and Lee Russo. In 1954, the Russos entered the restaurant business; they took over the well established Parente's Pizza location in the basement of the Melrose Apartments at North Sarah and West Pine. The Russos named their restaurant Rossino's.
Mary Rose began working in the kitchen of her parents' restaurant at age 11. After she and Michael Del Pietro were wed in 1965, they both worked at Rossino's, Mike waiting tables and Mary Rose in the office.
In 1976, the Del Pietros opened a restaurant of their own – Del Pietro's House of Pasta, at 5625 Hampton Avenue. They didn't have much money. Mary Rose made the sauces, did the books and cleaned the restaurant. After feeding her kids dinner at their Tamm Avenue home, less than six blocks away, she'd return to wait tables.
The family-style restaurant caught on right away. Del Pietro's served pasta, pizza and a large handful of Italian dishes at reasonable prices. Dinners were served with salad and a side order of pasta. Favorites were veal Parmigiana ($4.95), chicken with green peppers and mushrooms ($4.95) and strip sirloin steak ($5.50). Among the pasta dishes were cannelloni ($3.25), fettuccine ($3.50), linguini with clam sauce ($3.75) and pasta for four with a salad ($8.25).
Del Pietro's started with eight tables, and people lined up outside. In 1979, they expanded into a remodeled second floor, and a year later, put on a two-floor addition, increasing seating to 196 diners.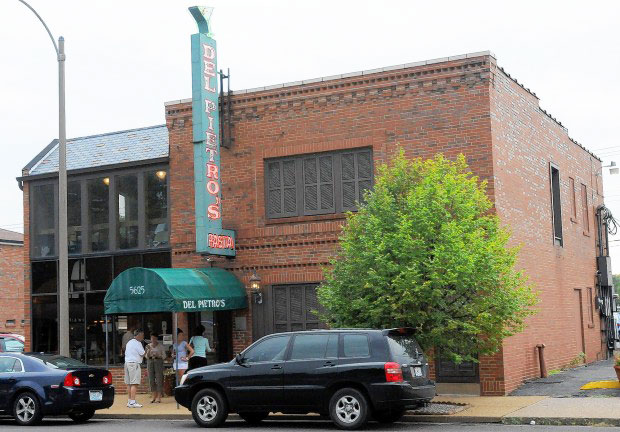 Del Pietro's House of Pasta, 5625 Hampton Avenue
In 1984, the Del Pietros expanded to Chesterfield, opening Michael's of Del Pietro's at 13419 Olive Boulevard in the space vacated by L'Auberge Bretonne. They served the same Italian specialties at their West County restaurant as they did in South St. Louis, and did so until Michael's closed in 1997.
On Friday afternoon, September 26, 1986, the Del Pietros' world changed forever. Mike Del Pietro died of a heart attack at the age of 42.
* * *
Michael Del Pietro Jr. was 9 years old when his parents opened their Hampton Avenue restaurant. He began his restaurant career by washing dishes, as did his brother, Marc, and his sisters, Angela and Lea. They all worked a shift at Del Pietro's every weekend, from age 13 all through high school.
One day Michael's dad asked him to slice thirty pounds of mushrooms. His fingers were numb after twenty, so he stopped. When the restaurant ran out of mushrooms that evening, his father asked, "You didn't cut thirty pounds, did you?" When Michael replied he thought twenty would be enough, his father told him not to think so much.
Michael was 19 years old when his father died. At age 20, he was running the family restaurants with his mother, Mary Rose.

Mary Rose Del Pietro and Staff
St. Louis Post-Dispatch, March 22, 1987
Marc and Michael Del Pietro
St. Louis Post-Dispatch, February 17, 1989
By 1994, the Del Pietros had grown their family and were ready to grow their restaurants. They took over the old Port St. Louis space at 15 N Central Avenue in Clayton and opened Portabella.

Portabella, 15 N Central Avenue
Portabella was a true family affair. Brother Marc Del Pietro was co-chef, along with Thom Zoog, who had married sister Angela. Angela managed the front of the restaurant. Brother Michael divided his time between Portabella, Michael's and Del Pietro's. Sister Lea gave the restaurant its name.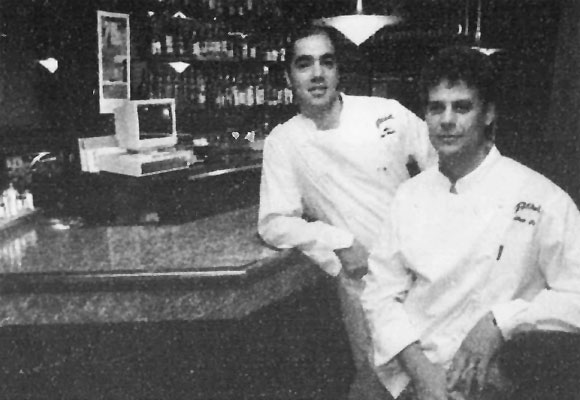 Portabella Co-Chefs, Marc Del Pietro and Tom Zoog
St. Louis Post-Dispatch, October 29, 1995
The Portabella menu included Italian regulars, like mesclun and other bitter greens, liver, roasted peppers, risotto, roasted potatoes and osso bucca, along with French-California touches, like grilled asparagus, smoked salmon pizza, sea bass and bouillabaisse. A signature appetizer was a meaty Portobello mushroom, sliced and grilled with asparagus, under a tangy balsamic vinaigrette dressing.

When he was starting up Portabella, Michael Del Pietro saw his employees going to a nearby restaurant at 20 North Central at the end of each shift; it was called Murphy's. After checking it out, he bought the place.
In the fall of 1998, the Del Pietros reopened Murphy's as Kilkenny's Pub, naming it after the city in Ireland where Budweiser was brewed. With old wooden booths, a beautiful antique cash register and one-of-a-kind sports memorabilia, Kilkenny's menu offered the usual bar food found in an Irish pub. Starters included house made chips, soft pretzels, buffalo wings and hummus. Burgers and sandwiches dominated the rest of the menu, including a Reuben, BLT and club wrap. The Del Pietro family supervised Kilkenny's on a rotating basis.

Earlier in 1998, Michael Del Pietro had leased the space vacated by Quiznos at 7927 Forsyth Boulevard. On March 14, 1999, the Del Pietros debuted another Clayton restaurant – Shiitake Restaurant & Bar. Thom Zoog, Angela and Lea moved from Portabella to operate the new restaurant, which featured a creative menu of Asian fusion cuisine. Zoog was the executive chef, while Marc remained as the executive chef at Portabella.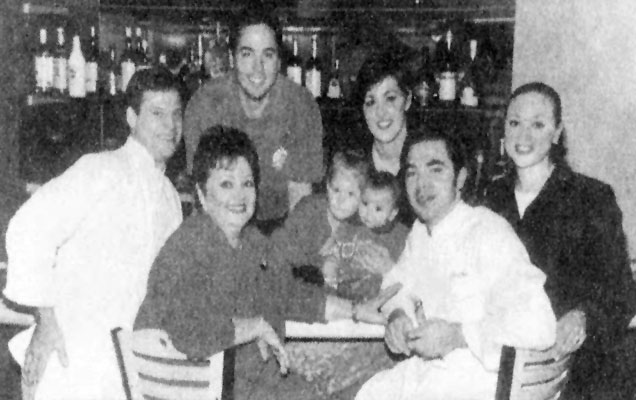 Front: Thom Zoog, Mary Rose Del Pietro, Marc Del Pietro, Lea Del Pietro
Back: Michael Del Pietro, Isabella Zoog, Olivia Zoog, Angela Del Pietro Zoog
St. Louis Post-Dispatch, March 14, 1999
Shiitake's walls were painted a cool gunmetal gray; chairs were light wood and black. There were mirrored walls, white Japanese lanterns, white linen tablecloths and napkins, and fresh flowers. An Asian sense of balance and serenity pervaded the storefront building.
Among the most popular items were crisp lettuce cups filled with chicken, peanuts, shiitakes and water chestnuts. Other dishes included sautéed Atlantic salmon with tea-smoked shrimp, roasted potatoes, asparagus and red sauce; teriyaki-glazed rainbow trout with tempura shrimp and mirin cucumber salad; roasted beef tenderloin with fingerling potatoes, sugar snap peas, soybeans and shiitake red wine sauce; spicy lobster Pad Thai with rice noodle, vegetables and peanuts; and Florida black grouper with crusty shrimp and lemon-grass tomato broth.
* * *
In June of 2002, the Del Pietros opened Luciano's Trattoria on the ground floor of the Clayton Plaza high-rise, adjacent to The Ritz Carlton. Michael Del Pietro was in charge of the new venture, as the family continued to move its members in a musical chairs fashion. Marc moved from Portabella to become Luciano's executive chef, Thom Zoog and Angela moved from Shiitake back to Portabella, and Lea remained at Shiitake, with her new husband Brian Doherty taking over as executive chef.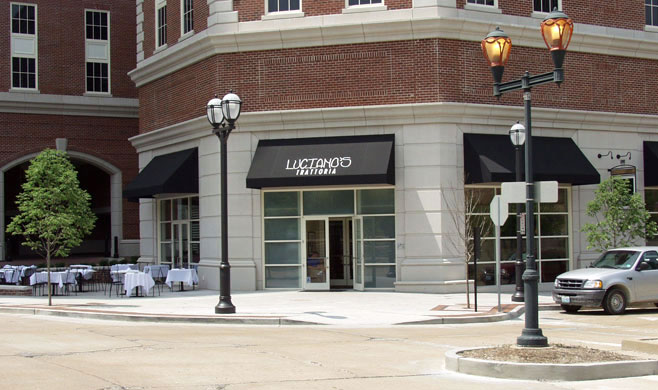 Luciano's Trattoria, 172 Carondelet Plaza
On entering Luciano's, there was a large bar area with rustic tile flooring, an expansive, four-sided bar topped with stainless steel, and matching overhead steel wine-glass racks. Luciano's main dining room was endowed with relaxed hues, two contemporary chandeliers with squiggly multicolored lights, three heavy butcher blocks in the middle of the room holding big vases of sunflowers and floor-to-ceiling windows.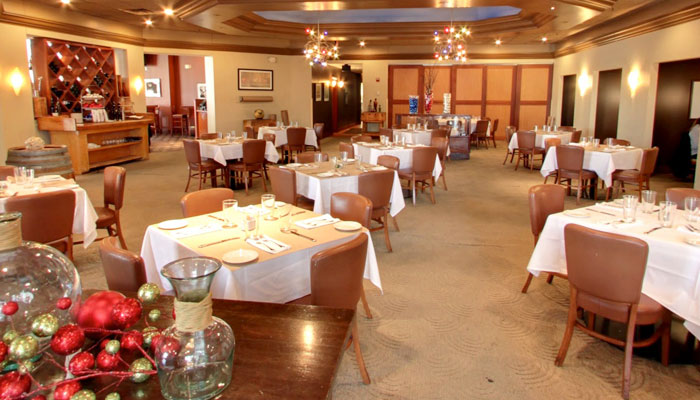 Luciano's Main Dining Room
Executive chef Marc Del Pietro offered a creative and varied menu of pastas, pizzas, entrées and antipasti. The concept was upscale "Italian food" rather than "St. Louis Italian food," meaning no Provel cheese or toasted ravioli, although house-made ravioli fritti slipped onto later menus.

Executive Chef Marc Del Pietro
with Mary Rose and Michael
Luciano's Menu, 2008
(click image to enlarge)
In October of 2003, the Del Pietros closed Shiitake. A month later, executive chef Brian Doherty and wife Lea reopened it as Tavern 43, but the schizophrenic concept was short-lived.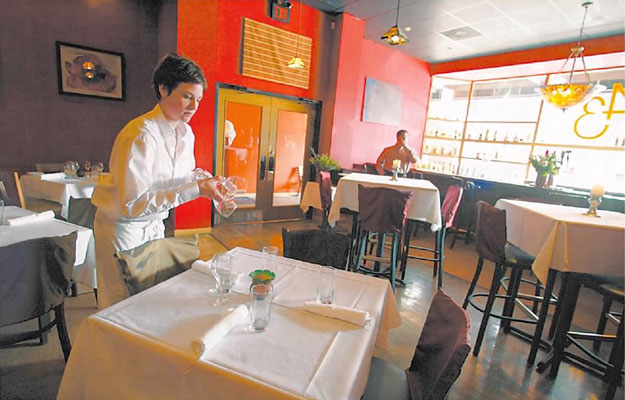 Tavern 43, 7927 Forsyth Boulevard
St. Louis Post-Dispatch, March 4, 2004
On Saturday night, May 28, 2011, Portabella served its last meal. Angela Del Pietro Zoog sold the restaurant to Kim Tucci and Joe Fresta, owners of The Pasta House Company, who reopened the space as Tucci and Fresta's Trattoria and Bar.

| | |
| --- | --- |
| | |
| Portabella, June 1, 2011 | Luciano's, January 20, 2012 |
On January 20, 2012, a water pipe burst at Luciano's, flooding the restaurant with nearly a foot of water. The entire restaurant was destroyed – carpets, furniture and a lot of the drywall.
In March 2012, Marc and Michael Del Pietro announced that both Kilkenny's
Pub and Luciano's would be closing. Kilkenny's was sold to make way for a Pickleman's Gourmet Café.
Luciano's lease was due to expire at the end of that April. With the extensive water damage and skyrocketing Clayton rents, the Del Pietros opted not to renew. According to Michael, the corner looked better on paper than in real life.
* * *
In August of 2011, Mary Rose Del Pietro gave herself a well-deserved 68th birthday present. Retirement. After 35 years of running Del Pietro's House of Pasta, she served her last meal on August 27. She had 10 grandchildren and wanted to leave while she could still enjoy life.
When asked if her pasta sauce had a secret ingredient, she replied, "Yes. Do you want me to tell you what it is? It's love, baby."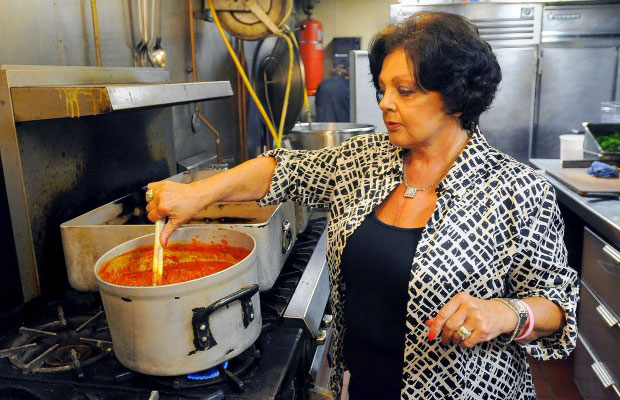 Mary Rose stirs her pasta sauce at Del Pietro's
St. Louis Post-Dispatch, August 9, 2011
The Del Pietros had put love into all of their lost tables – Del Pietro's, Michael's, Portabella, Kilkenny's, Shiitake, Luciano's and more. And that love continues.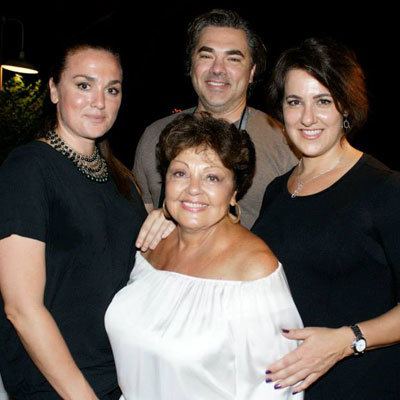 Mary Rose with Lea, Marc and Angela
| | | |
| --- | --- | --- |
| | | |
| Michael | Marc & Brian Doherty | Thom Zoog |
---
Copyright © 2016 LostTables.com