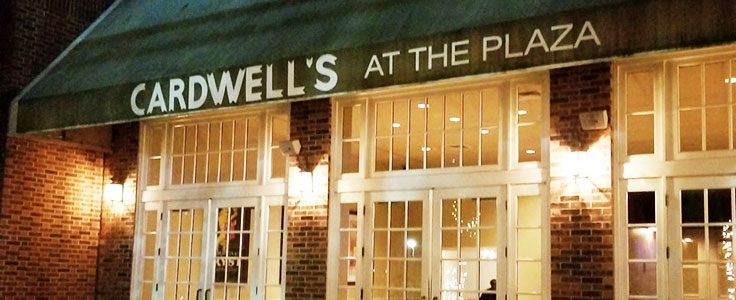 Cardwell's
Bill Cardwell grew up in Vermont, where his parents owned a ski lodge and inn.
I was exposed to cooking, people and hospitality from my birth. At 7 or 8, I started cooking with my mother in the kitchen.
Cardwell worked at a Howard Johnson's restaurant throughout high school and then attended the Culinary Institute of America, graduating with honors in 1971.
When I was in culinary school in New Haven, I worked for Albert Stockli. Albert owned The Stonehenge Inn in Ridgefield, Connecticut. He was the founding chef of The Four Seasons in New York. He would have been one of my key mentors. His style of cooking, work ethic; he shaped my vision of how I would cook — seasonal cooking with international flavors.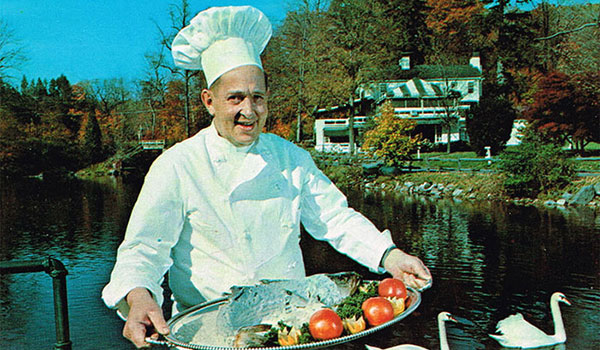 Albert Stockli with Stonehenge Inn in background
After culinary school, Cardwell spent time in Switzerland in a work study program. Following that, he bounced around the country, working a bit in Pennsylvania, then Florida and then in Maine for five years, before moving to California. Eventually, he landed a job through a professional search company with Gilbert/Robinson, the Kansas City based restaurant company.
* * * * *
Steve Gorczyca spent 49 years with the Apted-Hulling Corporation. His son Rich joined the company in 1971, spending five years in management with Cheshire Inn, Miss Hulling's Cafeteria, Open Hearth and Castle Oak.
In 1976, Rich Gorczyca began work with Gilbert/Robinson, starting in St. Louis as general manager for Houlihan's. He then managed Houlihan's restaurants in Cleveland and Indianapolis, before returning to St. Louis in 1978 as Gilbert/Robinson's area director.
* * * * *
St. Louis Union Station was reborn in 1985. The train shed and waiting room gave birth to new shops and restaurants, among them two Gilbert/Robinson offerings. Houlihan's, the second in the St. Louis area, opened on December 5 and the Fedora Cafe & Bar had a gala opening night on January 12, 1986. In her January 22, 1986 St. Louis Post-Dispatch review, Carolyn Olson wrote:
The original Fedora Cafe & Bar in Kansas City's Country Club Plaza opened in 1983. A second Fedora's opened in November in Washington, D.C.; the Fedora's in Union Station opened Jan. 13.

Esquire magazine listed the original Fedora's as "one of the best new restaurant in America" in 1984. Metropolitan Home magazine listed it as "one of America's 10 best new bistros" last year. And USA Today named it as "one of USA's best new restaurants" in 1985.

Rich Gorczyca, area director for Gilbert/Robinson, explains, "All that recognition puts us under a lot of pressure to perform. But we think our restaurant in Union Station is very good."
Gorczyca spearheaded Fedora's opening for Gilbert/Robinson. He was aided by Gilbert/Robinson's corporate executive chef, Bill Cardwell.
* * * * *
David Wilhelm was nicknamed the Donald Trump of St. Louis by his peers. As president of the Forsythe Group, he had developed an impressive array of buildings in Clayton and downtown St. Louis.
In March of 1985 it was announced that the Forsythe Group was developing an office building at the southwest corner of Maryland and Brentwood, in Clayton. The project included plans for a restaurant on the ground floor. "Restaurants enhance the office buildings we develop," said Wilhelm.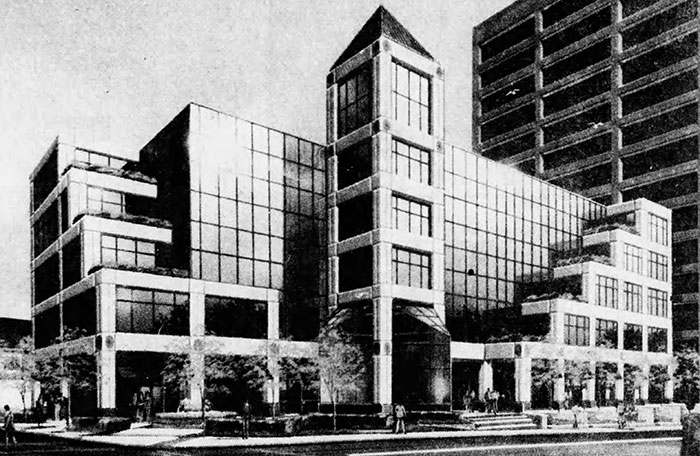 Architect's Rendering, Maryland Place
St. Louis Post-Dispatch, Feb 26, 1986
While Wilhelm planned restaurants for the buildings he developed, he didn't open or run them. So he put out feelers in the community, and those feelers reached Bill Cardwell.
I met with the architect that did all of the work for Gilbert/Robinson and he asked me if I knew of anyone in St. Louis that wanted to open a restaurant. I said no, but I was thinking about going out on my own.
Lou Chiodini was the architect who had contacted Cardwell. His firm had designed Gilbert/Robinson's Leather Bottle and Houlihan's, and he would be tabbed by Wilhelm to design the new Maryland Place restaurant.
Wilhelm met with Cardwell – and also Rich Gorczyca. Gorczyca had been wooed by Wilhelm associate Norbert Siegfried. The three agreed to joint venture Wilhelm's proposed restaurant.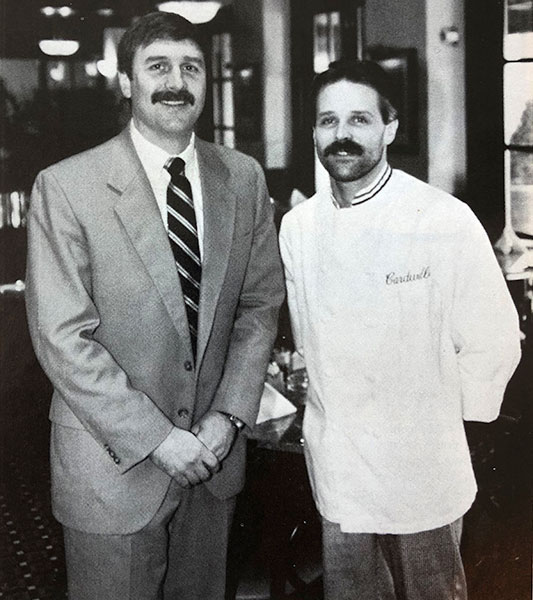 Rich Gorczyca and Bill Cardwell
St. Louis Magazine, March 1988
The trio's new restaurant was announced on August 23, 1987 in the real estate section of the St. Louis Post-Dispatch.
The ground floor at Maryland Place will be the site of Cardwell's, a new 218-seat restaurant that will combine an informal dining area and "hunt room" style bistro opening onto the building's plaza with an elegantly appointed dining area at the rear featuring several private dining rooms.
Rich Gorczyca explained why "Cardwell's" was chosen as the name of the restaurant: "It was easier to spell and pronounce than Wilhelm or Gorczyca."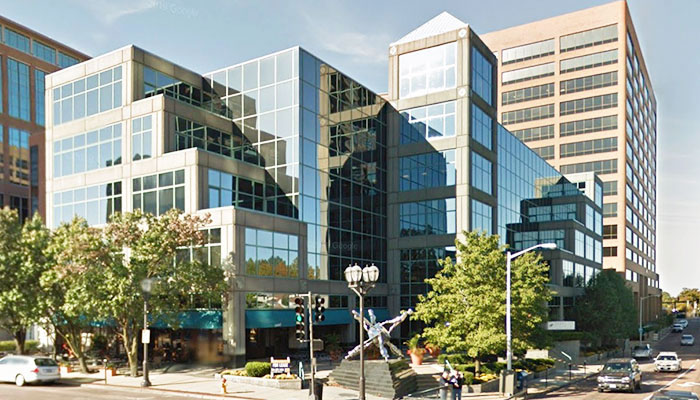 Maryland Place, Maryland & Brentwood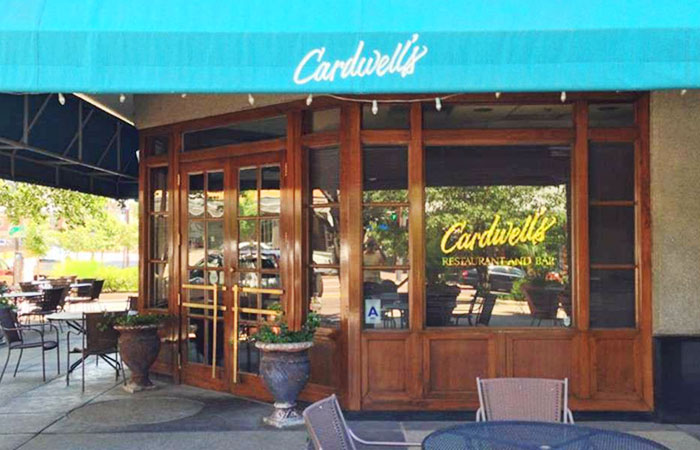 Cardwell's, 8100 Maryland
Cardwell's opened in September of 1987 to standing-room-only crowds. On weekend evenings, it was difficult to reserve one of the 40 tables without calling days in advance. The separate bar, which accommodated 10 tables, was equally jammed as soon as Clayton offices let out for the day.
Cardwell's ambience was as chic and urban in feeling as a restaurant in Clayton could be. French doors opened from the noisy front dining room, with opaline light fixtures and a busy grid of black, gray and burgundy floor tiles, onto an expansive patio, presided over by Ernest Trova's stainless-steel "Falling Man" sculpture. The back dining room, with its dark mahogany dividers and trim, was more relaxed.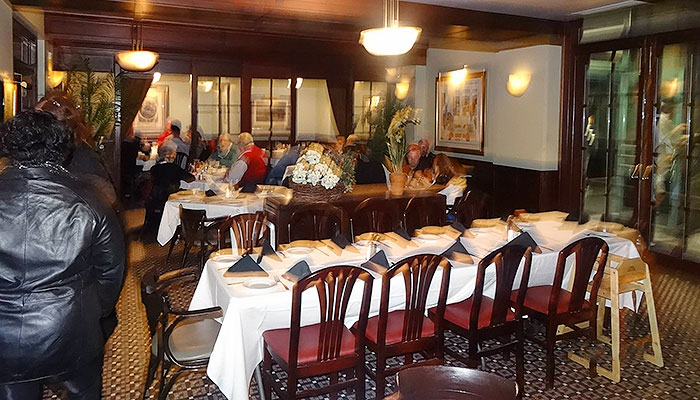 Cardwell's front dining room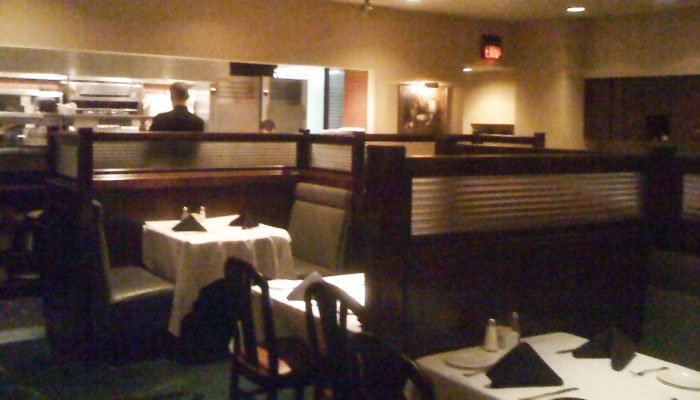 Cardwell's back dining room
Gorczyca managed the front of the house. He was assisted by Guatemalan born Pedro Beltranena, another Fedora alumnus.
I was fresh out of Mizzou when I started with Fedora. Rich Gorczyca liked me and invited me to a meeting with Bill and himself to talk to me about possibly joining their new venture in Clayton. I agreed because I knew how talented they were. I became Rich's right hand person and he molded me and taught me so much. Same holds true for Bill. He taught me so much about business in the back of the house.
Cardwell managed the kitchen. He was assisted by Susan Gunnett and Lou Rook. Rook would go on to become the longtime executive chef at Annie Gunn's.

Cardwell's truly took the city by storm. Thomas Hunter's review in the March 1988 issue of St. Louis Magazine gives a sense of just how groundbreaking the restaurant was at the time.
Don't waste any time reading past this first paragraph! Pick up your phone immediately and call Cardwell's to make a reservation. After dinner, sit back with the rest of this review and see if you agree that you've just experienced one of the best meals of your life.

Okay, now that you're back, was I right? Sure, you can take a number of potshots: The room is too noisy, the tables (especially a common bench on the south wall) too small and too closely spaced, the service occasionally a tad affected, the adherence to reservation times less than prompt.

But oh, the food! Clayton aches for restaurants like this, which may explain why the place is packed starting just after 6 p.m.

Cardwell's serves "inventive" cuisine at its finest: creative combinations and impeccable preparations and presentations, but most important, ample quantities. These don't come cheap, with entrees ranging from $12.95 to $21.95, but the critical criterion – value – reflects the premium.

The menu changes with season, so many of the items described here may have been unavailable when you visited. (What? You've read this far and haven't made the call yet? Laggard! Stop immediately and pick up the telephone!)

Excuse that digression, which was aimed at those silly people who still need to be convinced. Those poor unfortunates, unlike you, haven't experienced the sheer sensual delight of merely reading the menu. No entrees like "spinach and endive salad" are found here. Rather, one selects "spinach and Belgian endive salad with orange and grapefruit segments, spiced pecans, black currant vinaigrette and warm brie . . . $4.25." And one is duly impressed as the waiter delivers exactly what was promised.

Or one allows for a surprise in choosing "a sampler of Duck Trap River Farms smoked seafood; with avocado, daikon and sweet onion salad, aquavit and dill sauce . . . $6.95." The surprise – an extremely pleasant one – comes in finding out what the sampler consists of: salmon, mussels, trout and tuna, all perfectly smoked, with absolutely no trace of the oily bitterness that can strongly detract from smoked seafoods.

So now you're only as far as the appetizers, and you're wondering if they can possibly keep up the pace, or even improve. And here comes the "grilled whole boned squab with pinot noir sauce, fried oysters and crisp cabbage sauté . . . $21.95."

You're not disappointed. The pinot noir sauce, a sweet-tart gooey glaze, is perfect against the gamey meat. The two fried oysters are strange bedfellows for the bird, but provide a delicious means of adding a starch. The cabbage is spectacular, and you received a bonus of succulent herbed carrots. Perhaps your minor complaint is that "boned" is not entirely accurate.

If you were exceptionally lucky on the evening that you visited (and you have visited by now, haven't you?), you were able to taste Cardwell's remarkable deep-fried, shredded sweet potatoes, which have equal appeal to lovers of haute cuisine and lovers of junk food.

There are, of course, about a dozen more poetic entries ("grilled fresh pompano fillet, lime cilantro butter and minted jelly . . . $15.95," and even some fairly straight steak choices) from which to choose, but you know that already, seeing as how you've taken my first paragraph advice. You also know that there are some 75 wines available in the Captain's Book.

I sincerely hope, however, that you took the opportunity to order the very first item on the menu – which ironically, is a dessert. Soufflés are uncommon to begin with, and the masterful versions served at Cardwell's are sublime.

If you've read down this far and still haven't called for reservations, it's your own fault if you can't book a table before Labor Day.
Remarkably, items offered on Bill Cardwell's menu the first year were still on his menu thirty years later. The Chinese barbecue chicken salad, with its spicy peanut dressing, was one of those staples. In an October 4, 1997 St. Louis Post-Dispatch article, Rich Gorczyca explained what happened when they tried to remove it from the menu.
About four years ago, we took the Chinese barbecue chicken salad off the menu. That lasted a whopping 24 hours, and it went right back on. Some of our diners said, "That's what I come in here for."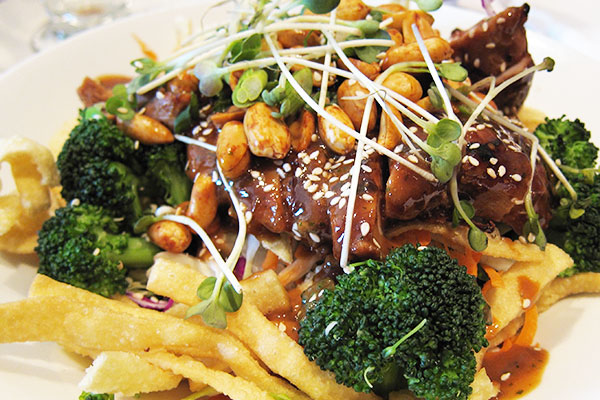 Cardwell's Chinese Barbecue Chicken Salad
A number of Cardwell's appetizers also remained on the menu year after year. The pecan-wood smoked shrimp was served three to an order, with a mustard glaze, a multi-grain pilaf and a cheddar-pecan wafer. The flash-fried calamari was another customer favorite, with its chili-lime mayonnaise.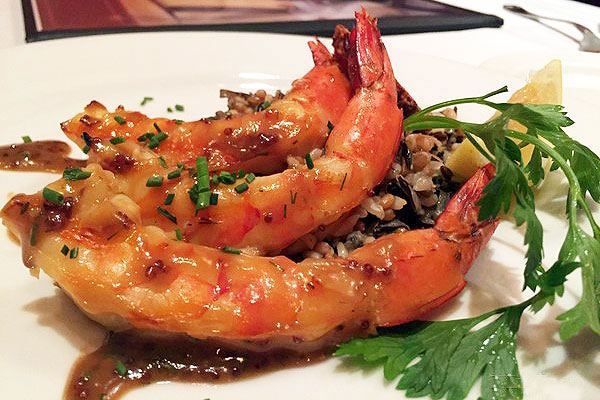 Cardwell's Pecan-Wood Smoked Shrimp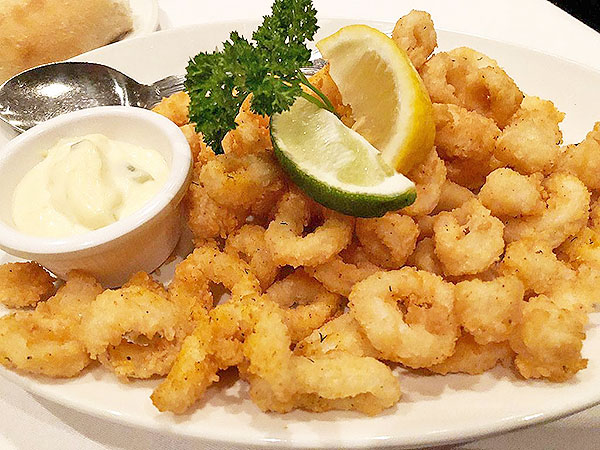 Cardwell's Flash-Fried Calamari
On April 10, 1994, the following appeared in Jerry Berger's column in the St. Louis Post-Dispatch.
Richard Gorczyca, Bill Cardwell, Pedro Beltranena and David Owens have signed a lease for a spinoff of Cardwell's at Plaza Frontenac on the ground level, next door to Nieman-Marcus. Cardwell's at the Plaza will open for lunch and dinner and will sell food-to-go and wines.
Cardwell's at the Plaza opened in September of 1994. Rich Gorczyca remained behind to run the Clayton restaurant; Bill Cardwell moved west to run the Frontenac restaurant – from the kitchen; Pedro Beltranena moved from general manager in Clayton to general manager in Frontenac; and Dave Owens moved from sous chef in Clayton to executive chef in Frontenac.
The new restaurant faced the east side of the Plaza Frontenac parking lot. French doors opened onto a large manicured patio, which was packed with diners at lunch and dinner when the weather cooperated.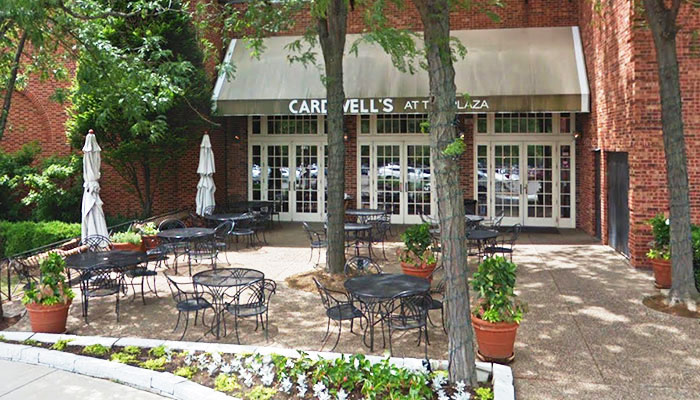 Cardwell's at the Plaza
Once inside the French doors, there were two dining areas. The smaller Cognac Room was to the right, with a long communal table towards the back and three private dining alcoves for small parties.
The Garden Room was to the left; it was the restaurant's main dining room and looked out onto the patio through floor-to-ceiling windows. Two smaller dining rooms opened off the Garden Room. One could be truly private, with a set of French doors, and the other was primarily for overflow dining.

The Cognac Room

The Garden Room

Private dining rooms off Garden Room
Cardwell's at the Plaza also had an entrance off the mall for shoppers, moviegoers and diners parking in the underground garage. Originally, the restaurant extended out into the mall and included a Market which sold prepared entrees, specialty salads, breads and pastries. An electric metal gate closed off the entrance after hours. Later, after the Market had been discontinued, the restaurant was separated from the mall by a newly constructed wall and French doors.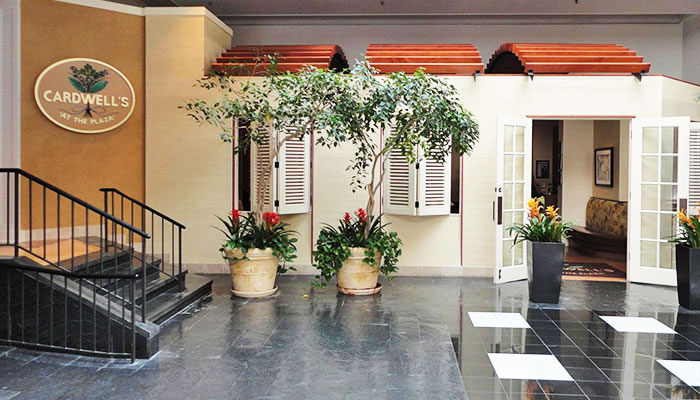 Cardwell's at the Plaza Mall Entrance
Inside the mall entrance was the hostess desk and a small waiting area. Beyond that was the restaurant's horseshoe-shaped bar, set with white linens at lunch. There were additional dining tables adjacent to the bar. Diners entering the restaurant from the patio entrance had to walk through the dining room and past the bar to secure a table at the hostess desk.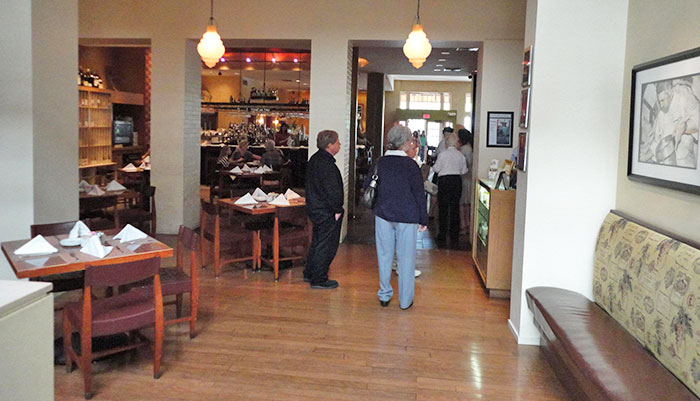 Hostess Desk and Waiting Area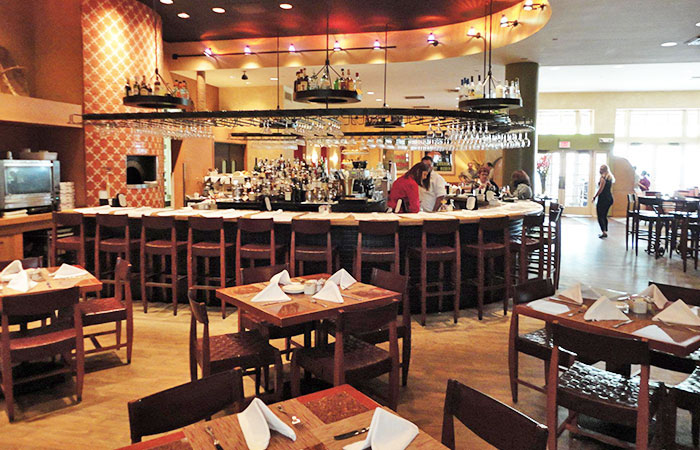 Horseshoe-Shaped Bar
Bill Cardwell brought many of the items on his Clayton menu to Plaza Frontenac, although over time, the Clayton and Frontenac menus diverged. While Cardwell was a constant in his kitchen, the Clayton kitchen was manned by a parade of chefs.
In his January 9, 1995 St. Louis Post-Dispatch review, restaurant critic Joe Pollack found the new restaurant on par with the old.
Like the first Cardwell's, in Clayton, the dishes are imaginative, beautifully presented and of elegant flavor. Lunch is on the expensive side, but portions are large and the overall effect is stunning, just right for impressing a business associate, a valentine or anyone else.

The Cardwell's menu changes seasonally, and the talented kitchen crew puts lovely touches on dishes that show overtones of Vietnam, Italy, China, Brazil, France, Mexico, Greece and many other countries.

The kitchen's imagination knows no bounds, and the staff has the talent to bring dishes to life. The blend of exotic and the down-home is of great satisfaction to both taste and eye.
One addition to the Cardwell's at the Plaza menu was a burger, available at both lunch and dinner. Bill Cardwell had created it for a recipe book.
The Burger Meister burger has been on the menu since 1994. A good friend wrote The Burger Meisters cookbook with recipes from chefs. We did that book to raise money for the Culinary Institute. Since that book was published, it was natural to put that burger on the menu. It had a homemade bun originally and it was stuffed inside with the blue cheese and then topped with the melting Cheddar and the bacon, and relish on the outside. The relish is an adaptation of my mother's tomato chutney recipe. The problem was we'd get: "blue cheese on the side," "no blue cheese." To accommodate everybody's request, we changed the format. That was a compromise. You have to make compromises every day.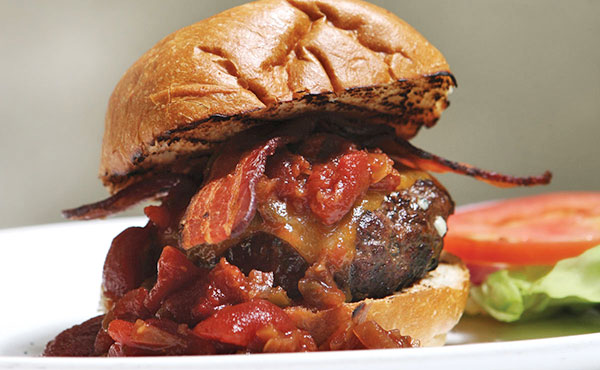 Bill's Burger Meister Burger
By 1997, Bill Cardwell was spending all of his time in Frontenac and Rich Gorczyca was spending all of his in Clayton. The two Gilbert/Robinson alums decided to go their separate ways. In an amicable transaction, Cardwell bought Gorczyca's shares in the Frontenac restaurant and Gorczyca bought Cardwell's shares in Clayton.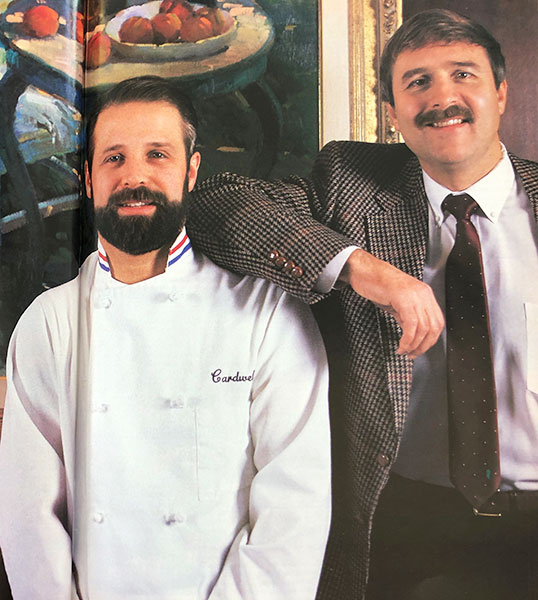 Bill Cardwell and Rich Gorczyca
St. Louis Magazine, March 1988
In 1998, Gorczyca lured Pedro Beltranena back to Clayton. Beltranena would leave Cardwell's for New York City in 2003 and return to St. Louis to help Lester Miller open Busch's Grove in 2005.
Toni Collins became the new general manager in Frontenac after Beltranena's departure. Beloved by customers and staff alike, Collins would be Bill Cardwell's right-hand woman until she retired in 2016.

| | |
| --- | --- |
| | |
| Pedro Beltranena | Toni Collins (left) and Meredith Sutch |
Both Cardwell's in Clayton and Cardwell's at the Plaza continued on – separately in ownership and lockstep in excellence.
Cardwell's the Posh, Cardwell's the Elegant, carries on. Cardwell's once was innovative, too, but a boom in the restaurant business in Clayton has brought a great deal of competition in the realm of innovative.

That's OK, except for trying too hard sometimes, Cardwell's remains one of the top restaurants in the region in food and service.

Patricia Corrigan
St. Louis Post-Dispatch, Oct 14, 1999

Bill Cardwell's success in Plaza Frontenac – not really renowned for fine dining before his arrival – eventually produced an ironic outcome, with his landlords recruiting two chain-restaurant competitors, Brio and Fleming's, to new outbuildings on the plaza's parking lot.

The recent result? Full houses at Cardwell's at the Plaza on each of our visits; a kitchen that still runs like clockwork despite the departure of one of its stationmasters; and a combination of well-thought-out food and energetic atmosphere that maintains Cardwell's at the Plaza as one of the most consistent choices for an excellent meal in the St. Louis area.

Joe Bonwich
St. Louis Post-Dispatch, Aug 18, 2005
The structure of the Cardwell's at the Plaza menu was part of the restaurant's appeal. The center section changed daily, with a dozen or so entree choices, always including at least one fairly elaborate vegetarian selection. Side dishes were all individually chosen to match the entree. The left section consisted of salads, starters, sandwiches and sides – all fixtures on the menu and customer favorites.

| | |
| --- | --- |
| | |
| Saratoga Chips | Southern-Fried Chicken Wings |
| | |
| Creole Gumbo | Vegetarian Sandwich |
In October of 2016, Rich Gorczyca turned 67. He had owned and run Cardwell's in Clayton for over 29 years and kept it a topflight restaurant, despite the departure of Bill Cardwell from his kitchen in 1997.
In October of 2016, Gorczyca closed Cardwell's in Clayton; Aaron Teitelbaum moved Herbie's Vintage '72 into the space.
It's really a nice arrangement. The one thing that helped in my decision is that Aaron, God bless him, is going to offer my staff positions.

The restaurant business is a young man's game, and he's a young man. He reminds me . . . I was about his age when I opened Cardwell's.
In October of 2018, Bill Cardwell announced that he was closing Cardwell's at the Plaza at the end of December.
It was really a business decision because my lease was up. Plaza Frontenac has gone through a series of ownership changes, and the personal relationships that I had with the other owners don't exist anymore. That, coupled with a 25-year-old aging restaurant that needed a lot of love. They wanted us to sign a 10-year lease and it just didn't add up for us. There has also been a shrinking labor pool for a restaurant of our size. We were open seven days a week and we required a lot of people.
Cardwell's at the Plaza's last formal dinner service was on Saturday evening, December 22, 2018. A single page menu offered a selection of Bill Cardwell's classic starters and entrees.

Dining Room Manager Laura Burnett
December 22, 2018

Final Menu, Dec 22, 2018
(click image to enlarge)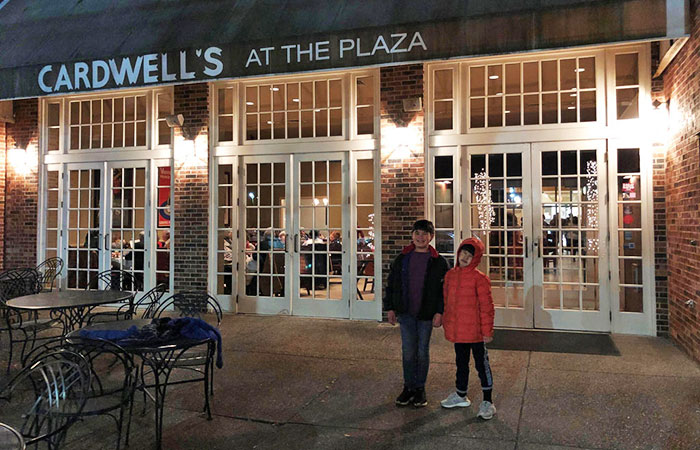 One last dinner where their great-grandfather had dined, Dec 22, 2018
On Sunday, December 23, 2018, Bill Cardwell held an "Eat and Drink 'Till It's Gone" celebration at his restaurant. Limited to 200 guests, proceeds went to the St. Louis Area Foodbank.
Ninety-nine percent of all of my employees stayed with me to the last day. They were reliable and honest and hardworking. There's no success without a team of people. If you don't have the right people, you just can't do it. I was very fortunate for many, many years. I had employees with me over 20 years. They spent their whole lives, from the time they were young until – I had employees that retired from being with me. That made a big difference.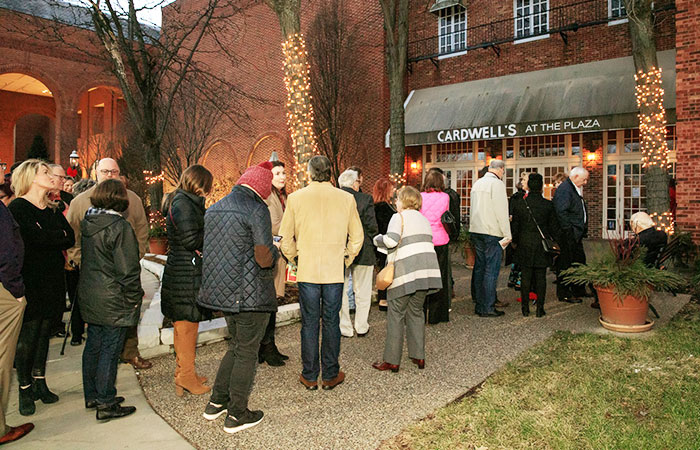 Guests line up for one final dinner, Dec 23, 2018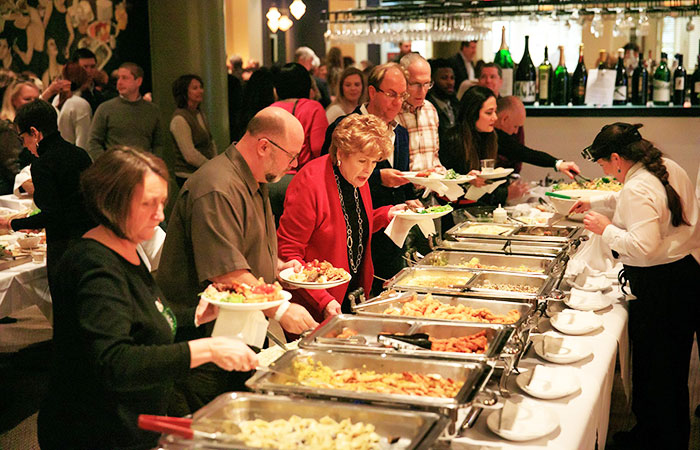 A smorgasbord of Bill Cardwell's classic dishes, Dec 23, 2018

Bill Cardwell congratulated by guests, Dec 23, 2018
After the celebrating ended, Bill Cardwell was eager to start a new chapter in his life – to play more, laugh more, travel more and get back to teaching and mentoring young people who were interested in the business.
I grew up and went to culinary school in the '60s; in the '70s I went to Switzerland and worked. I was treated like a dog if I didn't do something right. And that translates to how you treat people eventually. I had to mellow. I mean, people will tell you – I was probably a real asshole to work for at one point. But you have to learn to adapt. And there's something about getting older that always changes things.

I was in a restaurant I've been to a number of times, Blanchards in Anguilla. They were really, really busy, and the thing that was so evident was that everybody was working together. There wasn't an employee that walked by your table that either didn't check if you needed something or brought you something. It's gotta be teamwork. That sets good places apart from average places.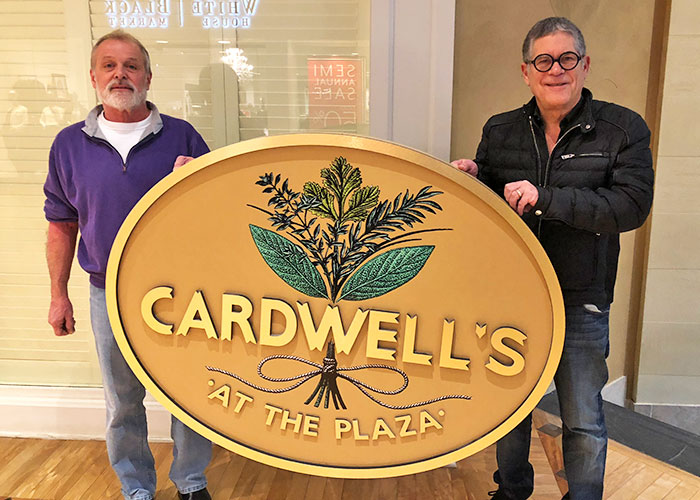 Bill Cardwell (left) and Harley Hammerman, Dec 27, 2018
---
Copyright © 2020 LostTables.com
Lost TablesTM is a trademark of LostTables.com. All rights reserved.