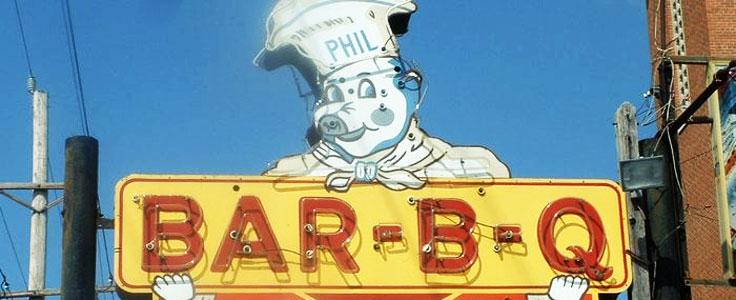 Barbecue Joints
St. Louis-style spare ribs are cut in a specific manner, with the sternum bone, cartilage and rib tips removed, leaving a well-formed, rectangular-shaped rack of pork. This cut has been formally dubbed "Pork Ribs, St. Louis Style" by the USDA.
In St. Louis, these spare ribs are grilled, rather than slow-cooked over indirect heat, and then sauced, as opposed to dry-rubbed and slow-smoked. The sauce is generally applied while the spare ribs are cooking.
St. Louisians have been pouring a slightly sweet, slightly tart, mildly spicy red sauce on barbecue since 1926. Invented by grocer Louis Maull, the classic sauce differs from most American barbecue sauces in that it contains no liquid smoke. On a per capita basis, St. Louis consumes more barbecue sauce than any other city in the nation.
Chaney's
For over 55 years, smoke and luscious aromas wafted through the University City air from Chaney's large outdoor grill at 8224 Olive Boulevard.
Drexel Anthony Chaney was born in Hunter, Oklahoma on May 6, 1914. By 1930, he was living in University City and attending University City High School. In 1939, Chaney married Ordell Wilkie, and by 1940, he was working as a soda clerk for Glaser Drug Company.
In July of 1945, Chaney opened an eatery in a small wood-framed building at 8224 Olive Street Road. At the time, Olive was little more than a two-lane country road and that part of University City was considered far West County. Appropriately named Drexel-Chaney Tavern, then Drexel Chaney's and then simply Chaney's, the enterprise was more a neighborhood bar than a restaurant, with the business 75 percent liquor and 25 percent food. But that 25 percent food included outstanding barbecued spareribs, grilled on a 5-foot diameter outdoor pit.
In 1962, a larger brick building was constructed adjacent to the original wood-framed structure. The barbecue pit was enclosed in a gazebo-like edifice when overzealous health regulators objected to the open-air cooking. Outdoor tables were added in the back.
Drexel Chaney died in March of 1981 at the age of 66. His son Mike moved home from New Orleans and took over the restaurant with his mother.
Mike Chaney made quite a few changes after putting on his chef's hat. He took out the jukebox, cut down the bar and tried to make Chaney's more conducive to families. The neighborhood bar became a neighborhood restaurant, with the business more than 80 percent food and a loyal clientele.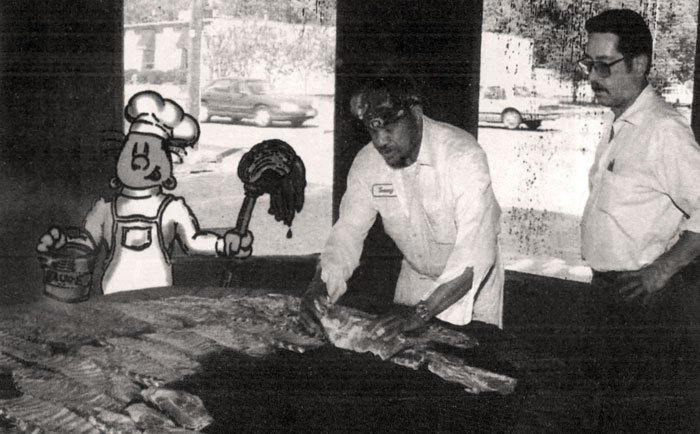 Mike Chaney (right) and grill master Thomas Garner
St. Louis Post-Dispatch, Sept 24, 1995
Barbecue ribs, rib tips, chicken, beef and pork were Chaney's mainstays. Everything was slow cooked over an open fire and dipped in sauce. No smokers. No parboiling. No elaborate marinade. The meat was served with a choice of two side dishes: coleslaw, baked beans, potato salad, corn-on-the-cob, french fries, spaghetti or applesauce.
The tomato based sauce, served on the side if requested, was made daily from a commercial base, with beer and spices added, a formula Mike Chaney developed over a year's time after taking over the restaurant.
In 2001, Chaney's was sold to a group of investors, and by the summer of 2002, it had been transformed into Lu Lu Seafood & Dim Sum. Painted bright red, the original wood-framed tavern structure and barbecue pit enclosure remained intact.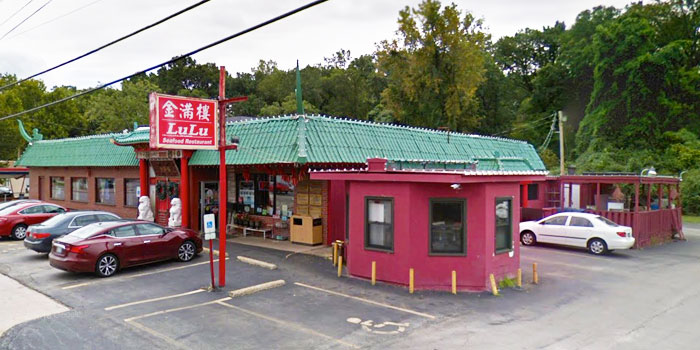 Lu Lu Seafood & Dim Sum, 8224 Olive Boulevard
McCrary's
Roscoe Lincoln McCrary was born in St. Louis on October 31, 1922. He was a graduate of Vashon High School and attended St. Louis University.
McCrary was a state legislator in the Missouri House from 1975 to 1979. He was an avid sports fan, radio broadcaster and promoter. And Roscoe McCrary loved barbecue.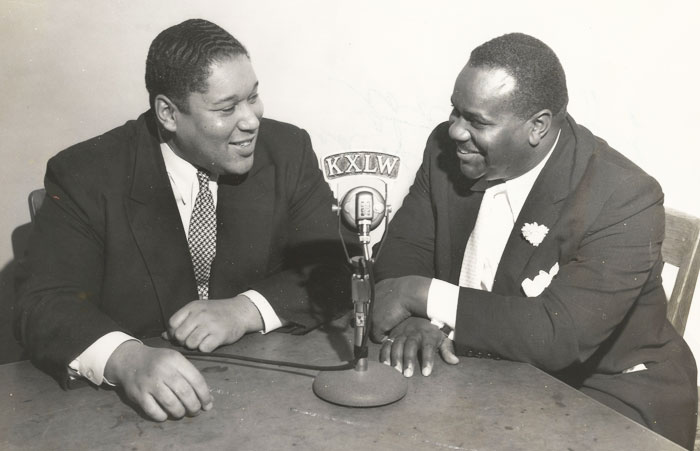 Roscoe McCrary (right) and John Buchner, late 1950s
McCrary's brother opened a barbecue restaurant at Enright and Vandeventer in 1948; McCrary became active in its management in 1957. Early on, the restaurant was called McCrary's Pork House.

| | |
| --- | --- |
| | |
| WTMV Radio Ad, 1953 | St. Louis Post-Dispatch, Dec 4, 1960 |
In 1965, McCrary's Original Hickory Bar-B-Q House opened in Jeffrey Plaza at 8611 Olive in University City. Often referred to as McCrary's West, with the Enright address McCrary's East, it was the most successful McCrary's location.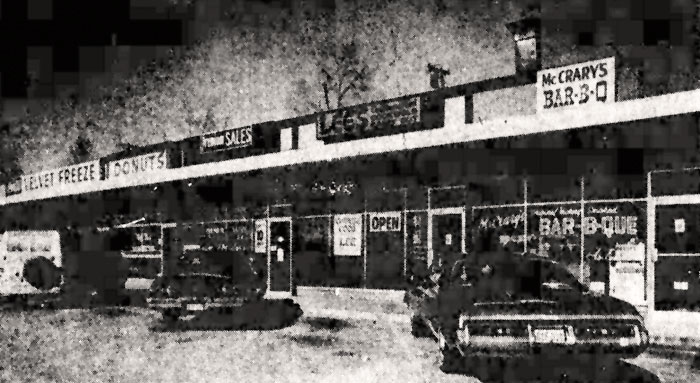 McCrary's Original Hickory Bar-B-Q, 8611 Olive
St. Louis Post-Dispatch, Dec 5, 1973
McCrary's ribs came with slaw or potato salad, bread and a choice of three homemade barbecue sauce – mild, medium and hot – for which the restaurant was famous. According to Joe Pollack, longtime restaurant critic for the St. Louis Post-Dispatch, "mild was hot, medium was just short of searing and hot was one notch below total destruction of the digestive system."
The famed hot sauce was originated by McCrary's sister, Annie Mae McCrary Quinn, soon after the restaurant opened in 1948. It was referred to by local rib enthusiasts as the "holy, holy hot sauce."
While McCrary would not reveal the recipe for his sauce, he did provide the basic ingredients: tomato puree, vinegar, barbecue spices, garlic, lemon, parsley, onions, bay leaves, mace, cinnamon and sugar.
The sauces also basted barbecued chicken and other meats. According to Pollack, "the hot dog sandwich, dunked heavily into the sauce, is one of the messiest items I've eaten in some time. Messy or not, it sure was good."
* * * * *
The original McCrary's at Enright and Vandeventer closed in the mid 1970s. A McCrary's location appeared briefly at 905 Pine in January of 1981 and then disappeared.
Early in 1982, McCrary moved his University City restaurant to a converted ice cream parlor at 612 East Lockwood in Webster Groves after his landlord decided the smokestack was unsightly. But the East Lockwood location was short-lived. A year in Webster Groves was "a disaster," McCrary said. "We spent $3 for every one we made."

Roscoe McCrary
St. Louis Post-Dispatch, Aug 8, 1982
Roscoe McCrary
St. Louis Post-Dispatch, Jan 6, 1984
In early 1983, McCrary established a new location at 2719 Parnell Street in North St. Louis. Despite multiple break-ins, the restaurant survived into the late 1990s.
In July of 1991, Roscoe McCrary died after suffering a heart attack. He was 68. Long before, on the advice of his doctor, he had stopped eating the ribs he loved. But he still knew how to make them. "Don't baste the ribs on the grill," he said, "or you'll burn them."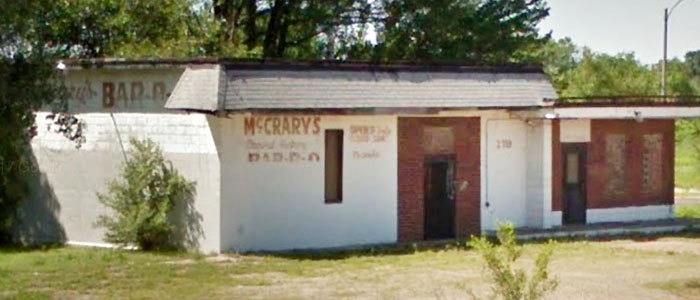 Vacant McCrary's Building, 2719 Parnell Street, 2017
Phil's Bar-B-Que
Philip Polizzi was born in St. Louis on January 7, 1911. After moving to Italy with his family as a baby, he returned to St. Louis in 1929.
In 1938, Polizzi married Theresa Bono. By 1940, they lived at 2707 Sullivan, and Polizzi was working as a presser for the Rosenberg Garment Company. By 1946, the Polizzis had moved around the corner to 3110 Elliot.
Polizzi got his first taste of barbecue at Big John's, a neighborhood joint. "I used to go to Big John's and see how they cooked the ribs," remembered Polizzi. "I watch and I watch and I figure, I can do just as good."
Polizzi built a pit behind his house, set up picnic tables in his backyard and began selling ribs during the summer.
"The yard was loaded with people," he recalled, "and even Big John came over. He ate my ribs and said, 'You dago, you got me beat.'"
By 1951, Polizzi had erected a more formal rib shack at Elliot and Sullivan, next door to his house, and taken his wife's brother Joe as a partner. His restaurant, three blocks east of Sportsman's Park, was so successful he was able to quit his job at Rosenberg's.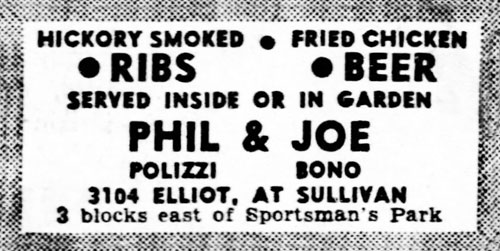 St. Louis Post-Dispatch, May 11, 1951
In the fall of 1959, William Wheaton put the Stumble Inn at 9205 Gravois up for sale. Wheaton's barbecue restaurant had been at that location since 1935. In early 1962, Phil Polizzi purchased the property and business from Wheaton, and relocated his barbecue restaurant from North St. Louis to Afton.
Polizzi's cousin, Jack Polizzi, was initially a partner at the new location, and their new restaurant was called Jack's & Phil's. But some time after 1967, the two parted ways. Cousin Jack opened Jack's Barb-B-Que at 8713 Gravois and Polizzi's restaurant at 9205 Gravois became Phil's Bar-B-Que.

Phil's Bar-B-Que was housed in a compact flagstone building. On the small parking lot, a neon sign, which had belonged to the Stumble Inn, featured Polizzi, with his handlebar mustache, in a chef's hat.
Previously, the sign had featured a pig wearing a chef's hat with the initials SI. When Polizzi took over, the mustached chef replaced the pig and PHIL the SI. In later years, the original pig design was restored.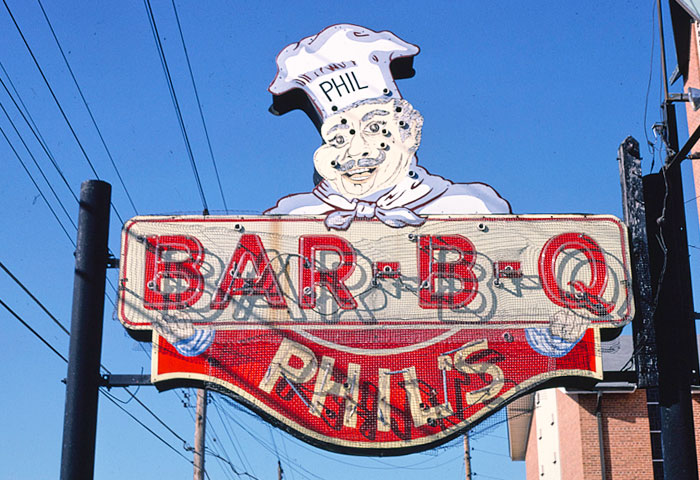 Phil's Bar-B-Que neon sign, 1988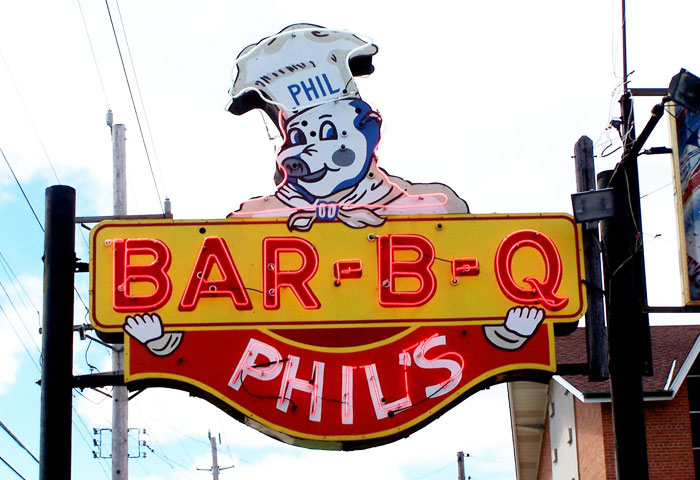 Phil's Bar-B-Que neon sign, 2005
Phil's was initially the size of a living room, and people would line up outside to get a table. In the mid 1970s, the restaurant was expanded to 160 seats, but it wasn't unusual to still wait for a table on weekends.
The inside of Phil's was typical barbecue joint: Formica tables, kitchen-type chairs, wooden booths, a juke box, waitresses who called the customers "honey" and walls covered in memorabilia.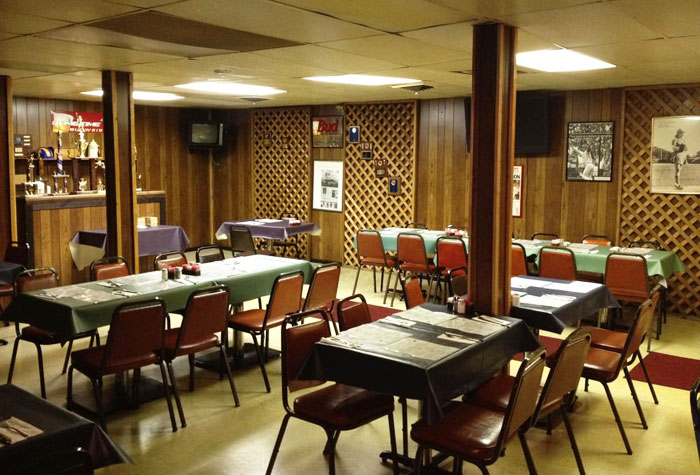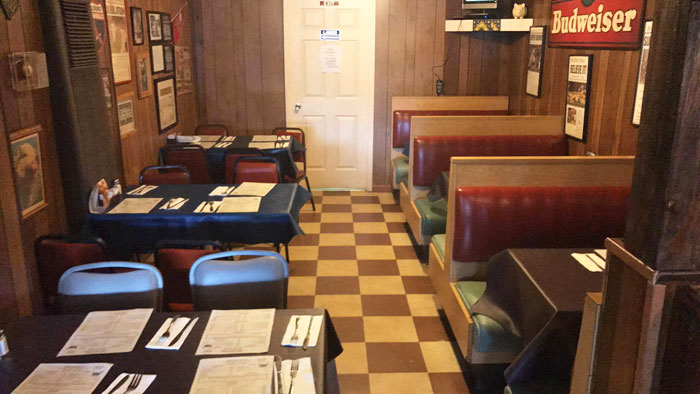 Phil's Bar-B-Que Interior
Polizzi discovered his "secret sauce" early on in 1946. The sauce was spicy without melting your tongue. The ribs were cut St Louis-style (no rib tip, short skirts), cooked and smoked slowly over charcoal and hickory in an open pit, then taken off the grill and simmered in the sauce. The sauce was made about twice a week in a 60-gallon stainless-steel Vulcan-Hart steam kettle.

Phil's ribs grilled over charcoal & hickory

Phil's Bar-B-Que serving counter

Phil's ribs

Phil's barbecue sauce
Phil Polizzi, 1982
Phil Polizzi retired in 1982, at the age of 71. The business continued on under the stewardship of his sons, Pete and Phil, Jr. In the spring of 1985, a second restaurant was opened at 115 West Fifth Street in Eureka.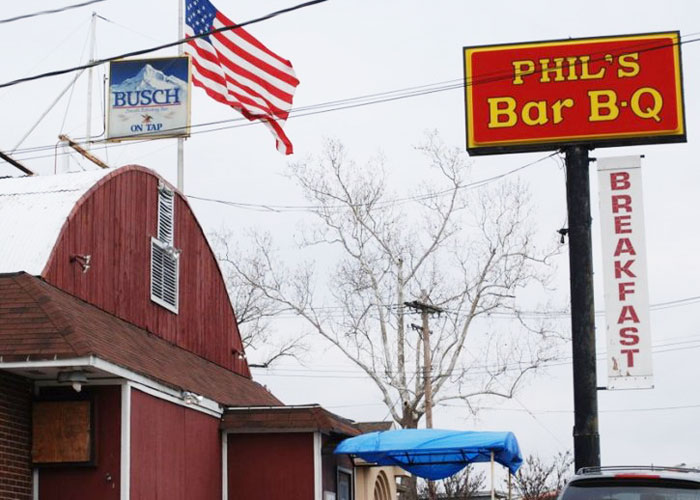 Phil's Bar-B-Q, 115 West Fifth Street, Eureka
Phil Polizzl died in November of 1985 at the age of 74. The restaurant in Afton continued to flourish under his son Pete, and Phil's in Eureka, run by Phil Jr., served ribs until it closed in December of 2012.
On October 11, 2008, a drunk driver crashed into the Phil's Bar-B-Que neon sign at 9205 Gravois, destroying the posts and mangling the metal can. The sign was replaced with a new one, which in December of 2018 displayed the following:

---
Copyright © 2019 LostTables.com
Lost TablesTM is a trademark of LostTables.com. All rights reserved.