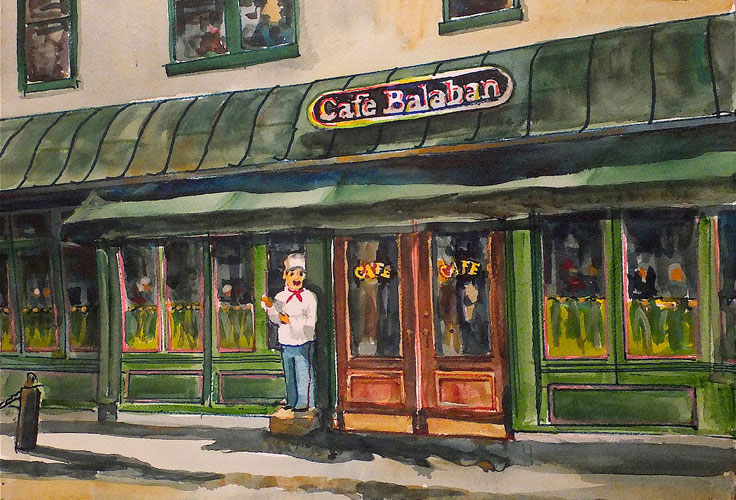 Watercolor by Marilynne Bradley
Balaban's
Herbert J. Balaban was born in Chicago on February 24, 1930 to Max and Dena Balaban. Two years later, Herb's father died and the family moved to Europe. Returning five years later, Dena Balaban met I. L. Carp, a St. Louisan who owned a chain of department stores. They married and moved to St. Louis.
Herb Balaban Carp graduated Country Day School in 1948, attended Washington University and the University of Missouri, and then went into business with his stepfather. In 1955, he married Nedra Anderwert.

Herb loved antiques and objects d'art. In 1959, he opened H. Balaban Carp Antiques at 335 North Euclid. In 1962, he purchased the property at 401-11 North Euclid, at the northwest corner of Euclid and McPherson. After restoring and remodeling the property, he moved H. Balaban Carp Antiques to the building's corner space.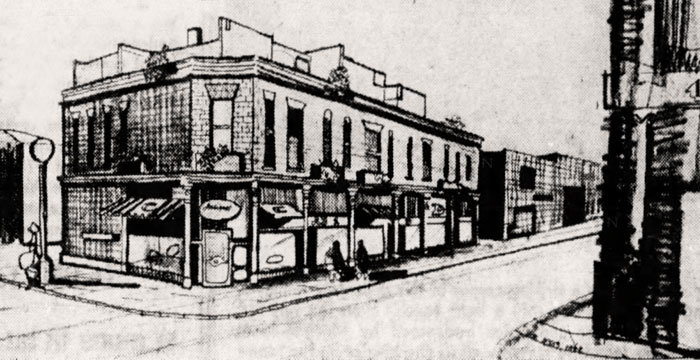 Architect's Rendering, 401-11 North Euclid Avenue
St. Louis Post-Dispatch, May 20, 1962
By the end of the decade, Herb had transformed his 401 North Euclid space into the Gypsy Cowboy – a chic clothing boutique with a western accent. It had the appearance of a prairie trading post, with rough brick walls, exposed wood beams and unpolished wood floors. Stuffed birds seemed to swoop down from the ceiling, enormous American flags hung from the beams and a collection of animal horns were mounted on the wall.
The Gypsy Cowboy had a regular visitor, Adalaide Daley – the future Mrs. Herb Balaban Carp. Herb had been divorced for some time.
I did go to the Gypsy Cowboy from time to time. The first time I met Herbie was there. He asked my name and when I told him he said, "Herbie and Adalaide. We should have been able to do better than that. What are you doing Saturday night?" We did go out that Saturday night and we never parted.
Adalaide, an attractive strawberry blonde, was a social worker with the Missouri State Welfare Department. She was from Houston, where she said it was customary to take a person's coat and immediately start feeding them. She read cookbooks like they had a plot and was paranoid about her soup recipes.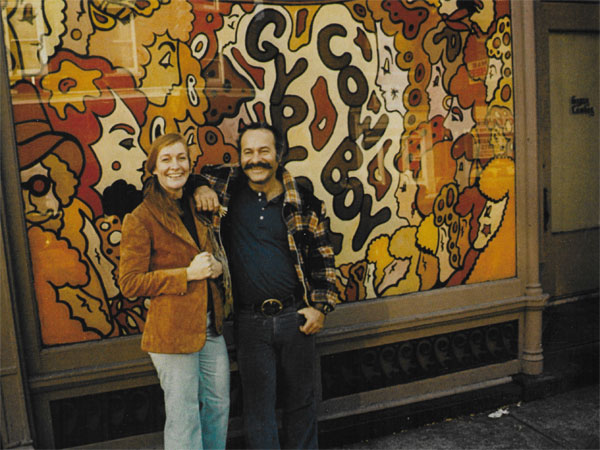 Adalaide and Herbie in front of the Gypsy Cowboy
The space next door to the Gypsy Cowboy – 405 North Euclid – had been one small restaurant after another, and none of them had done very well. It was Sarah's from 1962 to 1964; at one point it was the Pleasant Peasant; by 1972, Timothy's had moved out. Herb was concerned the space would get a "loser location" reputation. So on March 14, 1972, he opened his own restaurant in the space and talked Adalaide Daley into helping out.
Herbie asked me to help keep the place open until he could find a really good tenant. I agreed to fill in for a few weeks. At the time I had an office job in St. Louis and lived in St. Charles; working at the restaurant was to be a very brief fill-in.

I named the place. Herbie wanted to name it after a local very popular bar maid. I insisted that it be called Balaban's. My reasoning was that if it carried his name he would take care of it even after the new wore off.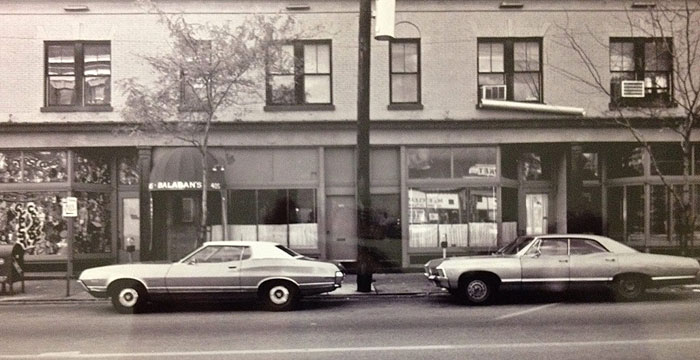 Balaban's, 405 North Euclid, adjacent to the Gypsy Cowboy
Balaban's rather obscure entrance was distinguished only by a small European bubble canopy over the doorway. A friendly little bar greeted patrons to the left as they entered, apart from a compact dining area that seated 43 persons. A dramatic oil painting of an amply proportioned life-size nude was to one side of an old brick wall, and on the other side was a companion piece of a nude couple, also life-size. Between them was a 12 feet tall early Victorian mirror. Along the walls were antique brown banquettes. Overhead was an old fashioned four-globe chandelier. The floors were bare wood.
Herb brought on Charles Perrine, a neighborhood personality known as "Lady Charles," as his chef. But Adalaide was in charge of the kitchen.
I was not a professional chef, but was a French food fan, and often cooked and served for parties as practice.

Lady Charles had learned to steam table cook in prison. He was my number two. His prison time was drug related and he had taken full responsibility for something that he actually had only a small part in. His cooking skills were basic but reliable. Our menu was limited and we could serve a maximum of 30 customers at a time. I knew I could manage a limited menu in a small space.

Opening night, Herbie discovered we had no menus. He hurriedly wrote out a few on cardboard he had in the office. His handwriting was illegible. The waiter had to read them. For years, even after we had professional menus, customers waited for the server to read to them.
There was a choice of two soups (onion and chilled purée of carrot), green salad and three kinds of crepes (Crepes Stroganoff, Crepes Balaban and Crepes Louise). With a green salad and soup, each of the entrees costs $3.75. Desserts and beverages were extra.

The first night, Balaban's served 22 dinners. Herb had projected 40 dinners during the week and 70 on weekends. But soon he had to break down the walls of two stores to the north, expanding seating from 43 to 150, and one to the south for a second bar. By the restaurant's first anniversary, they were selling 250 dinners on Friday night and 350 on Saturday night, with three or four deep at the two bars.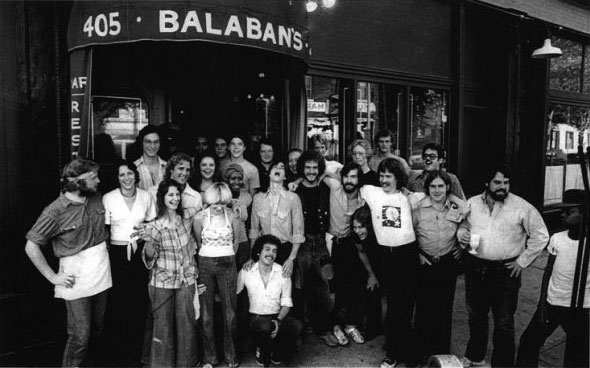 Balaban's, mid 1970s
In 1974, Herb Balaban Carp and Adalaide Daley were married, although Adalaide had some trepidation.
I had been married three times. Even my own mother said, "Once for love, once for money and once for the hell of it – there is no excuse for number four." I was scared. Women's expectations were changing rapidly and men's were hardly moving the needle.
| | |
| --- | --- |
| | |
| Adalaide as a young mother | Adalaide and Herb |
As Balaban's evolved, so did its menu; it was no longer based on Adalaide's ubiquitous crepe.
One thing I learned in the restaurant business is that it is a fashion business. Just as fashions change so does the food business. When we opened it was very avant-garde to serve crepes. To play remember-when is amusing, but as much as I enjoy it, I would not order anything from the original menu today. As we grew in the business our menu changed regularly. What remained the same was our love of serving the people. We enjoyed the customers, we enjoyed the employees and we enjoyed one another.
A key figure in Balaban's early growth was John Sullivan. He got his start in Adalaide's kitchen.
He was hired as a dishwasher when the kitchen was still in the basement. There was no air-conditioning; the basement was hellish hot and at that time we washed dishes by hand. John was tall, slender and good-looking. He was well dressed and wore clogs with heels almost as high as mine; he was openly gay. He was also dependable when most of my other dishwashers were not. Sometimes they would just disappear in the middle of a shift and not even come back for their paychecks. Most of them were street guys and were only working for their next fix. John was so different. He was smart, hardworking and reliable, He would become my good friend; later he became my BFF. It was a loss for me, but Johnny was moved upstairs to the dining room. John had found his niche; he was to work his way from bus boy to dining room manager. He was influential in the development of the staff, as well as the ambiance in the dining room.
| | |
| --- | --- |
| | |
| John Sullivan and Adalaide, 1974 | John Sullivan, 1979 |
In 1977, Herb began construction of a sidewalk cafe. He acquired permission from the City of St. Louis to build upon and own the sidewalk in front of Balaban's and then build a new sidewalk on the parking lane, with no parking allowed in front of the restaurant. The cafe construction was finished in 1978 and Herb changed the name of his restaurant to Cafe Balaban. At the same time, he also legally changed his own name to Herb Balaban, taking his birth father's surname.

The cafe opened on June 19, 1979 with a lavish grand opening party; the festivities overflowed on to the new sidewalk.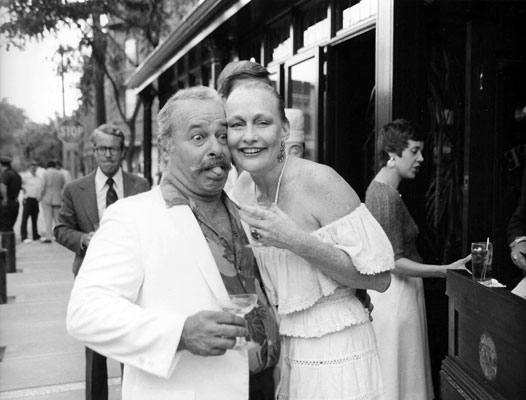 Herb and Adalaide Balaban
Cafe grand opening party – June, 1979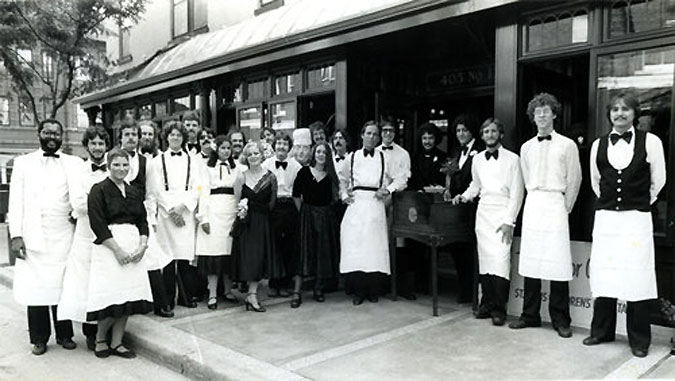 Cafe Balaban Staff
Cafe grand opening party – June, 1979
The cafe had a different menu than the main dining room, although customers could order from either menu, no matter where they were seated. The cafe was open seven days a week, serving a continental breakfast, lunch and a light evening dinner.

Dining Room Menu, 1980s
(click image to enlarge)
Herb and Adalaide Balaban
St. Louis Post-Dispatch, February 14, 1982
In October of 1986, after 14½ years of building Balaban's into a nationally acclaimed restaurant, Herb and Adalaide Balaban sold their restaurant to Tom Flynn and Steve McIntyre. Herb retained ownership of the building.
Herbie never tired of the business, but the day came when I did. I had seen too many one owner operations go down. Our children were not interested and I knew that the best time to sell was at the top. Stay too long and the sharks start circling.

We had several offers, but Herb wanted to leave it in loving hands. One of our longest serving employees lined up some deep pocket friends and made an offer. It wasn't the best offer on the table, but it was the one we took.
Tom Flynn grew up in the neighborhood and had worked at Balaban's for 11 years as a cook, waiter, bartender and manager before buying the restaurant. Steve McIntyre was a high-school friend of Flynn's, and had worked at Balaban's at one point in his restaurant career. Flynn continued on in his former position as general manager.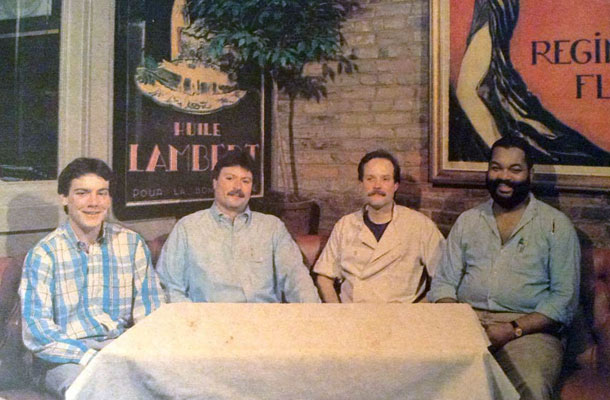 From left, Thomas T. Flynn and Steven D. McIntyre, the new owners of Balaban's;
executive chef David J. Guempel; and Bryan A. Young, manager of the dining room.
St. Louis Post-Dispatch, May 10, 1987
Herb Balaban remained as a consultant, and could often be found around the dining room, still wearing flashy suspenders that had become something of a trademark.

Herb Balaban
The new owners were proud of their seafood offerings, which made up 60 percent of their sales. The barbecued spiced salmon, with its spicy Chinese mustard sauce, replaced the roast duckling as the most popular dish. But Balaban's famous beef Wellington was still a draw. So was the classic chilled cucumber bisque, which was made by cook Selina Ford, starting in 1974. Selina perfected making very large quantities of the recipe. But the recipe itself was not Selina's.
The original recipe for cucumber bisque at Balaban's was from the 1968 Time-Life Book collection of American Cooking. This recipe is for 4 servings, so it was quickly adapted for multiple servings. I always served it chilled and with sour cream. Over the years, the recipe was changed many times to reflect the equipment available and the persons behind the stove, as well as the response of the customers.
Barbecue Spiced Salmon Recipe
(click image to enlarge)
In September of 1988, David Timney was brought on as executive chef. He changed the menu from distinctly French to one that included Asian and American foods. One unusual appetizer was the Japanese box, presented in a handmade wooden box with four shelves of Oriental delicacies. Timney also created duck potstickers, smoked Missouri trout in a corn pancake, and mesquite-grilled swordfish with lemongrass and coconut-milk broth.

Late 1990s Balaban's Cafe Dinner Menu
(click image to enlarge)
Late 1990s Balaban's Main Dining Room Dinner Menu
(click image to enlarge)
* * * * *
Herbert J. Balaban died on October 8, 2000 in Chicago at the age of 70, after a short illness. Herb and Adalaide had moved to an apartment on Chicago's Gold Coast in 1994, leaving the Central West End after 33 years.
On June 15, 2001, at the age of 44, Tom Flynn drowned in Playa del Carmen, Mexico while on vacation with his wife and their six children. Steve McIntyre took over Flynn's full-time duties as manager of Balaban's.
In July of 2001, Pete Rothschild bought the building that housed Balaban's restaurant from Herb Balaban's estate.
* * * * *
Steve McIntyre and his new executive chef, Dan Joyce, continued on. They added seasonal pasta dishes to the menu. The winter pasta special was hand-harvested diver scallops from Nantucket and Maine, which were only available for eight to ten weeks, starting in December. Joyce prepared them with a port wine cream sauce, fresh tarragon and Gruyère, over house-made black pepper linguine. After the diver scallops, a lobster and rock shrimp pasta special filled in until fresh morel mushrooms arrive. The morels usually ran through July, sometimes into August. In the fall, customers called to find out when the rabbit tenderloin in Marsala sauce would appear on the menu.

Steve McIntyre
St. Louis Post-Dispatch, Sept 17, 2003

Morel Mushroom Pasta Recipe
(click image to enlarge)

2003 Dining Room Menu
(click to enlarge)
Balaban's Main Dining Room
2003 Cafe Menu
(click to enlarge)
In November of 2006, Steve McIntyre sold Balaban's to Brendan Marsden of Modesto and a business partner, Harlee Sorkin.
When Tom Flynn and I bought the business from Herb Balaban in 1986, we negotiated a 25-year lease for the space; Herb still owned the building. The day Tom died in 2001 was the worst day of my life. Had Tom remained alive, we would have bought the building as well, but I was uncomfortable buying it alone. I was entering into my last five-year lease option and decided to sell the business.

Brendan and Harlee were unable to secure the total amount of the sale price for Balaban's. I suggested that I would keep ownership of the name and they could lease it from me for 5 years. In other words, I took paper from them with the name as collateral.
Marsden hired Andy White, who had been at Harvest, as his executive chef. White completely redid the menu, with the unusual fusion of influences from France, Italy and the American Southwest, while keeping only a few of the restaurant's signature dishes.

White's new menu proved to be problematic, alienating many of the restaurant's longtime customers. Marsden and Sorkin closed Balaban's after the dinner service on January 27, 2008. They had been trying to sell the restaurant since November, without success.
On October 17, 2008, Aaron Teitelbaum and Jeff Orbin, who owned Monarch in Maplewood, reopened Balaban's as Herbie's Vintage '72. They purchased the restaurant's fixtures and leased the space from the building's owner, Pete Rothschild. But Steve McIntyre still owned the Balaban's name, and Teitelbaum and Orbin chose not to pay McIntyre to use it. Herbie's Vintage '72 eventually abandoned the Central West End in October of 2016, relocating to Clayton.
Steve McIntyre not only retained the Balaban's name, but he also retained the restaurant's classic recipes and its world-class wine inventory. On November 20, 2009, McIntyre and partner Brian Underwood opened Balaban's Wine Cellar & Tapas Bar in Chesterfield. The restaurant still thrives, with smoked trout pancake, cucumber bisque, beef Wellington and BBQ spiced salmon gracing its menu.

Balaban's, 1772 Clarkson Road, Chesterfield
2016 Balaban's Menu
(click to enlarge)
* * * * *
Adalaide Cash Balaban is alive and well, and living life to its fullest in Silsbee, Texas. She is the local councilman for her district and the representative for Southeast Texas in The Silver-Haired Legislature.
There have been many pretenders to Herbie's place in the long line of Central West End shakers and doers. So far, I have known many that came before him and a good number that have come after, but none that have replaced him.

Herbie Balaban was the ingredient that made that special dish so memorable. He was kind, funny, loyal, a master of diplomacy. He also was a visionary and a gambler. No one who ever really knew him would disagree. Bon appetite.
| | |
| --- | --- |
| | |
| Adalaide Cash Balaban | Adalaide & Herbie |
---
Copyright © 2016 LostTables.com