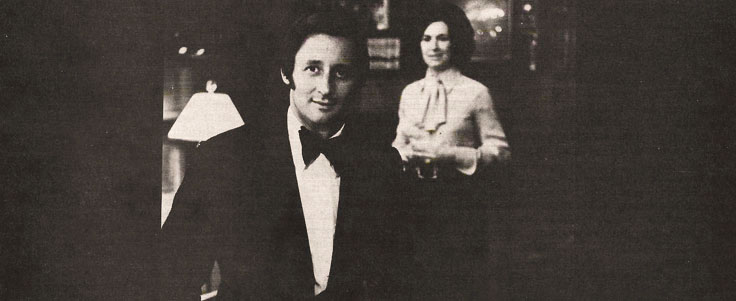 Al Baker's
Al Baker and Mary Sarandos grew up on the same street in St. Louis' West End. "I would have never thought we'd get together," Baker recalls. "When I left to go into the service, she was a skinny, little runt. But when I came back, and I saw her in the corner of the dime store, she looked real OK."
After attending Blewett High School for two years, Baker dropped out and joined the Navy. He got his diploma while in the service, and after discharge, returned home and attended Harris Teachers College. After finally marrying Mary Sarandos, Baker quit school and tried his hand at selling shoes.
"After selling shoes I became a liaison engineer at a factory." Baker recalled. "I was working there with this guy who'd been there 40 years and was making $35 a month more than me. It was depressing. I'll never forget that old guy. He was really bitter and I don't blame him. It made me want to go into business for myself."
Mary's father had a tiny grocery store on Delmar at Hamilton. When his father-in-law died in 1951, Baker purchased the store, renaming it Baker's Handy Fruit & Vegetable Market.
"Mary taught me about the grocery business," Baker said. "She had worked in the store after school with her dad for many years, so she had a head start on me."
Al and Mary Baker's grocery store was across the street from the Blue Moon Café, owned by Ernie Theodore. Baker and Theodore became friends, and in 1958 they decided to sell their respective businesses and purchase Sorrento's, an Italian eatery on the DeBaliviere Strip. After eight months, Baker bought out his partner, but credited Theodore with teaching him everything about the restaurant business.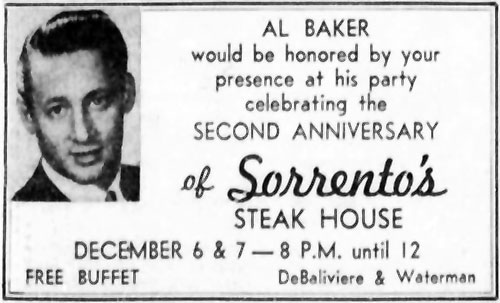 St. Louis Post Dispatch, December 4, 1960
"Restaurant-wise, you'd call Sorrento's semi-elegant," Baker remembered. "It wasn't elegant, but it was an unusual place, the kind of place that catered to all kinds of people – the good guys and the bad guys, the swingers and the diners.
"The big thing was you could walk in there any time – we stayed open until 3 a.m. and became the melting pot for all the other restaurants and bars – and not know if you were going to meet a celebrity or a bum. We had entertainers, politicians, gangsters – all kinds of wonderful people."
In 1964, Baker sold Sorrento's and he Mary took a long vacation. They then started looking for a new restaurant.
Construction was going on at the northwest corner of Clayton Road and Brentwood Boulevard. The site was to house a clothing store, but complications arose and Baker took over the lease and had the site build to his specifications – for a restaurant.
"We were all set to open in 1966 as the same type of restaurant as Sorrento's – you know, nice, but not real elegant," Baker said. "But then I realized that this place was just too nice – too fancy – to be an Italian restaurant just like so many others in town."
Al Baker's Restaurant opened on St. Patrick's Day in 1966 at 8101 Clayton Road. Its name, though an obvious one, wasn't chosen automatically. Baker searched through New York and Chicago telephone directories for a really elegant name but couldn't find one that suited him. It was a friend who suggested "Al Baker's."
"I liked the idea, because to my way of thinking if it says Al Baker on the door Al Baker should be in the building," he said. "And that's the way I like to operate. I'm married to my business."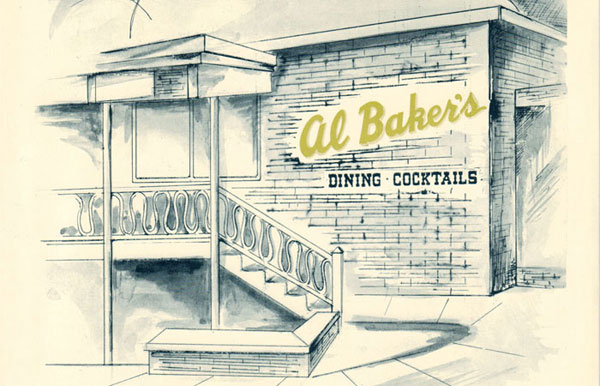 Al Baker's - 8101 Clayton Road
The restaurant had rich, rose colors, dark paneling, soft lighting and paintings on the walls. Baker described the effect as antique elegance.
"People remark about the Japanese paintings hung about the walls," Baker said. "The idea came from Rome, where restaurants have Oriental art mixed in with Italian. I tell them I know they haven't been to Rome lately," he said with a laugh.
The draperies were always drawn, which seemed to add a note of mystery. However, after the St. Louis Galleria opened across the street in 1984, the draperies on the south side were open, and the Galleria was in full view.
"We kept them closed all these years," he explained, "because the gas station across was the only view. Now it looks a lot better."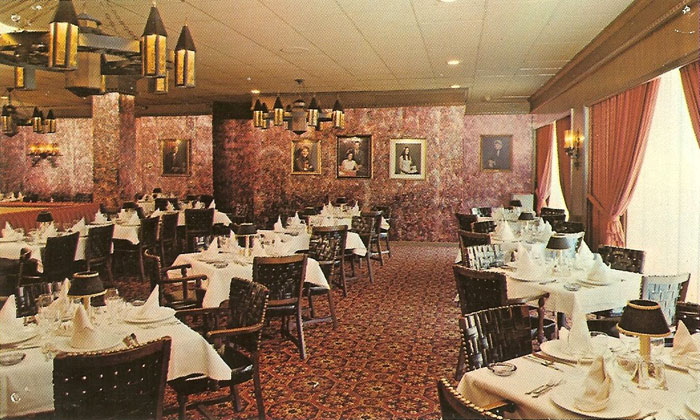 Al Baker's Dining Room
In the years between his grocery store and his elegant restaurant, Baker learned much about food and wine. He graduated from preparing sandwiches for the lunchtime crowd on Delmar and Hamilton to preparing gourmet dishes at tableside. A cornerstone of the Al Baker elegance was cooking at customers' tables.
"We decided to teach the waiters to cook some different things." explained Baker. "It's a good way for them to impress their guests." Tableside finishing also ensured that dishes were piping hot.
Baker's menus evolved from year to year. Early on the restaurant displayed six different menus, one for each day of the week. The specialties varied from day to day, with appetizers, pastas, steaks and most fish items remaining the same.

Baker and his chef Tom Van Hardy worked out all the recipes together. The ideas came from various sources – books, travel, friends and relatives. The oldest recipe on the menu came from an ex-convict.
"When I had my other restaurant," Baker said, "this fellow wrote me a bad check. He was writing them all over town. When they put him in prison they put him to work in the kitchen. Somehow the warden's wife found out what a great cook he was, and he went to work in her kitchen.
"When he finally got out he came back and paid me the $25 for the bad check he wrote me. Because I was the only one who hadn't pressed charges against him, he gave me this fantastic recipe for stuffed tenderloin. He said he'd come back once every year and give me another recipe. I never saw him again."
The tenderloin was stuffed with crabmeat and broiled like a Chateaubriand.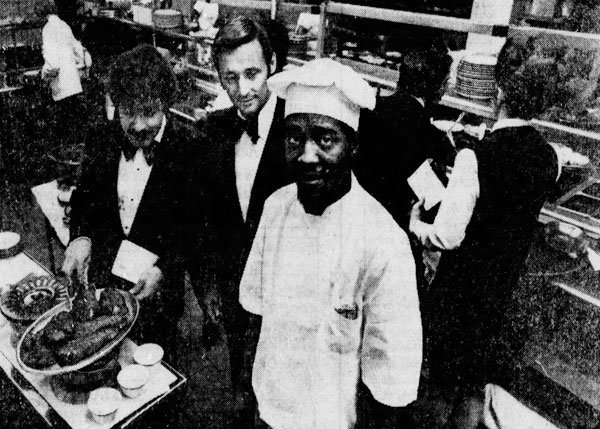 Baker behind chef Tom Van Hardy
St. Louis Post Dispatch, January 3, 1971
Before new dishes earned a permanent position in the restaurant's repertoire, Baker "auditioned" them. "Certain waiters will suggest new items to certain customers. If the items go over, then we add them to the menu," Baker explained.
Fresh fish became the restaurant's biggest boon.
"When we realized that people were getting into lighter food, we made a couple of trips to Boston to visit the fisheries," Baker said. "We actually went onto the boats to see just how the fishing was done.
"As a result of those trips, we now work with people who guarantee us the 'top of the load' fish. That's where the fishermen put the last and freshest of the catch before sailing to the docks. It makes a difference to us to have the best for our customers."
Al Baker's wine list was as distinguished as any in the area.
"Wine is a self-taught thing with me," he said. "I got a book on wines and started reading about them, experimenting with them, tasting them. All the great names you've heard about, we've got them here – and in great vintages."
He bought every one of the 35,000 bottles that stocked his huge wine room. A special rack in the center of the room held valuable and specially prized bottles, some of them which were not for sale.

Al and Mary Baker at their Ladue home
St. Louis Post Dispatch, March 18, 1979
Al Baker in his wine cellar
St. Louis Post Dispatch, Dec 23, 1987
Baker had a thriving lunch business for a few years early on, but stopped it because the round-the-clock hours were too long for him; he couldn't stand the thought of not being on the scene when the restaurant was open.
"You have to stay and take care of it; be there all the time," Baker explained. "There are chains that do fine, but if you're talking about an elegant gourmet restaurant, you must be there."
When Baker was not at the restaurant, he was often at his farm in Sullivan, hauling hay, mending fences, moving cattle, brush hogging, fishing or riding his white fox-trotter, one of six horses the Bakers owned.
In a December 16, 1992 St. Louis Post Dispatch article, Baker described his typical workday.
I wake up at about 7 or 8, but don't get out of bed until 9. We try to sleep late. Our whole clock is turned around because of this business. I shower, put on sweats if I'm going to the gym, or, if I'm going into work right away I'll wear jeans, a T-shirt, and white Nike Airs. Mary and I don't eat breakfast. We have vitamins and juice. I then go upstairs to my study and make early calls before I leave. The first call is to the restaurant. I talk to my steward, my maintenance man, a salesman or a meat supplier. I may call my lawyer or CPA to discuss a tax issue. And I occasionally have to catch the caretaker at our farm to discuss something before he leaves his house. I rarely run errands during the week.

As a rule, I arrive at the restaurant about 10. I'm only five minutes away, in Ladue. Three days a week I arrive at work late because Mary and I go to the gym to do aerobics and Nautilus for more than an hour. Exercise gives me the stamina to work long hours.

The first people I meet with at work are my secretaries. In addition to my daughter Marcia, I have Christine, one of Mary's sisters. It's important to have family in this business. One pair of eyes just isn't enough. We go over sales from the night before. We talk about mistakes and whether it was a good night.

Usually, there's a stack of mail a mile high on my desk. I tackle it when my steward, Daniel, comes in. Danny is my man. He does all the buying of food and supplies, which I supervise. Together, Daniel and I go over merchandise kinds of things. For example, I had a filet in the restaurant last night and the meat wasn't the usual quality I felt we've been paying for. I told Danny to have the supplier in to find out why this one filet wasn't so hot when all the rest were great. Was the guy slipping one bad tenderloin in on us? We're ruthless with our suppliers. Then Danny and I might discuss equipment. We have a fish box that's starting to get old – should we repair it? Get a new one? How much does it cost? And we're thinking of changing our dish pattern. The current dishes have been on the table long enough. What's the cost? Then we may discuss advertising, staff problems . . . we have 80 employees.

Every day after Danny leaves my office I call each concierge at five are hotels. I tell them what we have on special and encourage them to send us customers. This also lets us find out if the hotels are busy. If they're not busy we know we're not going to be that busy; half of our business is out-of-towners.

I get off the phone and proceed to do a wine inventory by checking tabs. I do all the wine buying. Then I pore through the mail, which usually includes a stack of request for contributions. I study which we can donate to and which we can't.

While doing all this, the phone rings constantly. Maybe it's a customer calling to make a reservation but he wants to talk to me personally. It may be somebody calling for a donation.

I walk around the restaurant to check things out. I may see a door starting to get a little chip, or corners that need fixing. I make notes on a clipboard and talk to Danny. He takes care of everything. I finish about 2. Mary and I never eat lunch in the restaurant, although the office staff does. We go out, or go home, where Mary cooks. Today we'll leave at 1:30 to pick up our granddaughter at daycare and take her out to lunch. She'll come home with us and we'll play with her until we're ready to come to the restaurant tonight. I work so much, I feel I need time for my baby because she won't know me.

When we're not babysitting, I'll use the time at home to catch up on my homework. I do lots of reading – restaurant periodicals, newsletters, wine books, investment stuff . . . I'm home about two hours in the afternoon before I get ready to come back in. I shower, shave and put on my tux at about 4:30. While I'm getting dressed, I start to get excited about coming to work. I love walking in that door at night.

I'm at the restaurant by 5:30. Mary comes an hour later. The first thing I do is stop at the desk and check reservations. I look over the waiter and bus schedules. I go into the bar and make sure everybody's there, in place, and dressed clean and pretty. I go into the kitchen and chef and I spend about 20 minutes going over the sauces. We taste them. I talk about how much business we're going to do. I ask him if he's ready. I see how much he's prepared. I go over the fish, over the steaks, talk to the pasta chef and generally speak to everyone in the kitchen. I go into the dirty dish section, something I do every hour in the evening because (in some restaurants) it's the most neglected part of the business. I discuss things with the kitchen staff. For instance, I'll tell them "Hey, we'll be a little busier tonight, so do this and that and make sure you're prepared." If it's going to be a little slower, I'll tell them to get the walls washed down and the pipes under the sink scrubbed.

I call waiters into my office, one by one, and we talk over any mistakes from the night before. We'll address ways to correct a problem, whether it's pouring wine correctly or seeing that a customer gets his dinner quickly enough. If a waiter did an unusually great job, I'll say, "Hey, you knocked 'em dead last night." Or maybe I overheard a waiter discussing dinner with a table and I didn't like what he said. So I'll say, "Don't say that, say this."

The crowds start arriving about 6. About 6:30 I emerge from my office, go upstairs, and spend the rest of the evening going around to tables, watching the waiters and the bar. I'm in the kitchen every 30 minutes checking the coordinator system. We have a coordinator who stands on the outside of the line and brings everything together before the tray runners [assistant waiters] take meals out to the tables. My wife is usually at the front desk with the maître d' seating people. I may take her place for a while or may pinch hit for the coordinator.

Things start to slow down at about 11, just as the bar is starting to pick up. That's when Mary and I sit down to dinner to critique the menu. We try to sample everything. Last night we tried a lemon fettuccini pasta, veggie salad, filet with an improved Marsala wine sauce with mushrooms, one side vegetable and a twice-baked potato. When we finish around midnight, Mary goes home. I stay in the bar and make the rounds in the kitchen. I'm here until closing at 1:30. I discuss the events of the evening with the chef and how we can make it even better. We plan the specials and what we're going to do tomorrow. On our fish menu, for example, we always feature two for three different selections a week. Chef and I discuss that and leave notes for Danny.

I get home at about 2 a.m. and read periodicals or the paper. I get to sleep between 3 and 3:30. On Saturday nights, actually Sunday morning, we leave the restaurant around 1 a.m. for the farm. It takes about an hour to get there. We go right to sleep. When I fall into bed at night, I think about the restaurant. If we had a difficult day, those problems go through my mind. Or if things went well, I thank goodness we did a good job, entertained our guests well and made people happy.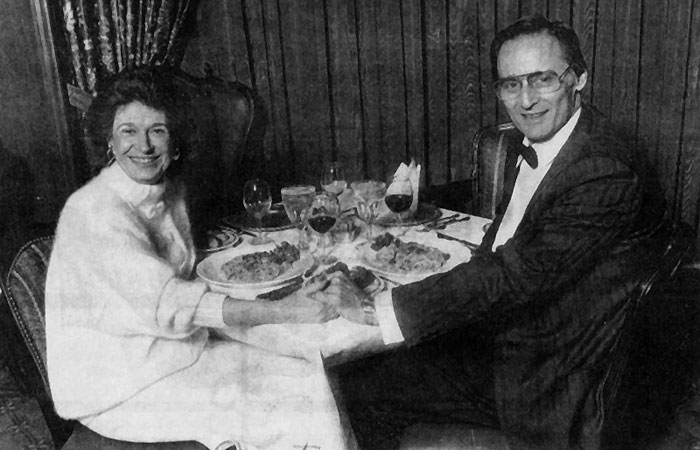 Al and Mary Baker eating dinner at their restaurant
St. Louis Post Dispatch, December 23, 1987
Al Baker's style included a toughness, learned in his grocery store, that was needed in a tough business. He ran his restaurant with an iron hand.
"I had a meeting once with my waiters," he said, "and I told them this country is a democracy. But once you reach my front door, I said, it's a dictatorship. And it is."
Years later, one of Baker's employees confirmed this.
I worked there for about 6 years from age 18 to 24. The stories I could share about that place . . . . Al was a ruthless business man. We would be charged for anything lost. Cocktail forks, pepper mills, etc. He demanded excellence and usually got it, but was not afraid to tear into anyone, employee or customer. I watched him rip into Chef (Van Hardy), Mary and just about everyone that worked there, including myself. He busted me scarfing in the back station and gave me an insulting earful while literally digging around in my mouth with his fingers and a flashlight.

My brother was working the line as a food expediter one night. He dropped a plate of salmon on the floor. A porcelain chip got stuck in his eye. Marlon pulled it out. I remember Al asking if Brian was okay. Brian said yes. Al said to see him at the end of the night. I was there when Al said, "The salmon is $18.95 and the plate is $12.95. You can pay me for it on Friday."
On December 5, 1993, Jerry Berger reported the following in the St. Louis Post Dispatch.
Al Baker's Restaurant will shutter at the close of business on New Year's Eve, because the building's owners exercised their option to buy out the restaurant lease. The building that houses Al Baker's will be torn down to make way for a single tenant.
Initially, Baker said he would move to a new location, somewhere in the same area, and reopen in April. But shortly after the first of the year, Baker backtracked.
"On my doctor's orders, I am retiring. Everything, including the walls, will be sold."
Al and Mary Baker retired to their home in Ladue, their 574-acre ranch in Sullivan and to the gym for daily step-aerobics classes.
Mary Baker died on June 6 2013. Al Baker can sometimes be seen dancing on Friday evenings at the Ritz Carlton Lobby Lounge in Clayton.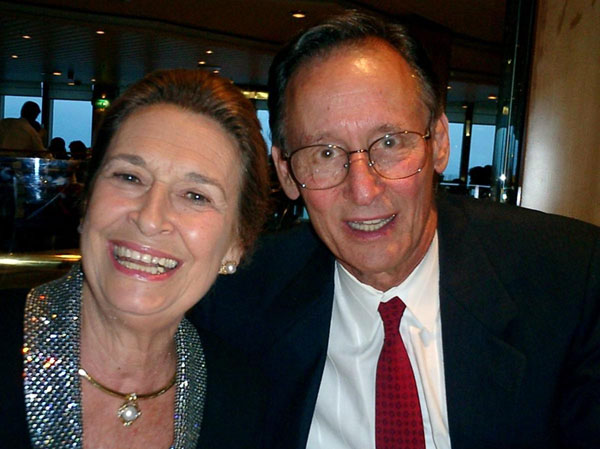 Al and Mary Baker
---
Copyright © 2018 LostTables.com
Lost TablesTM is a trademark of LostTables.com. All rights reserved.