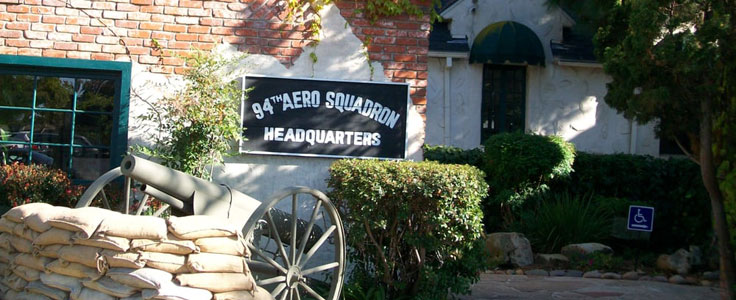 94th Aero Squadron
The 94th Aero Squadron fought on the Western Front during World War I. Its mission was to engage and clear enemy aircraft from the skies and provide escort to reconnaissance and bombardment squadrons over enemy territory.
The 94th Aero Squadron was formed at Kelly Field, Texas on August 20, 1917. The original cadre of men was composed entirely of volunteers recruited from all parts of the United States. With the exception of two men, none had previous military training.
The 94th was highly publicized in the American print media of the time, and its exploits "over there" were widely reported on the home front. Its squadron emblem – the "Hat in the Ring" – became a symbol of the American Air Service of World War I.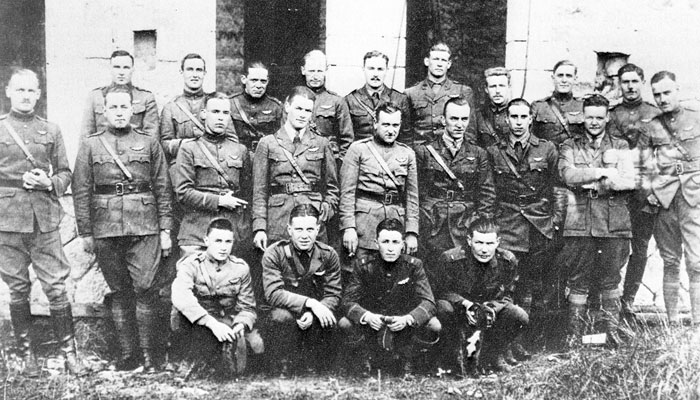 94th Aero Squadron, Rembercourt Aerodrome, France, November 1918
David Compton Tallichet, Jr. was born Dec. 20, 1922 in Dallas, Texas. His father, a traveling food salesman, became unemployed during the Depression. Tallichet sold the Saturday Evening Post door to door, making three cents on each copy. He said later this taught him the value of a penny.
With America's entry into the Second World War, Tallichet signed up for military service. Pursuing his love for aviation, he completed flight school and was assigned to training on the four engine Boeing B-17 Flying Fortress bomber.
Tallichet often told the story of cheating on the eye exam to qualify for flight school. It was the first moment, he said, when he took destiny by the horns. He piloted more than twenty B-17 Flying Fortress missions out of England during World War II.
Returning home, Tallichet began working for Hilton Hotels. In 1955, he accepted a position as general manager of Conrad Hilton's Lafayette Hotel in Long Beach, California.
Several years before, Tallichet had visited a restaurant in the Midwest that drew large crowds because of its country theme. He was intrigued by the concept and in 1958, along with two partners, one of them Sea World founder George Millay, he opened the Polynesian themed Reef Restaurant on the waterfront in Long Beach.
This was the launching point for Tallichet's Specialty Restaurants Corporation. The company specialized in what Tallichet called the "Disneyland effect," utilizing fictional histories, dramatic geographic locations and themed decor to capture visitors' imaginations.
Specialty Restaurants Corporation would go on to encompass over 100 restaurants across the country, including Pieces of Eight, Ports O' Call, Castaway, Crawdaddy's and Baby Does Matchless Mine.
There were also aviation-themed restaurants. The Proud Bird was located next to a runway at Los Angeles International Airport. Other eateries paid tribute to the 56th Fighter Group, the 391st Bomb Group and the 101st Airborne.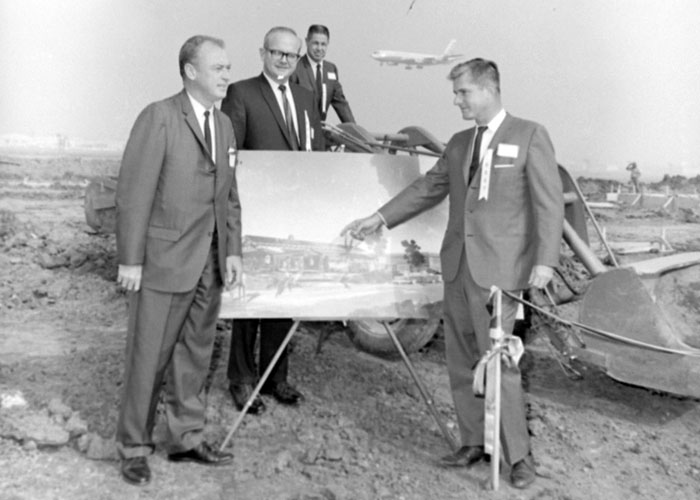 Groundbreaking for The Proud Bird restaurant, Oct 15, 1966
Specialty Restaurants owner David Tallichet on right
Tallichet's 94th Aero Squadron restaurant first opened at Stapleton Airport in Denver on June 11, 1973. Visitors were drawn into World War I with replica aircraft in front of a French farmhouse, typical of those used by American airmen on the Western Front in 1917-18.
Later that same year, 94th Aero Squadron units opened at Orange County airport and Van Nuys airport in California. Eventually, there would be 14 of the World War I themed restaurants.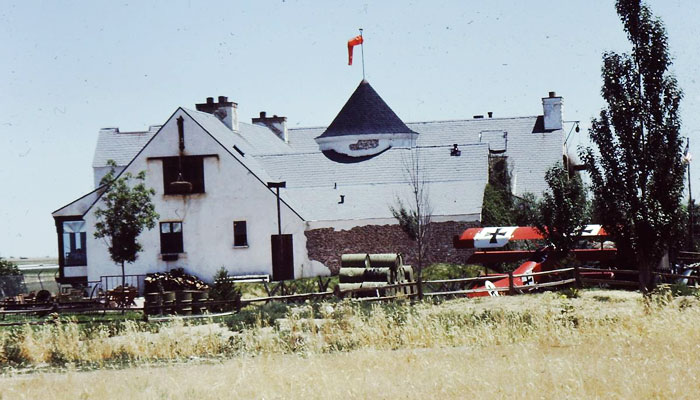 94th Aero Squadron Restaurant - Denver, 1980
The 94th Aero Squadron restaurant in St. Louis opened in December of 1978 at 5933 McDonnell Boulevard, adjacent to the runway at Lambert Field.
A bright orange windsock fluttered atop the tall, round tower of an old French farmhouse. There were stucco exterior walls with large areas of stucco missing where the structural brick wall was exposed. The center "loft" section, with the accompanying brick silo, rose two stories, while two long, low wings stretched out on either side.
A winding brick path led to the old house and barn where a bale of hay was suspended on its way to the hay loft. A French cannon was sandbagged on the lawn, and not far from it was a rickety old ambulance. An orange-and-white biplane was parked out front where a daring World War I pilot seemed to have left it. The big wooden door to the restaurant creaked as it opened and as a sandbag on a rope pulled it closed.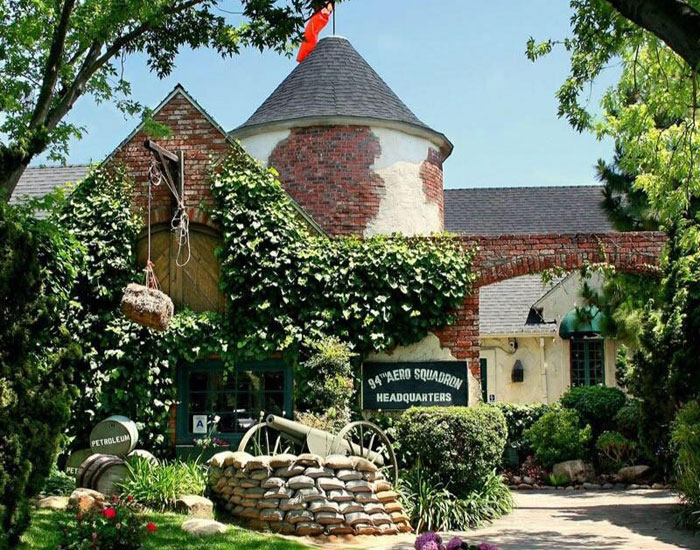 94th Aero Squadron Restaurant (San Diego)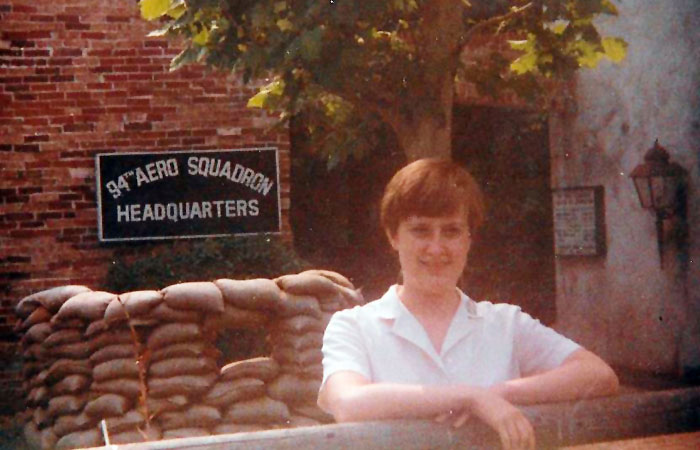 94th Aero Squadron Restaurant - St. Louis, 1985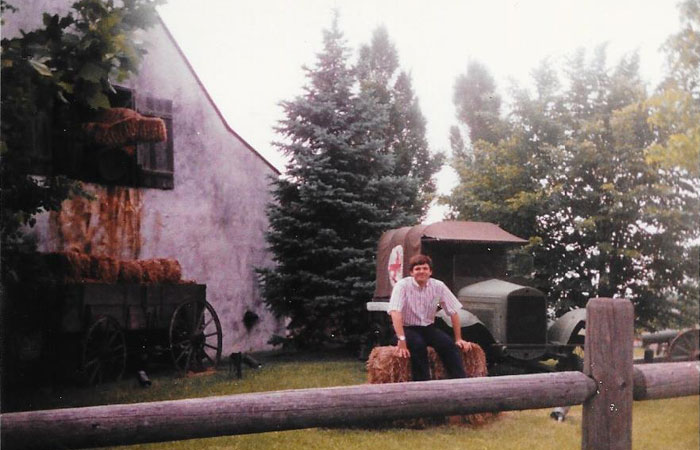 94th Aero Squadron Restaurant - St. Louis, 1985
The aviation themed restaurant was decorated with World War I era photographs, artifacts and replicas evoking the legendary pilot Eddie Rickenbacker, his 94th Aero Squadron and the "doughboy" ground forces who defeated the Germans.

World War I memorabilia crowded every wall
The patio, cabaret and dining rooms overlooked the northeast edge of the Lambert runways. The wide dining room windows were covered with clear gray shades during the sunset hours to allow diners to enjoy the view despite the sun's glare. At night, the bright runway lights created blue streaks in the foreground as commercial jets took off.
The dining room, with its exposed-beam ceilings and white stucco walls, was tiered so that even from the cozy booths in the back, diners could watch planes coming and going. There were headphones in booths and at some of the window tables that picked up the air traffic control tower's instructions to the planes.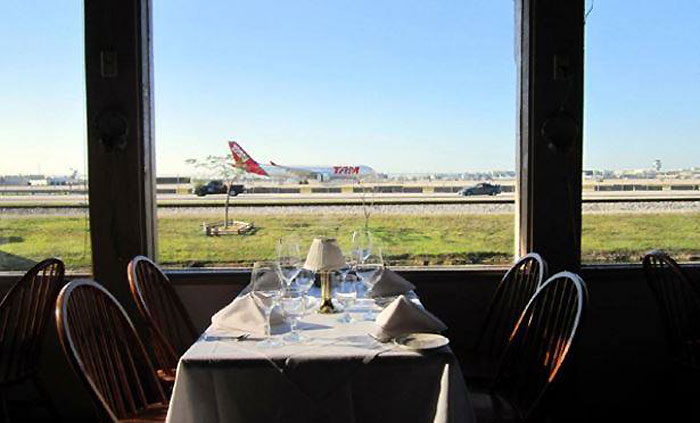 The dining rooms overlooked the runways
The 94th Aero Squadron specialized in American cuisine. While fresh fish was flown in daily, there was a lot of meat-and-potatoes. The dining room seated 190 and the lounge seated 150.
The extensive dinner menu offered multiple beef items, as well as entrees ranging from Farmhouse Chicken to Roast Duckling to Shrimp and Scallop Scampi. Dinner was served with a choice of soup, including the 94th's Beer Cheese Soup, salad, the 94th's Farmhouse Bread and the 94th's Farmhouse Potatoes or buttered noodles.

Lunch was served daily, except Sunday, and featured salads, sandwiches and burgers, and various entrees, including omelets, Quiche Francaise, London Broil and Crepe Normandie.

As early as 1989, plans surfaced detailing a proposed runway expansion at Lambert Field. On July 6, 1995, Lambert officials announced they had chosen an expansion plan that would raze about a third of Bridgeton, taking approximately 1500 homes and 70 businesses.
The 94th Aero Squadron restaurant would also be razed.
On Sunday, February 16, 2003, the 94th Aero Squadron served its last meal. The restaurant was shuttered permanently after the kitchen closed at 10 p.m. that night. Plans to reopen at another location never materialized.
---
Copyright © 2019 LostTables.com
Lost TablesTM is a trademark of LostTables.com. All rights reserved.